How SoftBank Founder Masayoshi "Masa" Son Fueled WeWork's Growth
A new Hulu documentary details Masa's pivotal role in WeWork's rise and fall.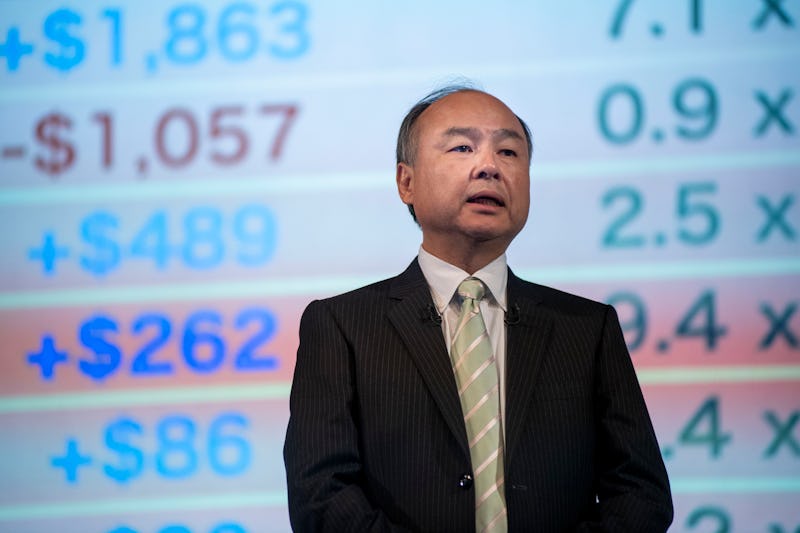 NurPhoto/NurPhoto/Getty Images
Hulu's new documentary, WeWork: Or the Making and Breaking of a $47 Billion Dollar Unicorn, follows the rapid rise and catastrophic collapse of the office rental company WeWork. The film, directed by Jed Rothstein, focuses in on WeWork's eccentric co-founder, Adam Neumann, and his wife, Rebekah Paltrow Neumann. But a third figure in the movie also played an important role in the company's history: SoftBank founder Masayoshi "Masa" Son.
Something of a legend in his own right, Masa Son is a Japanese investor and entrepreneur. The billionaire is the founder and CEO of SoftBank, a holding company with stakes in numerous tech, energy, and finance businesses. Masa was once the richest man in Japan; he's currently number two, with a net worth of $41 billion.
Masa went to college at the University of California, Berkeley, and started his first business endeavors as a student, before founding SoftBank in 1981 as a software distribution company. Over the decades, he pivoted to investing, and saw his wealth soar amid the dot-com boom of the 1990s — and then collapse when the bubble burst. His net worth would later rebound, thanks to a fortuitous investment in Alibaba; and in 2017, he launched SoftBank's Vision Fund, a $100 billion fund backed by the likes of Saudi Arabia and Abu Dhabi.
It was the Vision Fund that Masa used to invest in the We brand. Neumann and Son had met in 2016 at an event called Startup India, FastCompany reports: "Son had come looking for investment opportunities... But it was Neumann who caught his eye." He eventually came to New York to check out WeWork's facilities — but was two hours late to meet Neumann, and had only a short time to talk. Less than a half hour later, Son agreed to give Neumann $4.4 billion.
If Neumann has been criticized for his excessive spending, wacky spiritual speeches, and flippant behavior, Son has idiosyncratic tendencies of his own. CNN reports, "Son is something of an eccentric. He often quotes Yoda, passionately prepares for the singularity, and has been known to make big bets on companies based upon what he once called his 'sense of smell.'" Son has called himself Jesus, says he has a 300-year plan for his company and has been referred to as both Pinky and the Brain: "One is a genius, the other's insane."
After WeWork's failed IPO and Neumann's ouster, SoftBank suffered as well. It bailed out WeWork a month after Neumann resigned, taking about an 80 percent stake in the company, per the New York Times. "It was foolish of me to invest in WeWork," Masa said during a SoftBank earnings call in May of 2020. "I was wrong." That was two months after SoftBank reported its biggest annual loss on record — the result of the Vision Fund's poor performance, as well as the impact of the Covid-19 pandemic.
But more recently, the Vision Fund has bounced back: the fund earned billions from selling off stock in Uber and OSIsoft, and a few companies in its portfolio have had successful IPOs.
Indeed, while the Hulu documentary explores Adam and Rebekah Neumann's lives and involvement in the We brand with great detail, it only scratches the surface of SoftBank and its enigmatic founder, Masayoshi "Masa" Son.