Succession Star Nicholas Braun Has Never Been In A "Long-Term" Relationship
The Emmy-nominated actor's love life is pretty quiet — but it's not for lack of trying.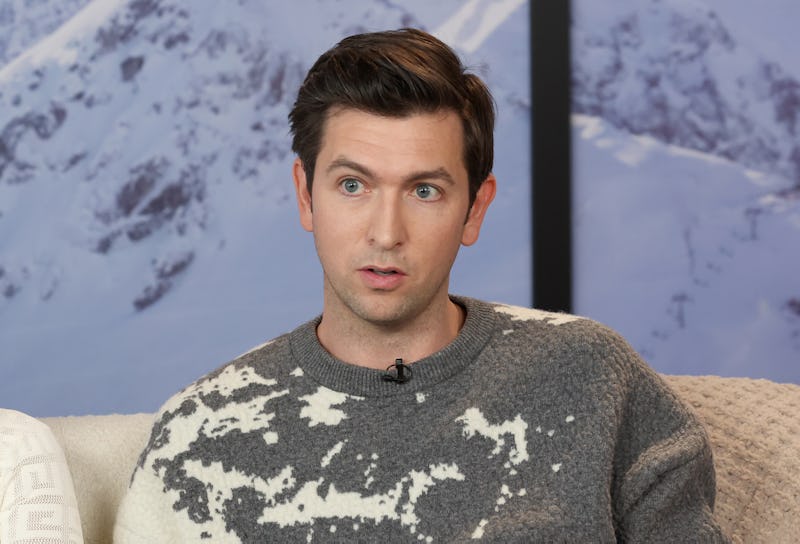 Katie Jones/Variety/Getty Images
Nicholas Braun has been nominated for two Emmys for his scene-stealing performance as Cousin Greg on HBO's Succession, but his dating life isn't as busy as one might think. As far as his fans are aware, Braun is currently single. In fact, he's never even been in a full-on relationship, as he told the New York Times in October 2021.
The 34-year-old actor told the outlet that he was working on expanding his film experience to screen-writing, penning what he calls a "relationship traumedy" inspired by his fascination with "romance and courting another human." He's motivated by the subject specifically because he's never experienced it himself. "I haven't really been in a long-term relationship, ever," he revealed. That said, Braun is not actively avoiding one. "I do yearn for it and yet I'm incapable of it," he explained. "I go toward it and then I hit a wall where I'm like, I can't go farther into this. I've got to exit."
However, Braun has faith that he will indeed fall in love and enter a true relationship. "I do believe it'll happen at the right time with the right person," he said. "Until then, it's fun to meet people and see what works." Since Succession broke out, he actually hasn't stopped dating, even when everyone was on lockdown.
In August 2020, the actor told Esquire that he went on a socially distanced first date with a woman who slid into his Instagram DMs, taking a walk outside and wearing bandanas as face coverings. "We met up, and I didn't even see her face until right at the end of the day, we were like, 'Hey, by the way, here's what it looks like,'" he dished.
His awkward encounters led Braun to write an entire song about dating during a pandemic, appropriately titled "Antibodies (Do You Have The)." He released both the song and a music video that was shot on his iPhone at the end of July. With lyrics like, "If you come within 6 feet, it's mask on, mask on, mask on, mask on. But if you have antibodies, it's pants off, pants off, pants off, pants off," it's no wonder the song went viral.
However, after releasing "Antibodies," Braun stopped lockdown dating, calling it "dicey" in New York, where Succession is filmed. "There's a new fear of human contact, so it just changes it, which I think is really interesting," he told Bustle at the time. "It sort of forces you to get to know somebody better before you go in for a hug... or something more."
Braun has kept quiet about the people that he has gone out with, never naming any names. However, he remains open about his dating experiences, telling The Cut in June 2021 that he had been in short-term romances where he kept asking questions like, "God, what can I do to make this girl care more about me? What can I do to feel better in this relationship?" but wouldn't receive the same effort back. "I don't feel like I have power or leverage at all," he explained. "I'm the one trying to get something, get a text back or get a call back or anything."
This article was originally published on