Selena Gomez Brushes Off Dating Rumors In A Hilarious TikTok Video
She was rumored to be dating The Bear star Jeremy Allen White.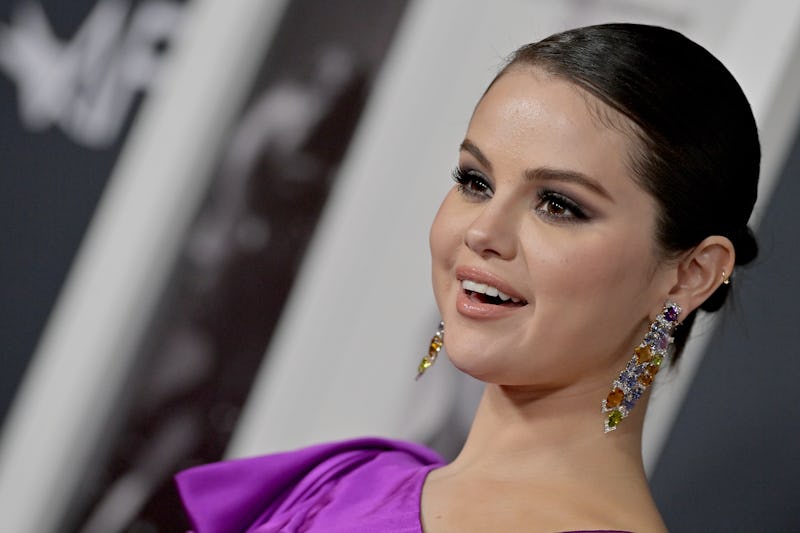 Axelle/Bauer-Griffin/FilmMagic/Getty Images
After years of being open about her dating journey, Selena Gomez is celebrating her single status in 2023 while feeling "positive and optimistic" about her love life. But she's had to brush off many dating rumors along the way. On July 13, Gomez shared a video on TikTok confirming that she was single in the most hilarious way: using a filter that asks, "Why am I single?" After a number of possible answers flashed on the screen, TikTok determined, "You have bad taste." Gomez's jaw immediately dropped in horror before she turned her head toward someone off-camera in shock. "Well that's rude tik tok," she captioned the post.
The new video comes just days after Gomez was linked to The Bear star Jeremy Allen White. On July 7, the Daily Mail claimed the two were rumored to be dating after Instagram gossip account DeuxMoi posted an unverified blind item that claimed they've kept in touch since meeting at the cover shoot for Vanity Fair's Hollywood Issue. But if Gomez's latest TikTok is any indication, she's still single, and there's no basis to the rumor.
This is not the first time Gomez has used TikTok to clarify her relationship status. In a June video, the singer made it clear to a group of soccer players that she was available while watching them practice on the field. "I'm single," she yelled. "I'm just a little high maintenance, but I'll love you soooo much." The clip may have been Gomez's subtle way of brushing off rumors with Zayn Malik. In March, she was spotted out in New York with the One Direction alum, when a restaurant waitress claimed on TikTok that she saw them kiss at a dinner date. "Tell me why Selena Gomez and [Zayn] just walked into [restaurant redacted] hand in hand making out and I seated them," she stated.
According to Us Weekly, Gomez was seen going to dinner with Malik's assistant just days before their alleged outing. In a separate story, the outlet reported that Gomez and Malik "aren't super serious" but were interested in each other. "Zayn has known Selena for years and he's definitely into her," a source said. "He's always admired her and thinks she's an incredible person, inside and out." However, neither one of them commented on the romance speculation, which seemed to naturally die down in the months following after they were not seen together again.
Previously, the Only Murders in the Building star was rumored to be dating The Chainsmokers frontman Drew Taggart, as reported by Us Weekly. However, Gomez subtly denied the reports without mentioning Taggart in a since-deleted Instagram Story, where she posted a black-and-white image that read, "I like being alone too much." At the bottom, she added the hashtag "#iamsingle."
While Gomez is proudly single, she's also very open to finding a happy relationship: She used her Saturday Night Live hosting stint in May 2022 to manifest one during her monologue, citing the show's recent success in matchmaking. "I've heard that SNL is a great place to find romance," she said. "Emma Stone met her husband here. Scarlett Johansson and Colin Jost. Pete and... Machine Gun Kelly. Since I don't really want to try the dating apps, I just want to put it out in the universe that I'm manifesting love. And I would like to say that I'm looking for my soulmate, but at this point, I will take anyone." Several SNL cast members lined up to shoot their shot, and after turning down Kyle Mooney and James Austin Johnson, Gomez clarified that she didn't actually mean anyone.
In October 2021, rumors swirled that Gomez was dating Captain America actor Chris Evans after the two were seen leaving the same Los Angeles studio and the same restaurant together. At the time, fans noticed that Evans was following Gomez on Instagram, but the exact timeline of when he followed her is unclear. Evans further fueled speculation when he played piano on TikTok and fans noticed a woman in the reflection of the piano lid, but her identity was never confirmed.
The singer said she was interested in the Marvel actor back in 2015 during an appearance on Watch What Happens Live with Andy Cohen. "I kind of have a crush on Chris Evans. Isn't he cute? He's very cute," she told the host. Cohen informed Gomez that Evans' "gay brother," aka Scott Evans, had bartended on the show the week prior, and she replied, "Really? Last week? Maybe it's meant to be."
In an interview with the Los Angeles Times, Gomez said she worried that speculation about her love life would turn off potential suitors. "We had just started working together," she said about her Hulu series Only Murders In the Building co-star Aaron Dominguez. "I honestly thought, 'No wonder guys don't want to date me!' I think people only care because I'm young, and the older I get, the less they'll care. For now, it's a part of the job that I don't really like. I'm actually grateful that I'm not involved with anyone right now."
Selena Gomez and Aaron Dominguez hang out while filming Only Murders in the Building in 2021.
Jose Perez/Bauer-Griffin/James Devaney/Getty Images
Her most recent public relationship was with on-and-off boyfriend Justin Bieber (again), which ended around March 2018, according to Cosmopolitan. Since then, she's been linked to One Direction's Niall Horan and reported ex-boyfriend Samuel Krost, but she quickly dispelled rumors about reuniting with Krost on Instagram.
The singer has been very open about her love life in recent years, beginning with the late 2019 release of two songs that are widely believed to be written about Bieber. In a June 2021 interview with Vogue Australia, Gomez admitted that she has felt inferior throughout her love life, without naming names, an emotion that inspired her 2020 album Rare, and later, her cosmetics line Rare Beauty. "I think most of my experiences in relationships have been cursed," she said. "I've been way too young to be exposed to certain things when I was in relationships ... I felt so less than in past relationships, and never really felt equal."
Gomez spoke on the Zach Sang Show in October 2019 about how she's learned from her relationships and knows what she's looking for. "When you're young, you have this codependency that you think is love, and then you have this addiction to the passion and the frustration with each other and you think, 'Oh that's love.' I believed that for a long time," she said. "I want it to be real and I don't want it to be codependent, or messy, or lack of communication. When you get older, you find people who are actually right for you, that are actually on the same wavelength."
This article was originally published on