Tan France's Husband Rob France Persuaded Him To Sign Up For Queer Eye
Here's everything to know about the fashion designer's other half.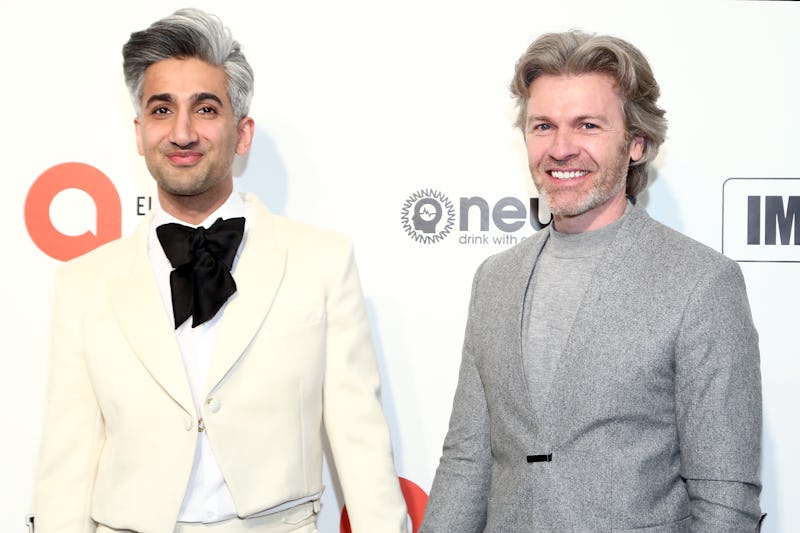 Tommaso Boddi/Getty Images Entertainment/Getty Images
It didn't take long for the Fab Five to worm their way into fans' collective hearts when Netflix's Queer Eye first debuted back in 2018. With the arrival of the show's seventh season in May 2023, intrigue in the cast both on and off screen will likely pique among fans once again — especially when it comes to the Fab Five's love lives. As it turns out, some of the Queer Eye cast are in long-term relationships, including Tan France, who has been married for over 15 years. So, who is Tan's husband Rob France?
Born in Wyoming, Rob was raised Mormon and went on to enjoy a full-time career as a pediatric nurse. Although, it appears Rob shares his husband's creative flair and also works as a freelance illustrator. Speaking previously to the New York Post, Tan revealed that he first met Rob on a dating site in the early 2000s. In 2007, the pair tied the knot without getting engaged, and currently reside in Salt Lake City, Utah.
In April 2021, Rob and Tan revealed that they were expecting their first child together via surrogate. On Aug. 2, 2021, the couple announced the birth of their son, Ismail France. "We love him so, so much. Like, fully obsessed. Our Surrogate is doing so great post-labor, and we couldn't be more grateful for the greatest gift in our lives," Tan wrote on Instagram at the time.
On May 31, 2023, the pair revealed that they welcomed their second child, Isaac France, via surrogate. "Welcome baby boy #2, Isaac France, born this past weekend," the Queer Eye star announced on Instagram. "He completes our little family perfectly. And a huge thank you to our incredible warrior of a surrogate, for giving us the greatest gift one could ever give."
Back in 2018, Tan opened up about his relationship with Rob, revealing that he was the one who convinced him to sign up for Queer Eye. Speaking to the Press Association, Tan disclosed that he almost turned the Netflix series down after feeling "pressure" to represent his community.
"I represent so many different communities and that felt like a lot of pressure," Tan explained. "But my husband is wonderful and he reminded me that if it's not me, who? If it's not now, then when? And so I feel like it's perfectly appropriate that we now have representation and that I am that person."
This article was originally published on