Taylor Swift & Matty Healy Are Reportedly No Longer In Contact
The "Cruel Summer" hitmaker is said to be "enjoying being single."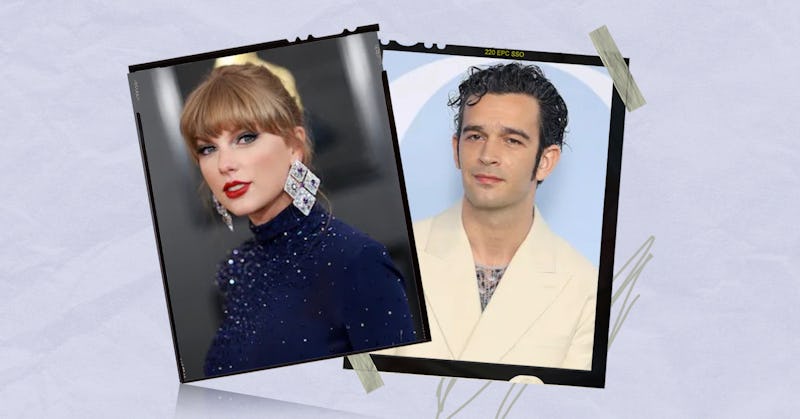 Marc Piasecki/WireImage/Matt Winkelmeyer/Getty Images Entertainment
As soon as it was reported that Taylor Swift and actor Joe Alwyn had split after more than six years of dating, new relationship speculation immediately emerged. On May 3, The Sun reported that Swift was dating The 1975 lead singer Matty Healy. Many fans initially dismissed the reports, but there had since been many hints that the two might be an item.
However, weeks after rumors started swirling about the pair's relationship, TMZ reported that the couple called it quits, with an insider stating that Swift is single. PEOPLE also reported that Swift and Healy were "no longer romantically involved," claiming that "she had fun with him" but their relationship was always casual, while a source told Entertainment Tonight that their schedules didn't help. "They are both extremely busy and realized they're not really compatible with each other," the outlet reported. "Taylor's friends want what's best for her and aren't shocked that their relationship fizzled out since she recently got out of a long-term relationship."
On July 5, another source claimed to PEOPLE that Swift and Healy are "absolutely not together and aren't even in contact anymore." The source continued: "She is enjoying being single and has been spending time in the studio and hanging out with friends ... It's complete nonsense. Not true at all."
Swift and Healy were apparently last seen together in public on May 25. Since then, Healy was recorded kissing a security guard on the mouth during a June 2 performance at the 2023 NorthSide Festival in Eskelunden, Denmark. Just days later, a fan video posted on June 5 showed Healy addressing the crowd during a 1975 performance, during which a fan held up a sign that read "You are loved."
"That was very, very kind of you," Healy says in the widely-circulated video. "I'm sure that's alluding to…" he added, before abruptly stopping without mentioning any names. In the viral clip, he continued: "As you're aware, I'm not very online at the moment and I'm sure people have just been calling me a **** relentlessly."
Fans also speculated that Healy slyly nodded to the dating rumors while performing with The 1975 at Radio 1's Big Weekend in Dundee, Scotland, on May 27. "Is it all a bit? Is it sincere? Will he ever address it?" he told the crowd, before immediately destroying their hopes for a more direct reference. "All of these questions and more will be ignored in the next hour. Ladies and gentlemen, this is The 1975."
On May 15, the pair were photographed leaving New York's Electric Lady Studios, where Swift had continued to be seen in the days following without Healy in tow.
This sighting arrives just days after Swift and Healy were seen holding hands at New York City's Casa Cipriani on May 11. The two "sat next to each other at a banquette in the lounge," according to Page Six, and they were joined by their mutual collaborator and friend Jack Antonoff. Before then, Healy was spotted in the audience at Swift's Eras Tour shows in Nashville on May 5 and 6. He even performed onstage during opener Phoebe Bridgers' set at the May 6 show. Hours after the second show, the Daily Mail published purported photos of Swift and Healy in the back of an SUV on the way to Swift's Nashville apartment. However, the photos are too blurry to confirm their identities.
Some fans think the duo have been sending secret messages to each other onstage. While performing "cardigan," Swift appeared to mouth the words, "This is about you, you know who you are. I love you." As pointed out in a TikTok, Healy seemingly mouthed the same words during The 1975's show in the Philippines just two days prior. At the same show, before performing the band's 2016 track "She's American," Healy reportedly shouted, "She sure is," seemingly nodding to the dating rumors.
On May 8, Entertainment Tonight reported that Swift and Healy "have been hanging out recently" and that they were set up by Antonoff. "Taylor and Matty like each other," a source told the outlet. "Taylor has a crush on Matty and they are having a good time hanging out. Matty also thinks Taylor is awesome and incredibly talented, too."
The source even claimed that "they dated briefly in the past," though this has previously been denied by Healy. "It's not really anything to talk about, because if she wasn't Taylor Swift we wouldn't be talking about her. She wasn't a big impact on my life," he told Q Magazine in 2016. He had some rather strong feelings about dating her at the time. "If I had gone out with Taylor Swift I would've been, 'F*cking hell! I am NOT being Taylor Swift's boyfriend.' You know, 'F*CK. THAT,'" he stated. "That's also a man thing, a de-masculinating, emasculating thing."
That said, the two singers have a history of mutual fandom. In 2015, Healy wore a Swift T-shirt with her 1989 album cover. In response, Swift wore a tee proudly donning the band's name after being spotted at their London show. More recently, Swift made a surprise appearance at The 1975's London show in January to give the first-ever performance of her Midnights hit "Anti-Hero." However, she sang solo while the band took a break, meaning Healy did not join her onstage.
Amid the rumors, Swift has made it clear that she's doing great. At her Eras Tour "rain show" on May 20 in Foxborough, Mass., Swift remarked that she was the happiest she had ever been, specifying that this applied to "all aspects" of her life, possibly alluding to her love life as well. "I kind of feel like telling you, I don't know, I've just never been this happy in my life in all aspects of my life ever before," she said. "And I just want to thank you for being a part of that. It's not just the tour. I just sort of feel like my life finally feels like it makes sense."
This article was originally published on