Who Is Winona Ryder Dating? She Brought Him To The Strangers Things 4 Premiere
Ryder has been dating Scott Mackinlay Hahn, a CEO of a sustainable clothing brand, since 2011.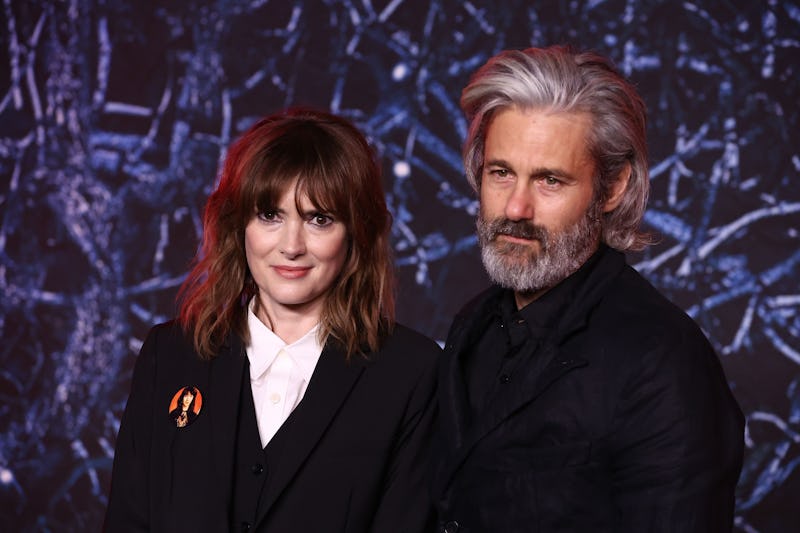 Arturo Holmes/WireImage/Getty Images
On Stranger Things, Joyce and Hopper are a shipper's dream. But what about their off-screen counterparts? David Harbour has been married to English musician Lily Allen since 2020, and Winona Ryder's boyfriend of more than 10 years is Scott Mackinlay Hahn. He may not be in the public eye as much as Ryder, but that's because he's been busy cultivating sustainable clothing brand Loomstate since 2004. Even if you don't know the brand by name, you've almost certainly seen its wares as Loomstate supplies uniforms for Chipotle, Whole Foods, and other companies.
So, how did a corporate fashion founder connect with a beloved Hollywood icon? The pair is pretty private, so that answer isn't clear, but as The Things points out, they do have a mutual friend in U2's Bono. Hahn had previously worked with the musician on another clothing brand, Egan, while Ryder and Bono were first linked during her 2002 shoplifting trial. If Hahn and Ryder are still close to Bono, they could've met through the common friend. They reportedly started dating in 2011.
Much like 50-year-old Ryder's social media presence, the 41-year-old CEO's social media presence is almost non-existent. But he's very much there to support Ryder IRL, including, most recently, at the Stranger Things Season 4 premiere.
Don't expect the pair to get married anytime soon — or maybe ever. During an interview with Net-a-Porter's The Edit in 2016, the Beetlejuice star explained that although she's "a serial monogamist," that doesn't mean marriage is a natural next step. "I'd rather never have been married than been divorced a few times. Not that there's anything wrong with divorce, but I don't think I could do it if that was a possibility. When your parents are madly in love for 45 years, your standards are really high. But I've been happily with someone for quite a while now."
And even though Hahn previously expressed his love for Bushwick in a 2010 interview with Racked, where he praised the neighborhood's art scene, he reportedly went house-hunting with Rider in 2016 in Beverly Hills, per The Daily Mail. It's not clear where they ultimately landed, but that might simply be chalked up to the couple's penchant for privacy. As Ryder also put it in her Edit interview, slowing down in the public eye has been a conscious choice. "It's interesting: you can go through good times and bad times, but if you're still working, people see you in a certain way," she said. "I was working a lot in the '90s and I needed to slow down. It's so important to have a life outside the industry, to not look to it to validate you as a human being."
This article was originally published on