Meet The Real Camille Behind Her Emily In Paris Character
Camille Razat is a model and actor with an affinity for berets.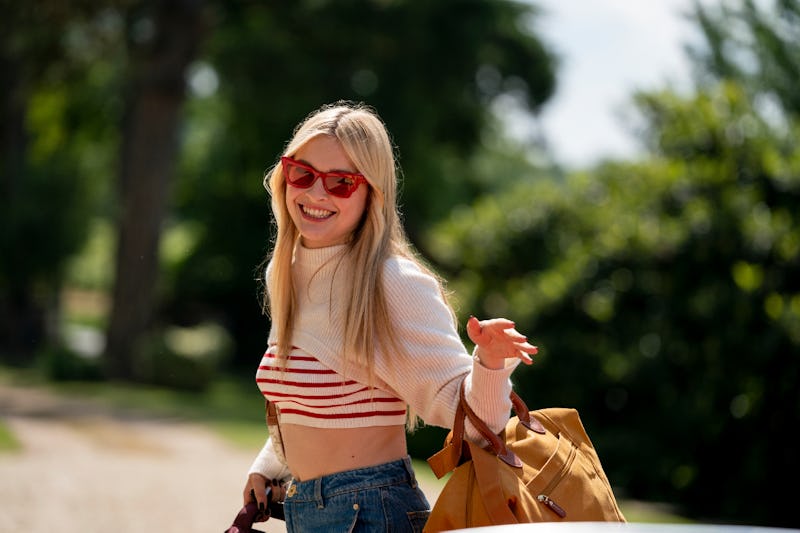 Stéphanie Branchu/Netflix
Camille Razat got to keep her real first name when she took the role as Camille on Emily in Paris. The moniker is quintessentially French, which fits both the character and the actor perfectly, though that's hardly where the similarities end. "I think I'm very close to Camille in certain aspects of her personality," Razat recently told Cosmopolitan UK. "I'm a very smiley person, I try to help tourists when they're in Paris. I'm outgoing and I love English people — I love speaking foreign languages in my own country."
On the Netflix series, Camille becomes instant friends with Lily Collins' titular character after they meet at a flower stand. Razat also bonded with her co-stars in similarly quick fashion, if her posts on Instagram are any indication. "Love my girls," Razat captioned a photo of her, Collins, and Ashley Park, who plays Mindy, in a snapshot from behind the scenes.
Though fan theories about a potential romance between close friends Camille and Emily won't be fulfilled in Season 2 of the Netflix series, Razat added that she'd "definitely" be on board if it comes to be in the future. "It's so modern, it's so today," the 27-year-old French actor and model added. "I think it [would] help with representation for people who don't necessarily have it in this show particularly. I think it's a great storyline."
Here's everything else to know about Razat, ahead of Emily in Paris Season 2.
Razat's Acting Career Happened "By Chance"
Emily in Paris is Razat's first major American series, as she's mostly acted in French-language projects like the police thriller show Disparue (The Disappearance) and a small role in Clint Eastwood's film The 15:17 to Paris. Becoming an actor happened "by chance" for her, however. "Initially, I wanted to become a war reporter," Razat told L'Officiel. After passing a competition that committed her to five years of study, she decided to first challenge herself with "something a little more fun and light," without taking a sabbatical year. After coming across a Facebook ad for a theater internship at the drama school Cours Florent, Razat made up her mind.
"It seemed like a fun experience to me and I signed up for it," she said. "I do the internship, I go into school, and I love everything I do there. I never went back to my previous project."
Razat Is Also An Accomplished Model
When she's not acting, Razat is a model for the prominent French agency Premium Models, modeling for brands like Louis Vuitton, Cartier, Balmain, Lancôme, and French Vanity Fair. In the summer of 2021, she partnered with L'Oréal Paris as a spokesperson and global ambassador, something she said that Viola Davis, another face of the brand, had inspired. "Viola is an inspiration to people everywhere for her riveting performances on screen and stage and for her resilience, bravery and honesty," she said, adding that she was "mesmerized" by the Oscar winner's turn as Annalise Keating in ABC's How to Get Away With Murder.
Razat Has Diverse Interests And Hobbies
Revealing that she's a "huge gamer" to L'Oréal's beauty blog, Razat added that she's been playing World of Warcraft for 11 years. "Unfortunately I don't have the time to play [much] anymore but I really enjoy it when I do," she said. On Instagram, she's also shared several boxing workouts with a Parisian model trainer named Chris and called the sport one of her favorite things "in the whole world."
French people wearing berets may be a stereotype, but the fashion enthusiast has several pictures on her Instagram featuring the chic headwear. Raza also has a tattoo that says "Keep Walking" on her forearm. "It is a very personal tattoo as someone I loved who passed away at a very young age had the same one," she explained to L'Oréal.
Razat Has Big Plans For The Future
Besides Emily in Paris, Razat's current slate of projects includes Yvan Attal's film, Les Choses Humaines (The Accusation), Didier D. Daarwin's "UFO-like" Mastemah thriller, and a two-part movie called Diane de Poitiers. Her profile is certainly rising. Before Emily in Paris, she already had 30,000 Instagram followers thanks to her French fame, but just as Emily's social media engagement grew when she traveled to Paris on the Netflix series, Razat's celebrity flourished once global audiences got to know her better. (As of December 2021, her Instagram followers count had already leaped to more than 610,000.) After all, who doesn't want stylish French beret selfies showing up in their feed?
This article was originally published on