Before Playing Dre, Dominique Fishback Turned Down A Different Swarm Role
She channels Charlize Theron and Heath Ledger in the Prime Video horror-comedy.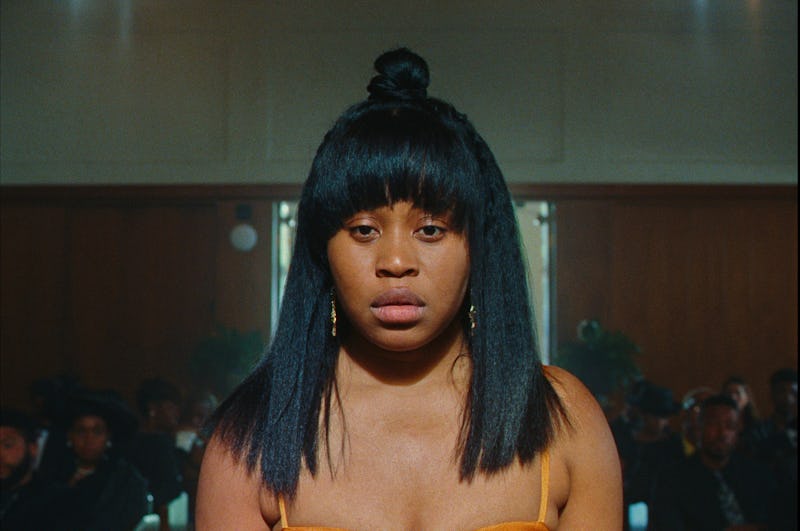 Courtesy of Prime Video
One of the many shocking scenes actor Dominique Fishback filmed as Swarm's central antihero, Andrea "Dre" Green, involves a cherry pie — but her character isn't exactly sweet. The Prime Video comedy-horror series shows how Dre's obsession with a fictional, Beyoncé-like pop star, Ni'Jah (Nirine S. Brown), along with her love for her foster sister, Marissa (Chloe Bailey), leads Dre down a violent path. Initially, it was Marissa, not Dre, that series co-creator Donald Glover imagined Fishback portraying.
After earlier, more tender roles in such projects as HBO's The Deuce, The Hate U Give, and Judas and the Black Messiah, Dre was a departure for the Pace University theater arts graduate. "I'm used to being a character that's loved or easy-to-like and, no lie, you get comfortable with that — I like that!" Fishback explained to The New York Times ahead of Swarm's March 17 premiere. "But I had to get out of my own way in order to be the artist, the actor, that I came here to be."
That could have something to do with why the 31-year-old Brooklyn native initially declined Glover's initial offer to play Bailey's role as Marissa. "I was like, 'You want to play the murderer? Uh, really?'" he told the NYT in a separate phone interview. "She felt very sweet, like someone you wanted to take care of, but she wanted to do the opposite, which I completely understand even in my own career. She wanted to branch out, and I was excited to allow her to do that."
That cherry pie scene with co-star Damson Idris (Khalid) was definitely something out of character for Fishback, but she shot the whole thing in one take. "I was like, 'I don't really know about this,'" Fishback recently admitted to Entertainment Tonight, joking, "I don't even like pie. ... [Luckily,] I only had to do that part once."
Still the performance earned her an on-set standing ovation from the cast and crew, including series co-creators Glover and Janine Nabers. "Afterwards, everybody was clapping and that was cool," she added.
So, where did Fishback find her inspiration to channel Dre's dark side? "When I was younger, I watched Monster with Charlize Theron… And I watched Heath Ledger do the Joker and you see all of these people get to really tap into different characters," she explained to ET. "I was like, 'Man, I want to get the opportunity to really just stretch myself as an actor and explore the human psyche in ways that I would never do.' … And, I feel like I got that freedom to do so at Dre's expense. She's so angry."
It seems Fishback's plan to branch out had been set in motion years earlier. "You look at [Meryl Streep] and she transforms with everything she does, so I said, 'I want to do that,'" the actor, who will next star in this summer's Transformers: Rise of the Beasts, told Bustle in July 2018. "And so I hope that when people watch the stuff that I do they see the person. They don't see Dominique. They see a living, breathing person or someone who has lived before."
Mission accomplished.