Why And Just Like That Fans Turned On Che, According to Michael Patrick King
The executive producer pointed to a specific scene in Season 1.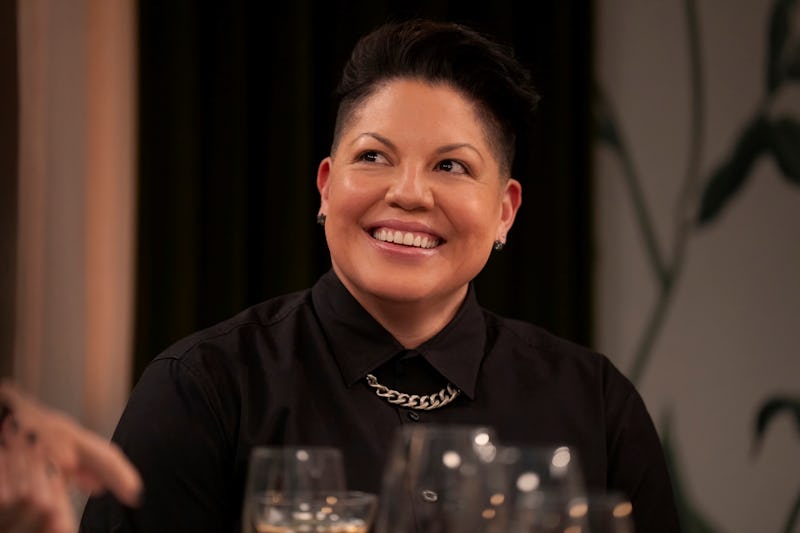 Craig Blankenhorn/Max
Sex and the City history is full of divisive issues: Aidan vs. Big, whether or not Carrie could actually afford that apartment, Steve cheating on Miranda, etc. Over six seasons and two movies, fans were split on countless characters and storylines, and it's no different with And Just Like That…, the iconic series' reboot. Sara Ramirez's Che Diaz has proven to be especially controversial since their introduction in AJTL Season 1, and executive producer, writer, and series developer Michael Patrick King recently shared why he thinks that is.
As a guest on Vanity Fair's Still Watching podcast, King was quick to acknowledge what strong reactions Che has stirred up. He emphasized the longstanding relationship fans have had with the original characters, saying, "The volume of investment was so stacked against the new characters just because, who are they? Why, why are they talking to the people that I know?" That, combined with the fact that Che was "supposed to be cocky" didn't help them. However, one particular scene may have been a deal-breaker for the many fans who never truly warmed to Che.
"I think it was all fine until Che fingered Miranda in the kitchen, while Carrie was peeing in the Snapple bottle," King said, referring to a scene in AJTL Season 1, Episode 5, "Tragically Hip." (In it, Carrie is at home recovering from surgery, and she wakes up to discover Che and a still-married Miranda hooking up in her kitchen.)
"As I look at it, I think that freaked the audience out so much that they went into some sort of seatbelt mode with the first season," King added. "Like, what's going to happen next if that happened? And they were terrified."
The writer did note that there were "off-putting" elements to Che. "Any person who stands on stage and says, 'I'm the art' is going to be off-putting in real life," he said. Still, King felt "people made a snap judgment about Che based on their cockiness, their arrogance, and I think, quite frankly, their sexuality."
Naturally, fans have their own takes. In a Reddit thread about King's quotes, several And Just Like That viewers disagreed. "yeah, that's what did it," one wrote, sarcastically. "not the narcissistic tendencies, constant cruelty, serious immaturity and skewed [priorities]." Another called the scene "the straw that broke the camel's back," and multiple people found it inappropriate that Che was "offering a joint to a teenager" early in the series. And let's not forget the frequent public smoking.
Ramirez previously spoke in their character's defense. "We have built a character who is a human being, who is imperfect, who's complex, who is not here to be liked, who's not here for anybody's approval," they told The New York Times in early 2022. "They're here to be themselves."