Bachelor Nation Celebrated As Soon As Matt James Sent MJ Home
He didn't see the "peace and harmony" she preached.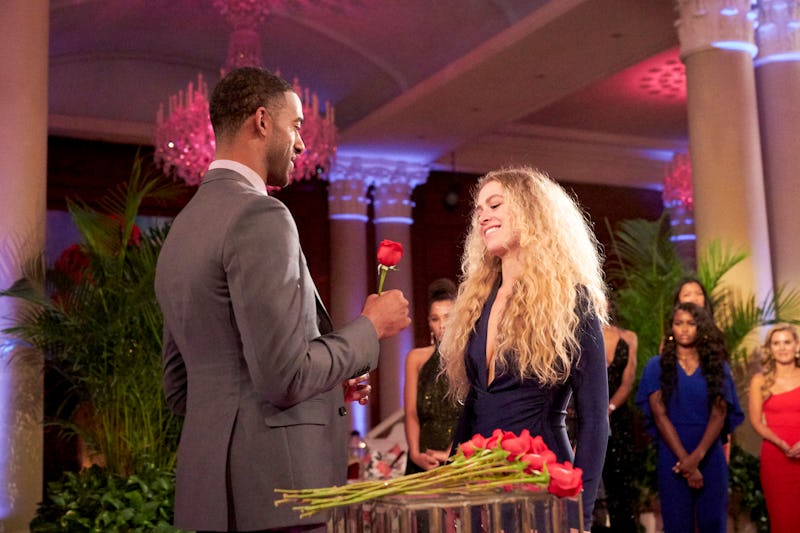 Craig Sjodin/ABC
Matt James' season of The Bachelor is filled with fighting, bullying, and rumor-spreading, but he made it clear that he's not tolerating any of it. After an emotional two-on-one date, Matt sent MJ home once he learned from Jessenia that she had perpetuated the "OGs vs. newbies" fighting within the house. "The last thing we should be doing to each other is bringing each other down," Matt explained, adding that it was a "bummer" to find out MJ was involved in the infighting.
"My heart is so big, and I'm trying to show that to you," MJ told Matt, insinuating that the entire situation was something that Jessenia created out of pettiness. "The fact that Jessenia said that I was creating this divide in the house when I'm trying to bring everyone together... I'm mentally and emotionally exhausted." While he admitted to being "conflicted" because he knew MJ was a "good person," Matt ultimately realized that he couldn't trust her and knew she and Jessenia couldn't continue to stay in the house together. No surprise, Twitter couldn't be more excited to have MJ, who tried and failed to convince everyone that she was all about "peace and harmony," leave the show.
"Our connection is undeniable, and I've felt that since the first time we spoke," Matt admitted to MJ. "I've enjoyed all of our moments together, and that's just being real." However, he felt that Jessenia had "never given me any reason to not trust her," so he decided to side with her and keep her around. "I just can't believe this happened," a shocked MJ said in the car.
Though the viewers — and Jessenia — felt that MJ was responsible for her elimination, the hairdresser continued to claim that she wasn't involved with the bullying and laid the blame solely on her fellow competitor. "I don't know how she did this. She sabotaged me," MJ told the cameras as she drove away from the resort. "That sucks. Jessenia was petty, and I hope Matt figures it out soon."
While his season may have become known for its share of toxicity, drama, and controversial contestants, Matt made it clear both on and off-screen that he won't put up with bullying in the quest for his affection. "When that information was made available to me about what was going on in the house, that type of name-calling and just blatant lies and rumors is unacceptable," he told People on Feb. 3.
"I would have never imagined I was going to be dealing with things like I did ... with grown women," Matt said of the drama. "But whatever you have to do to make sure that these women are comfortable and you can get the best out of them, and they can get the best out of me."