Here's Why Tyler Perry Helped Prince Harry & Meghan Markle When They Moved
"My mother loved your mother [Princess Diana]."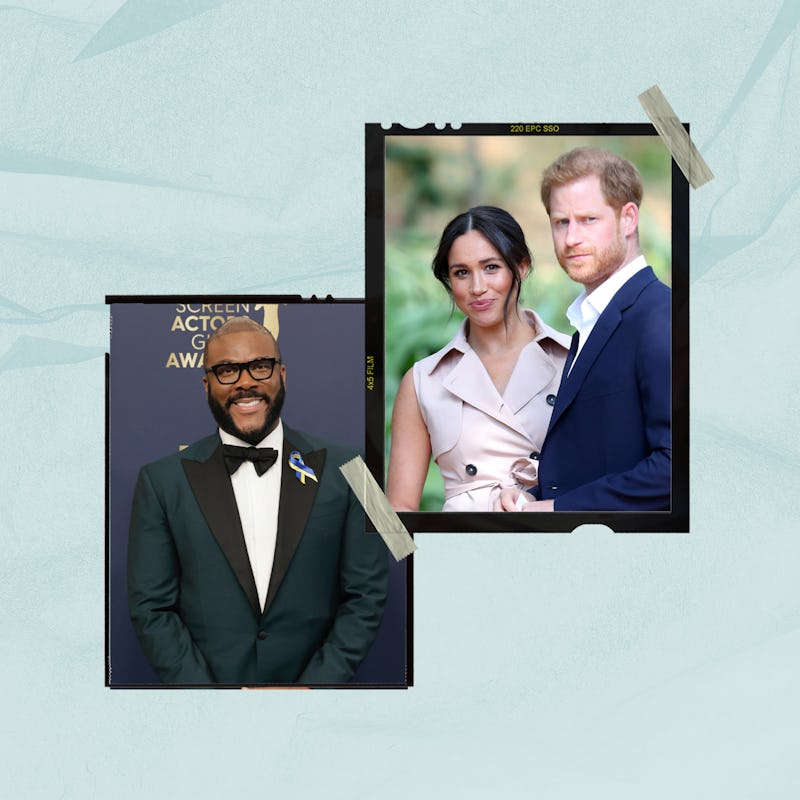 Frazer Harrison/Chris Jackson/Getty Images
Many people have wondered why actor and filmmaker Tyler Perry helped out Prince Harry and Meghan Markle when they announced their exit from the royal family in 2020. In Prince Harry's Spare memoir, he shared more details about his and Meghan's friendship with Perry, finally answering that question. According to the book, their connection went back a few years. "He'd sent a note to Meg before the wedding, out of the blue, telling her that she wasn't alone, that he saw what was happening." Fast-forward to 2020, Harry recalls FaceTiming him with Markle, "trying to put on a brave face" despite everything going on.
The royal gave Perry some insight into what they were losing: security and the border closing because of the lockdown (they were in Canada at the time). Perry proposed they use his Los Angeles house, which came with security Perry would pay for. "It's gated, it's secure — you'll be safe there. I'll keep you safe," Harry recalls the multi-hyphenate saying, adding that Perry was working on a project and didn't need to use the house at the moment. Harry "eagerly" accepted the offer and asked Perry why he was volunteering his home. Perry simply answered: "My mother loved your mother [the late Princess Diana]."
"I was caught completely by surprise," Harry wrote. "[Perry] said: After your mother visited Harlem, that was it. She could do no wrong in Maxine's Perry book." It's unclear if Perry referred to a specific trip that his mother admired. Diana famously visited Harlem in 1989, going to the Harlem Hospital AIDS Unit. She reportedly visited patients and hugged some of the children as a way to break down the stigma against the disease.
Perry's mother had passed away in 2009, and he said he was still grieving her loss. She was believed to be the inspiration for his Madea movies.
Perry previously spoke of his unexpected friendship with the Duke and Duchess of Sussex, explaining that he contacted Markle in the wake of negative press about her. "What I was reaching out to her for was because they were giving her hell and a lot of it was because she was a Black woman," Perry said during an appearance on SiriusXM's Sway In The Morning with Heather B and Tracy G. "And I flat out, no denying it, I completely knew that. And I wanted to reach out and let her know that there was somebody there for her."
In the 2022 docuseries Harry & Meghan, the Suits alum spoke about her friendship with Perry. "Sometimes it's easier to just open up to someone who knows nothing at all. And that was that moment with me and Tyler," Meghan said in the docuseries. They also mentioned their friendship during the 2021 interview with Oprah Winfrey. "We needed a house and he offered his security as well, so it gave us breathing room to try to figure out what we were going to do," Markle explained.