Did Beyoncé Attend The 2023 VMAs? Fans Had Theories
Queen Bey was nominated for Artist of the Year.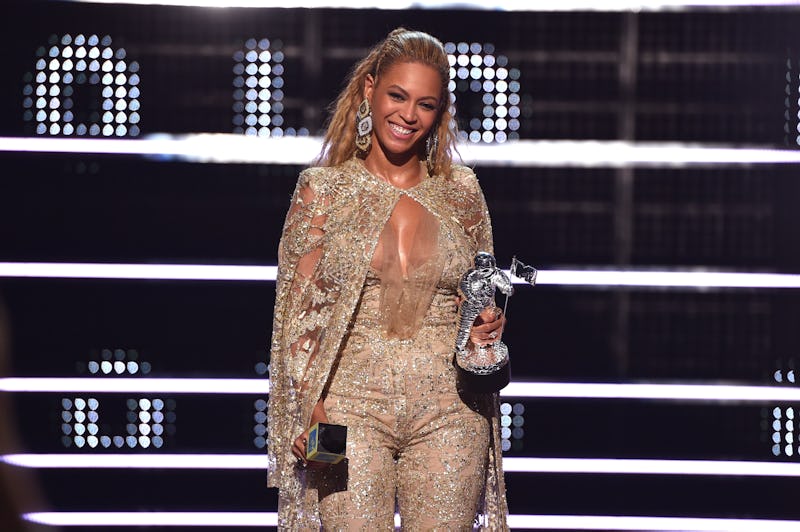 John Shearer/Getty Images Entertainment/Getty Images
Beyoncé has a long and memorable history with the MTV Video Music Awards. Throughout the years, fans have witnessed the "Break My Soul" hitmaker make her solo debut on the VMAs stage, announce her first pregnancy mid-performance, and win the coveted Michael Jackson Video Vanguard award. So naturally, the "Beyhive" wondered: Might Beyoncé attend and perform at the 2023 MTV Video Music Awards?
Although Queen Bey was not officially featured on this year's confirmed list of performers — which included the likes of Demi Lovato, Doja Cat, Diddy, Olivia Rodrigo, Shakira, and more — she was nominated in the prestigious Artist of the Year category, and in three social award categories, including Show of the Summer, Song of the Summer, and Album of the Year.
With her nominations in mind, many fans were convinced that Beyoncé would indeed show up at this year's ceremony, which took place on Sept. 12 at the Prudential Center in Newark, New Jersey — the same night Bey had a very "suspect" gap in her ongoing Renaissance Tour schedule.
"Wait it's the VMAs soon, and Beyoncé has a gap in her schedule. We getting a performance?" one hopeful fan wrote on Twitter. "I'm convinced Beyoncé will attend the VMAs on Sept 12 to either perform or announce something," another commented. Meanwhile, as one member of the Beyhive also pointed out, "Beyoncé has performed at the MTV VMAs with every album so far." So it was surprising when in fact, the 2023 VMAs began with no sign of Beyoncé on the pink carpet, nor at the ceremony itself.
As mentioned, some of Beyoncé's most iconic onstage moments have taken place at the MTV Video Music Awards, most recently at the 2016 ceremony, during which she took home eight gongs and performed a show-stopping medley of Lemonade hits, including "Hold Up," "Don't Hurt Yourself," and lead single "Formation."
This article was originally published on