Did Miley Cyrus Attend The VMAs? She Had 6 Nominations
Fans hoped the "Flowers" singer might show up to perform — or maybe accept a Moon Person.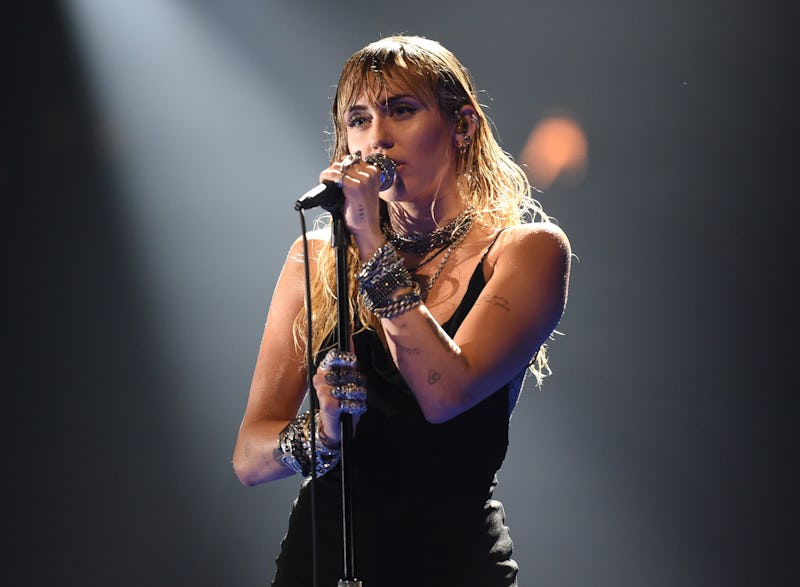 Jamie McCarthy/VMN19/Getty Images Entertainment/Getty Images
Miley Cyrus has a lot to celebrate in 2023. Her single "Flowers" became one of the most successful hits of her career, topping the Billboard Hot 100 for eight weeks and helping her earn six nominations at the 2023 MTV Video Music Awards, including the coveted Video of the Year. However, she didn't celebrate all of these achievements at the VMAs.
Cyrus was not confirmed to attend or perform at the 2023 VMAs, but fans still held out hope she might make an appearance. After all, the singer hadn't missed the VMAs during one of her album eras since 2013, the year she infamously twerked on Robin Thicke in a teddy bear leotard after performing her Bangerz hit "We Can't Stop." The following year, she won Video of the Year for "Wrecking Ball," and let a young man who was experiencing homelessness at the time give her acceptance speech to raise awareness for young people experiencing homelessness.
Cyrus hosted the 2015 VMAs, which ended with a surprise performance of her new song, "Dooo It!" and the announcement of her free album Miley Cyrus & Her Dead Petz being released that night. She returned in 2017 to sing the title track of her Younger Now album, gave another unannounced performance of her single "Slide Away" in 2019, and came back the next year to perform "Midnight Sky" from her album Plastic Hearts, singing atop a large disco ball as a nod to her evolution since "Wrecking Ball."
With Cyrus not attending to promote Endless Summer Vacation, it marked be the first time in 10 years that she didn't use the VMAs to plug her projects. That said, Cyrus has taken a decidedly relaxed approach to promoting this album, only performing her new songs for a Backyard Sessions special and opting not to go on tour. She explained why in a recent TikTok video to promote "Used To Be Young," revealing her exhausting schedule as a 12-year-old starlet. "I'm a lot of things but lazy ain't one of them," she quipped. "So I do think this girl deserves a little endless summer vacation."
This article was originally published on