Taylor Swift Surprised Fans By Attending The 2023 VMAs
Swift is the most-nominated artist of the night, but her presence was not guaranteed.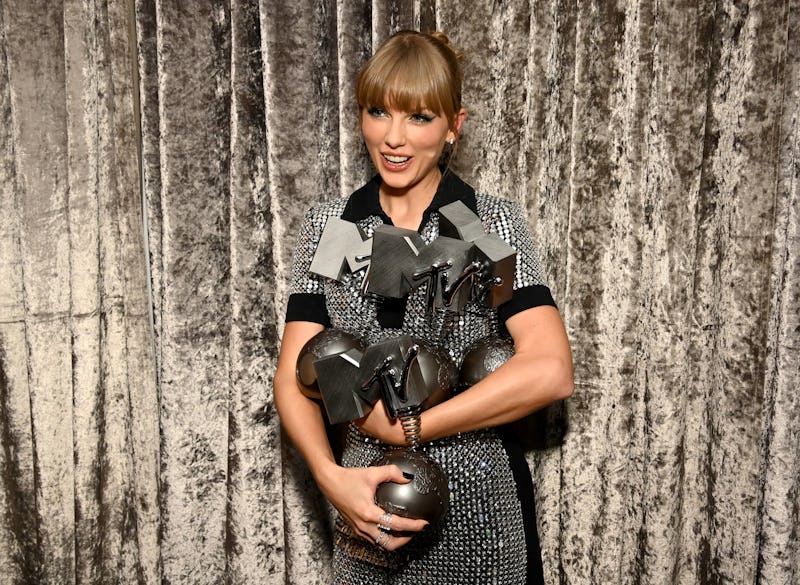 Dave Hogan/MTV/Getty Images Entertainment/Getty Images
Taylor Swift has become synonymous with the MTV Video Music Awards. She's been a part of some of the show's most talked-about historic moments (though not always by choice), and is now the only artist to win Video of the Year four times, most recently in 2023 for her "Anti-Hero" music video, plus the year prior for her "All Too Well" short film. She was the most-nominated artist at the 2023 VMAs with 11 nods. As expected, she celebrated the honor by making a surprise appearance at the ceremony — and took home an astounding nine Moon People, making her the second most awarded person in VMAs history.
Swift was not confirmed to attend or perform at the 2023 VMAs prior to the show, but fans figured that she would end up attending after she was spotted in New York on Sept. 6, not far from the ceremony in nearby New Jersey. And just like when Swift attended the 2022 show, fans didn't know until she walked the red carpet. Just minutes before the show began, she made her appearance on 2023's pink carpet, donning a long black gown with a gold-studded leg slit.
At the top of the show, she took home her first VMA of the night, winning Best Pop Video for "Anti-Hero," and just a little while later, she won Song of the Year for the same Midnights hit. Later on, she won Best Director for helming "Anti-Hero." The night ended with Swift winning Video of the Year, marking her fourth career victory and extending her record for most wins in the category. However, her reign didn't end there. After the show, Swift received five more awards that weren't presented onstage, including Artist of the Year, Best Cinematography, Best Visual Effects, Album of the Year for Midnights, and Show of the Summer for her record-breaking Eras Tour.
Last year, she proceeded to jam out to BLACKPINK's performance, drink champagne, and accept three Moon Person statues, the last of which prompted her to make a major announcement. After winning Video of the Year last year, Swift announced the release of her tenth album Midnights. "I had sort of made up my mind that if you were gonna be this generous and give us this, I thought it would be a fun moment to tell you that my brand new album comes out October 21st," she said. "And I will tell you more at midnight."
This year, Swift kept things more low-key with no major reveal, simply giving more of her trademark award show dancing, jamming out to Shakira, praising Doja Cat's performance, and chilling with her "Karma" collaborator Ice Spice. For two of her acceptance speeches, Swift shared the love by bringing her editor and cinematographer onstage.
That said, even if she had made another announcement, it wouldn't have been as momentous given how Swifties already know what she's doing next. Swift just announced that her Eras Tour movie will premiere exclusively in theaters on Oct. 13 (matching her lucky number), only two weeks before the release of her next re-recording, 1989 (Taylor's Version), which arrives on the original album's nine-year anniversary. If she announces yet another project soon, fans won't be able to keep track.
This article was originally published on