The Kominsky Method Will Get More Complicated In Its Final Season
Netflix promised a plot filled with "money, death, love, murder, and dreams coming true."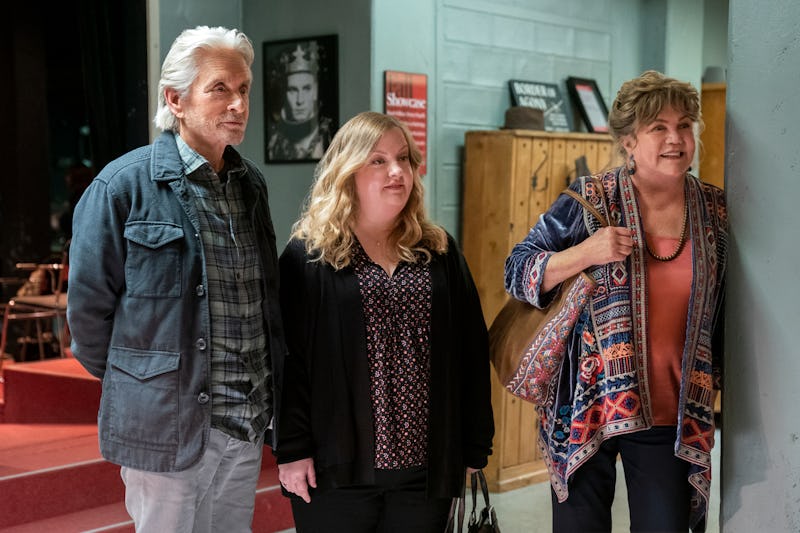 Netflix
A show about inching progressively closer to death can only have so many seasons, but thanks to its growing success — including two Golden Globe wins and six Emmy nominations — fans have been patiently hoping for Netflix to announce Season 3 of The Kominsky Method. Well, the wait is over: On March 26, the streaming platform announced that the hit drama series is officially returning for its third and final season, and it's set to premiere on Friday, May 28. Per a press release, stars Michael Douglas, Alan Arkin, Kathleen Turner, Sarah Baker, Paul Reiser, and recurring cast members Lisa Edelstein, Emily Osment, Graham Rogers, and Haley Joel Osment are all slated to reprise their roles.
According to Netflix, Season 3 of The Kominsky Method follows Sandy Kominsky (Douglas) as he lives his elderly years on his own, apart from his close friend Norman Newlander (Arkin). Then, Sandy's life becomes more challenging as his ex-wife Roz Volander (Turner) joins him in Los Angeles to see their daughter Mindy (Baker) and her boyfriend Martin (Reiser). As fans can expect from previous seasons, Season 3 is slated to focus on "money, death, love, murder, and dreams coming true" over its six episodes, per the streaming service's announcement.
Prior to the announcement, a potential third season was hinted at through a comment made to Entertainment Weekly by Douglas and Season 2 newcomer Turner, who Douglas suggested act on the show. (The pair worked together on multiple films during the '80s, including Romancing the Stone and The War of the Roses, and they have unmatched comedic chemistry.) "When I saw the part that [series creator Chuck Lorre] had written, it just reeked of a kind of a War of the Roses divorce, and she's just so good," Douglas told EW. "I was just so happy she said yes."
In Season 2, their characters' daughter Mindy is dating Martin, a much older man, which gives them a lot to bicker about. Both Douglas and Lorre find the scenes incredibly hilarious — so much so that they want to see more of Turner on the show. "I've got my fingers crossed that if we do a third season that Kathleen will be more [involved]," Douglas said. "I'm just savoring the fact that I see an opportunity for us to have a lot of fun with that relationship."
Douglas was really pushing for a continuation of their story, and Turner seemed to be on board. "We must have that sort of vibe of an old married couple because we're just so comfortable with our past and our relationship," she told EW. "It's sort of like, 'Oh, there they go again.'" If you're itching to find out where their relationship goes, be sure to tune into Season 3 when it drops on Netflix.
This article was originally published on