Will The Prince Air In The UK?
Sophie Turner will star as the voice of Princess Charlotte in HBO's new, royal-themed animated series.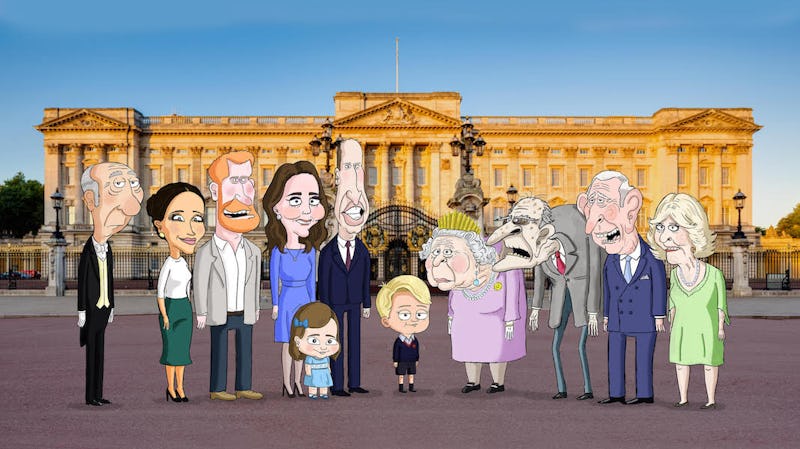 HBO Max
U.S. streaming service HBO Max has finally released its hotly-anticipated royal-themed animated series, and it's already caused quite the reaction in the UK. Titled The Prince, the comedy pokes fun at the inner-workings of the British royal family through the eyes of the eight-year-old Prince George. The concept sounds like a truly bonkers one. However, the series already boasts a large fanbase, thanks to a hugely popular meme Instagram account. But will The Prince ever make it to the UK?
All 12 episodes of The Prince were made available on HBO Max in the U.S. on Thursday, July 29. However, here in the UK, an exact release date is yet to be announced. I have reached out to HBO to find out if a UK broadcaster has plans to pick up the animated series. I will update you as soon as more information is available here, including all the details on how and when to watch.
Based on Family Guy writer Gary Janetti's hilarious Instagram (which already has almost a million followers), the parody production features quite the A-list cast.
Janetti himself voices Prince George; a witty character who acts as the show's "narrator" of sorts and spends his time poking fun at his family and spilling some "royal tea". Joining Janetti in the comedy's cast are Frances de la Tour as the young prince's grandmother, Queen Elizabeth II, and Game of Thrones star Sophie Turner as his younger sister, Princess Charlotte.
Elsewhere, American actor Condola Rashad voices Meghan Markle, while Tom Hollander — a face you might recognise from Bird Box, Bohemian Rhapsody, and Baptiste — portrays both Prince Charles and the late Prince Philip. Another Game of Thrones actor, Iwan Rheon, lends his voice to the role of Prince William, the Duke of Cambridge, while Motherland's Lucy Punch stars as Kate, the Duchess of Cambridge and Prince Harry, the Duke of Sussex, is voiced by Pirates of the Carribean's Orlando Bloom.
Speaking to the Hollywood Reporter, Bloom previously revealed that his fiancée, Katy Perry, is who ultimately convinced him to be apart of this "genius" new series, and shed light on a past interaction with Prince Harry, who he hopes will appreciate the royally-inspired humour.
"This guy is so nice, and I think he's got a great sense of humour. I hope he maintains that through this because they're sort of on a pedestal. We're showing real adoration to them in one form or another," the actor explained, adding, "I try to justify it, because quite frankly, if I'm honest, it's not like me to poke fun at anyone, but it is done with affection."
Per Entertainment Weekly, it was revealed the series had originally been scheduled to debut on HBO Max during the spring of 2021. However, following the death of the Duke of Edinburgh in April 2021, the streaming platform made the decision to delay the show's arrival out of respect. "We were saddened to learn of Prince Philip's passing and will adjust plans for the series debut," a representative told the publication at the time, adding, "a new date will be announced at a later time."
This article was originally published on