Peaky Blinders Creator Steven Knight Just Gave A Major Film Update
The hit BBC drama is coming to the big screen.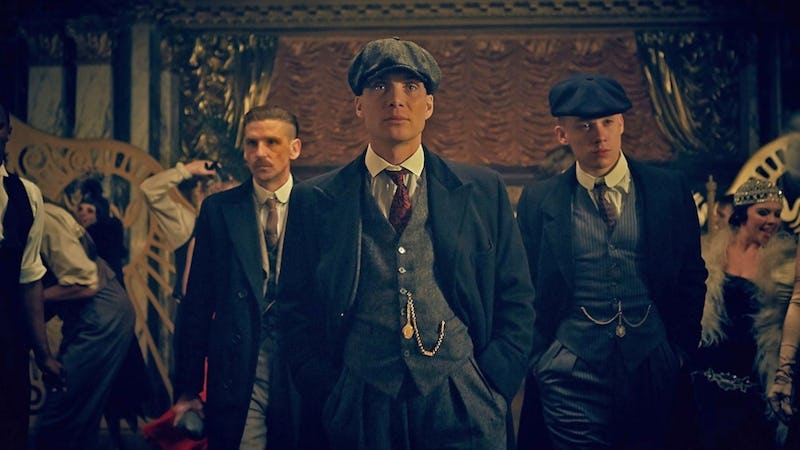 BBC
After six explosive seasons, BBC One's Peaky Blinders came to a dramatic end in early 2022. Much to the delight of fans, Tommy Shelby (Cillian Murphy) survived the finale, but is this the last we'll see of him? Fear not, because series creator Steven Knight confirmed in early 2021 that a Peaky Blinders film is indeed on the way, telling Deadline that his "plan from the beginning was to end Peaky with a movie." He added, "That is what is going to happen." Keep scrolling for everything we know so far about the upcoming Peaky Blinders film.
Peaky Blinders Film Plot
Exact details of the film's plot are also yet to be confirmed. Although, we do know that the Peaky Blinders movie will be set during the Second World War and cover some "secret and unknown" real-life stories.
"I've had this in mind for quite a while now, a story with the Peakys during the Second World War, and I've picked up three true stories that I'm integrating into the film," Knight explained to Radio Times. "I'm always interested because with the Second World War there was so much going on and so much death and destruction, that lots of things happened that didn't really make it into the history books. So it's those things I'm focusing on."
Knight also revealed that the script is close to being finished. "Nearly nearly nearly, it's almost there," he said of the work in progress. "So, you know, we've got the shooting schedule, we've got the dates for when we start, so that's all going to happen."
Peaky Blinders Film Cast
Details of the film's cast are also in short supply. However, speaking previously to Digital Spy, series creator Knight confirmed that talks with "many great actors" have already taken place, and revealed that the characters of Tommy and Arthur Shelby, played by Cillian Murphy and Paul Anderson, respectively, will be part of the big screen continuation.
In addition to returning favourites, Knight also teased that fans should expect some new faces in the forthcoming movie. "I think what we want to do is keep surprising people, and keep breaking new talent." Knight continued, "Because it's all out there, and there is a sort of consistency — what we're doing is finding really good actors from a working-class sort of background, and telling that story. That's what we're trying to do."
Peaky Blinders Spin-Off
If the announcement of a big screen release wasn't exciting enough, fans might also have a Peaky Blinders spin-off to look forward to.
Speaking to BBC Midlands Today, Knight touched upon the possibility of expanding the Peaky universe, revealing that, following the release of the upcoming film, he plans to "hand over the baton" to a team of new writers to explore some "possible new stories."
"I think after the film, it would be me sort of launching possible new stories into the '50s," Knight explained. "And then I would hand over the baton of writing and creating the thing to other people, but if there is an appetite for the world, then it will continue."
Peaky Blinders Film Release Date
Speaking to the BBC in Sept. 2022, show boss Knight revealed that filming is scheduled to begin "early next year in Digbeth in Birmingham," and gave a potential release date of "Spring 2024." At the 2022 National Television Awards, Knight confirmed the date. "I'm delivering the script for the film on Monday, so we'll start production in Spring," he said. Adding "It should be in cinemas by the Spring 2024."
Catch up on all six seasons of Peaky Blinders on BBC iPlayer.
This article was originally published on