What To Remember About Who Lived & Died Before Yellowjackets Season 2
The plane crash survivors didn't all make it through Season 1.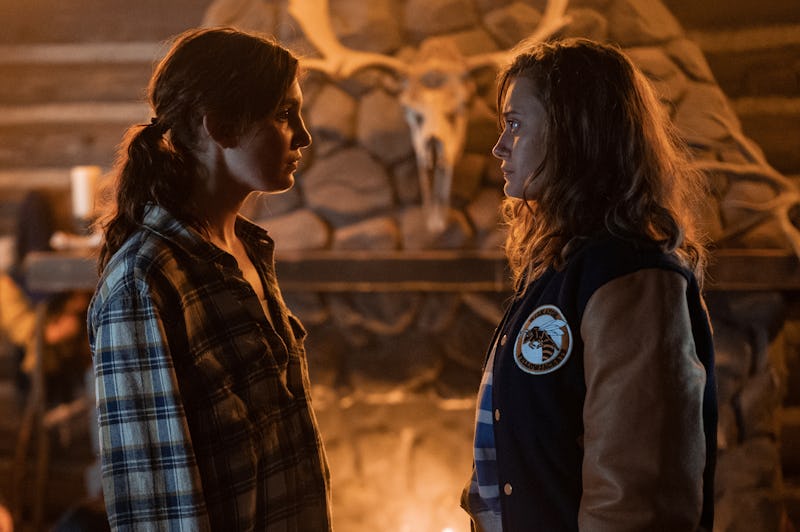 Kailey Schwerman/Showtime
Picking up about two months after the finale, Yellowjackets Season 2 finds the stranded high school soccer team ravaged by hunger in the Canadian wilderness, where viewers know they'll be stuck for 19 months following their 1996 plane crash. Showtime teased that viewers can expect to see if their desperation will "turn into full-on psychosis," while survivors Shauna (Melanie Lynskey), Natalie (Juliette Lewis), Misty (Christina Ricci), and Taissa (Tawny Cypress) are still battling their own demons in the present timeline. Before you take a bite out of the next chapter, here's everything to remember about Yellowjackets' twisty first season — including who lived and who died.
Travis' Cause Of Death Was Debunked
Early in the series, adult Natalie and Misty found fellow plane crash survivor Travis (Andres Soto) dead on the ranch where he worked, and police ruled it a suicide. However, an arrangement of candles in the pattern of a stick figure symbol from the woods, coupled with the fact someone emptied Travis' bank account after his death, led the women to believe he was killed. The finale later revealed that Lottie was the one who took his money.
Shauna Committed A Murder
Thinking her husband, Jeff (Warren Kole), was cheating on her, Shauna began an affair with a mysterious stranger named Adam (Peter Gadiot). After an anonymous stalker tried extorting the surviving Yellowjackets for $50,000, Shauna suspected Adam was responsible and fatally stabbed him. Though Jeff later admitted to her he was the one blackmailing them because his furniture business was deep in debt, Shauna kept the truth secret, and Misty disposed of Adam's body. Having discovered her mother's affair when they unknowingly attended the same party, Shauna and Jeff's daughter Callie (Sarah Desjardins) became suspicious when Adam's disappearance hit the news.
Laura Lee's Plane Exploded
In the 1996 timeline, the group sought refuge in an abandoned cabin where they discovered a small propeller airplane. Hoping to fly to get help, Laura Lee (Jane Widdop) got the aircraft off the ground, but moments after takeoff, the plane exploded in the air as her horrified teammates watched.
Van Survived A Wolf Attack
When a pack of wolves attacked, Van (Liv Hewson) — who'd struck up a romance with Taissa (Jasmin Savoy Brown) — was presumed dead. Though her face was badly mauled, she survived. Fans see adult Van (Lauren Ambrose) for the first time in Season 2.
Javi Disappeared
After teen Misty's (Sammi Hanratty) hallucinogenic mushrooms were accidentally added to the survivors' soup ahead of a homecoming (aka "Doomcoming") celebration, the young women lost their minds and turned on their late coach's son, Travis (Kevin Alves). In a demonic-sounding voice, Shauna (Sophie Nélisse) warned Travis' brother, Javi (Luciano Leroux), to "run," and by the season finale, he still hadn't returned, nor had they found him or his remains.
Lottie Killed A Bear
Teen Lottie, who quickly ran out of her antipsychotic medication after the crash, seemed to possess some sort of psychic ability or larger supernatural power when an attacking bear inexplicably fell at her feet. Lottie stabbed the bear to feed her friends, cementing her place as a group leader. At the end of the Season 1 finale, "Antler Queen" Lottie placed the bear's heart in a hollowed-out tree, reciting phrases like "spill the blood" (in French) and "let the darkness set us free." During the religious-type ritual, she was flanked by Van and Misty, who both kneeled in reverence.
Misty Poisoned A Journalist
To stave off a prying journalist named Jessica (Rekha Sharma) — who Taissa actually hired to investigate her teammates — Misty kidnapped the woman. Though she eventually let Jessica go, she'd secretly poisoned her cigarettes, leading the investigator to crash her vehicle.
Jackie Froze To Death
After arguing with Shauna — who was pregnant with Jackie's ex-boyfriend Jeff's baby — Jackie (Ella Purnell) decided to sleep outside for the night. An unexpected snowstorm hit, and though she seemed to return to the cabin to warm up, it turned out to just be a dream. In the morning, Shauna looked out the window and spotted Jackie's dead body frozen in the snow.
Taissa's Nocturnal Wandering Came Back To Haunt Her
Though Taissa won her election and became the first Black woman to serve in the New Jersey state senate, her wife, Simone (Rukiya Bernard), discovered a shrine — including their family dog's severed head — hidden in their basement. As was the case in the woods, Taissa was still experiencing nocturnal personality breaks and was the "lady in the tree" giving her son, Sammy (Aiden Stoxx), nightmares.
Natalie Was Abducted
Just as Natalie put a gun to her head to end her life, a group of strangers — who were clad in purple and wearing necklaces with the same stick figure symbol from the woods — busted into her motel room and abducted her.
If you or someone you know is experiencing suicidal thoughts, call the National Suicide Prevention Hotline at 1-800-273-8255 or text HOME to the Crisis Text Line at 741741. You can also reach out to the Trans Lifeline at 877-565-8860 or the Trevor Lifeline at 1-866-488-7386, or to your local suicide crisis center.