An Ultimate Guide To The Music Of Yellowjackets Season 2
Florence + The Machine, Tori Amos, and Garbage are all on the '90s-heavy soundtrack.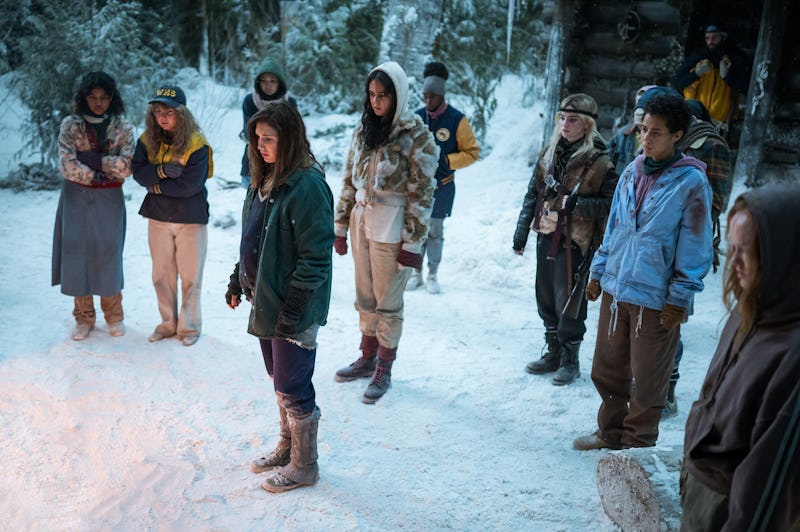 Kailey Schwerman/Showtime
When Showtime dropped the official Yellowjackets Season 2 trailer on March 9, a sweet treat awaited fans. On the soundtrack, Florence + The Machine's "Just a Girl" cover put a haunting spin on No Doubt's 1995 hit, setting the tone for a potentially unnerving new season. "I'm such a huge fan of Yellowjackets and this era of music, and this song especially had a huge impact on me growing up, so I was thrilled to be asked to interpret it in a 'deeply unsettling' way for the show," lead singer Florence Welch said in a statement. "We tried to really add some horror elements to this iconic song to fit the tone of the show. And as someone whose first musical love was pop punk and Gwen Stefani it was a dream job."
The Showtime drama's second season, which began streaming on March 24, will primarily stick to original versions of '90s hits. After all, Yellowjackets Season 2's Emmy-winning music supervisor, Nora Felder — who was responsible for placing Kate Bush's "Running Up That Hill (A Deal with God)" in Stranger Things Season 4 — has plenty of experience getting notoriously choosy artists to clear the use of their classic songs, and in choosing the perfect tune for the moment.
Felder's strategy is to find music that stays true to the story. "Many times I look for songs with lyrics that can allude to the storyline aspects in thematically and emotionally layered ways. I try to be conscientious and not insult the audience's intelligence by spoon-feeding them," she explained to Forbes in April 2022. "That's not to say that there aren't some instances when I would want to state the obvious by impactfully shouting out a message. At other times, however, I may want a song to subliminally whisper softly into the viewer's ear."
Composers Craig Wedren and Anna Waronker's "No Return" is still the Yellowjackets theme song, but, on April 14, Alanis Morissette released an extended version single which debuted during the Episode 4 title sequence. "I love the original version of "No Return," It's just a perfect song," the seven-time Grammy winner said in a statement. "It was a little daunting to be asked to reinterpret it, but I see parallels between Yellowjackets and my perspective while songwriting: the sheer intensity, that going for the jugular with no fear around going for the profane."
Morissette continued, "I've strived my entire career to support the empowerment of women and sensitives, and see the world through the female lens, and what's so wonderful about this show is that each character is allowed to be dynamic and complex as opposed to oversimplified, reduced versions of women. I feel honored to be a part of the legacy of Yellowjackets."
There are plenty of throwback tracks to keep viewers rockin' like it's (almost) 1999, too. Here is an episode-by-episode breakdown of all the songs featured in Yellowjackets Season 2.
Episode 1 — "Friends, Romans, Countrymen"
"Seventeen" by Sharon Van Etten
"Drown" by The Smashing Pumpkins
"A Night in Rio" by Graham Francis De Wilde
"#1 Crush" by Garbage
"Last Resort" by Papa Roach
"Cornflake Girl" by Tori Amos
Episode 2 — "Edible Complex"
"No Room for a Nihilist in Hollywood" by Peachy!
"Inertia Creeps" by Massive Attack
"Little Queenie" by SadGirl
"Climbing Up the Walls" by Radiohead
Episode 3 — "Digestif"
"These Are Days" by 10,000 Maniacs
"When I Go Walking" by Popecoke
"Seether" by Veruca Salt
"Past Not Forgotten" by The Parachute Men
"Take Me Down" by Sonica Disturbia
"Full Time Jack Move" by Larry Thomas West
"Bells For Her" by Tori Amos
Episode 4 — "Old Wounds"
"Rainbow Tour" by Andrew Lloyd Webber, Original Evita Cast
"Just Get Over It" by James Donald Davies & Martin Jackson
"Won't Waste a Day" by James Donald Davies & Martin Jackson
"Angst In My Pants" by Sparks
Episode 5 — "Two Truths and a Lie"
"What's Up?" by 4 Non Blondes
"Big Mouth" by Necking
"Stayin' Alive" by Topical F*ck Storm
"Mother" by Danzig
Episode 6 — "Qui"
"Sorted for E's & Wizz" by Pulp
"Cinematic Drone" by Alan Fillip
"Pitseleh" by Elliott Smith
"Rescue Me" by Madonna
"Earth Canticle" by Wendy Smith Howard
"Deep Forest Chant" by Gene Katsuro
"Song 2" by Blur
"Your Woman" by White Town
"F*ck tha Police" by N.W.A.
Episode 7 — "Burial"
"Something in the Way" by Nirvana
"Sat Nam Mantra" by Jan Pham Huu Tri
"Free" by Florence + The Machine
"6 Underground" by Sneaker Pimps
"Lightning Crashes" by Live
"Dream Girl Evil" by Florence + The Machine
Episode 8 — "It Chooses"
"Not While I'm Around" by Barbra Streisand
"The Music of the Night" by Andrew Lloyd Webber
"Bullet with Butterfly Wings" by The Smashing Pumpkins
"Poor Sucker" by Low
Episode 9 — "Storytelling"
"God Is Alive Magic Is Afoot" by Buffy Sainte-Marie
"Zombie" by The Cranberries
"The Killing Moon" by Nouvelle Vague
"Street Spirit (Fade Out)" by Radiohead
"The Killing Moon" by Echo & the Bunnymen
"Sad But True" (Metallica cover) by St. Vincent
This article was originally published on