Zach Swears He Didn't Look Up Contestants Before The Bachelor Began Filming
America chose his first rose recipient in September.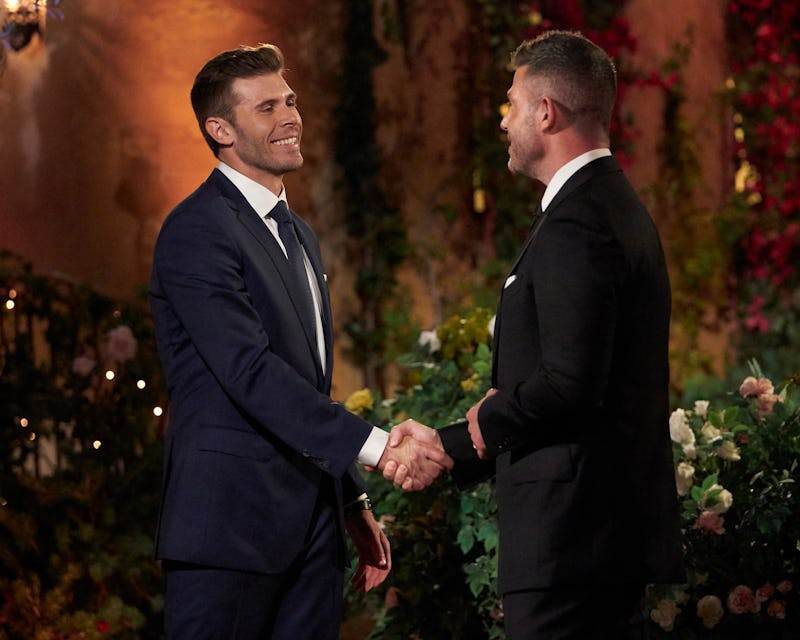 ABC/Craig Sjodin
Following his painful breakup with The Bachelorette Season 19 co-lead Rachel Recchia, Zach Shallcross took a beat to turn his wounds into wisdom. "I really needed to take some time away and reflect and heal that broken heart," he told host Jesse Palmer during ABC's After the Final Rose special, which aired live on Sept. 20. "What I learned from that experience was, it didn't change how ready I was. I am now more ready. That was fuel to the fire. I am ready to find my person, my best friend."
When Jesse announced the same night that ABC had chosen Zach to front The Bachelor Season 27, his second chance at a happy ending was already on the horizon. The network immediately introduced him to five of the 30 women competing in the series: Bailey Brown, Brianna Thorbourne, Brooklyn Willie, Cat Wong, and Christina Mandrell. The newly introduced "America's First Impression Rose" ultimately went to Brianna, who, as Zach told Entertainment Tonight afterward, was "absolutely" the right choice.
"I thought coming up with a Polaroid camera, taking a selfie on stage and putting it in my pocket, I was like 'wow that was very smooth,'" he added of his season's first rose recipient. "I have it forever and gotta bring it on night one."
That first night of filming kicked off less than a week later, but Zach insisted that he didn't find any of those five contestants on social media in the interim. "I didn't get to look up any of the women," the California native told Hollywood Life. "I don't even think I had my phone at that point. So I didn't look up their social medias before. I probably should have!" Having already met some of the women before heading to the Bachelor Mansion still helped with his first-night jitters though.
"When I was standing in front of the mansion on night one, I'm like, 'Wow, I'm really here, it's about to begin, what did I get myself into?' But having those five women I met days prior allowed me to be like, 'Oh, a familiar face!'" he added to the website. "We could talk about how I absolutely did terrible and forgot everyone's name and laugh about it and joke about it. That made me feel comfortable and helped me feel a little better just seeing them again."
After the season took him and the other women around the world to such reported international filming locations as the Bahamas, London, Budapest, and Estonia, production wrapped in late November. "This has been an unreal 2022. A complete roller coaster from start to finish," Zach captioned a November 29 Instagram post, announcing his Bachelor season would premiere on Jan. 23. "This year has taught me more than I could have ever imagined and I wouldn't trade it for the world. Can't wait for you all to see how this journey to true, forever love unfolds."