Zendaya Shared A Powerful Reminder About Life On Her 27th Birthday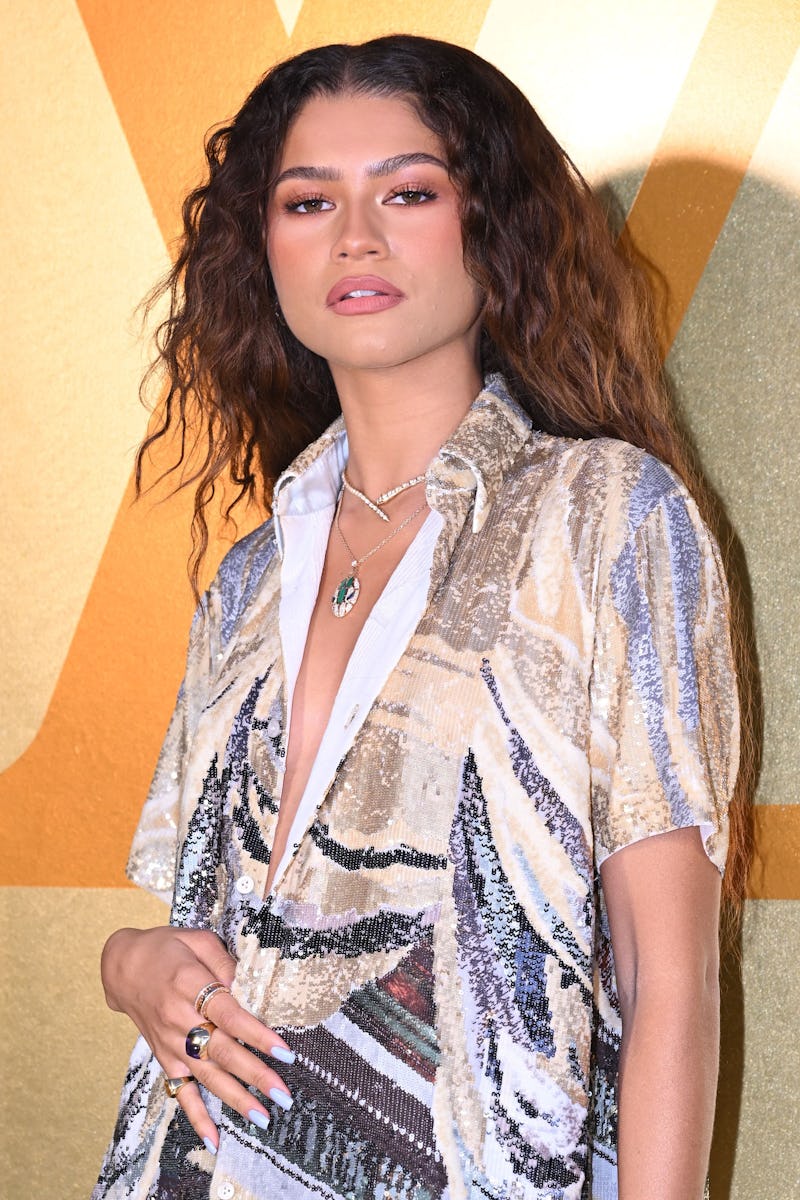 STEFANO RELLANDINI/AFP/Getty Images
Another birthday means Zendaya is one year older and wiser. The Euphoria star turned 27 on Friday, Sept. 1, and she shared the reminder she's carrying with her into the latest year of her life. It's all about gratitude.
"Every year I grow I'm reminded of how precious this life is," she wrote, "thank you all for helping me fill it up with so much love. Your kind words and constant support means everything to me. Thank you so so much and here's to 27."
Her post featured an adorable look back at her childhood. Crouching in front of a plate full of cookies, a young Zendaya grins at the camera, revealing chocolate around her mouth and on her hands. Later, she posted a much more recent, glamorous photo, and the two show just how much she's grown up over the years.
The Dune star also made sure to thank her fans in her Instagram stories. Showing her deep appreciation, she shared a meme that incorporates one of her past retweets, adding text to say, "Me rn reading everyone's birthday messages on Twitter." The story shows her reading an October 2021 InStyle tweet on an iPad, hilariously making light of her struggles to use one of the devices during a video for the outlet. The old tweet included a clip of her responding to fan mail and said, "To all @Zendaya fans: She sees you, she loves you, AND she appreciates you for always calling out her spelling."
Birthday greetings soon filled Zendaya's comments section after she posted about her special day. Famous figures like her Shake It Up co-star Bella Thorne, actor Tatum O'Neal, model Lori Harvey, and former Miss Universe Olivia Culpo all responded with her happy birthday messages. As for her boyfriend, Tom Holland, he posted his own stories celebrating her. "My birthday girl," he wrote over one showing her in snorkeling gear, per People. A second showed her walking dogs in the park and featured three added smiling-face-with-heart-eyes emojis.
Prior to her birthday post, Zendaya had not shared anything to her grid since she memorialized her late Euphoria co-star Angus Cloud on Aug. 1. In that message, she said that she'd "cherish every moment" he gave them, a sentiment that may have influenced her birthday wisdom about how precious life is.
Last year brought numerous big moments for Zendaya. The multihyphenate returned to the stage for a live performance for the first time in seven years; Labrinth surprised Coachella festivalgoers by bringing her out to sing "I'm Tired" and "All for Us" from the Euphoria soundtrack. She also filmed the upcoming Dune: Part Two, plus served iconic looks. Twenty-eight seems sure to bring more highlights for her, and it doesn't sound like she'll take any of them for granted.