Zendaya Shut Down Tom Holland Engagement Rumors In The Best Way
"You think that's how I would drop the news?"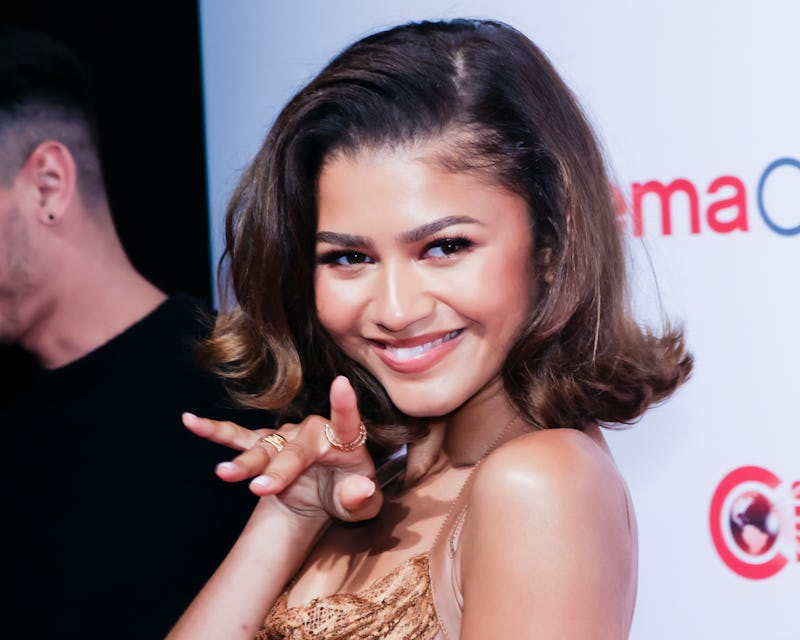 Greg Doherty/FilmMagic/Getty Images
Zendaya has set the record straight on any Tom Holland engagement rumors. On Sept. 21, the Euphoria actor posted a photo to her Instagram story in which she was seen wearing a large pearl ring. Fan speculation quickly ensued, with many jumping to the conclusion that she and the Spider-Man star might be planning to tie the knot.
The Emmy winner later addressed the engagement rumors head-on in a now-deleted video, telling her 185 million Instagram followers: "I can't post anything, you guys. I posted it for my hat. Like not for the ring on my right hand, you guys, seriously." She continued: "You think that's how I would drop the news? You think, like, what."
After deleting the photo that first sparked the engagement rumors, Zendaya then re-posted the snap to her Instagram story, along with the caption: "Let me just put the full body back so ya'll can relax."
Zendaya and Holland have been known to keep details of their love life away from the spotlight since going public with their relationship in 2021, and the Dune star explained in a recent interview with Elle that she plans on keeping it that way.
"Parts of my life, I accept, are going to be public," the actor said. "I can't not be a person and live my life and love the person I love. But also, I do have control over what I choose to share. It's about protecting the peace and letting things be your own but also not being afraid to exist. You can't hide. That's not fun either. I am navigating it more than ever now."
Despite recently having to shut down fan speculation surrounding her personal life, Zendaya has previously credited her fan base for respecting the couple's privacy. "They're really respectful of my boundaries and the things that I choose to keep a little bit more private," the actor told Vogue Italy in 2022. "Many of them have grown with me and have watched me evolve in different parts of my life and career and with that, many of us being around the same age, have similar outlooks on life."