Zendaya & Tom Holland's Relationship Timeline Is A Web Of Euphoria
In August, Holland flew over 4,000 miles to Budapest just to be with Zendaya — twice!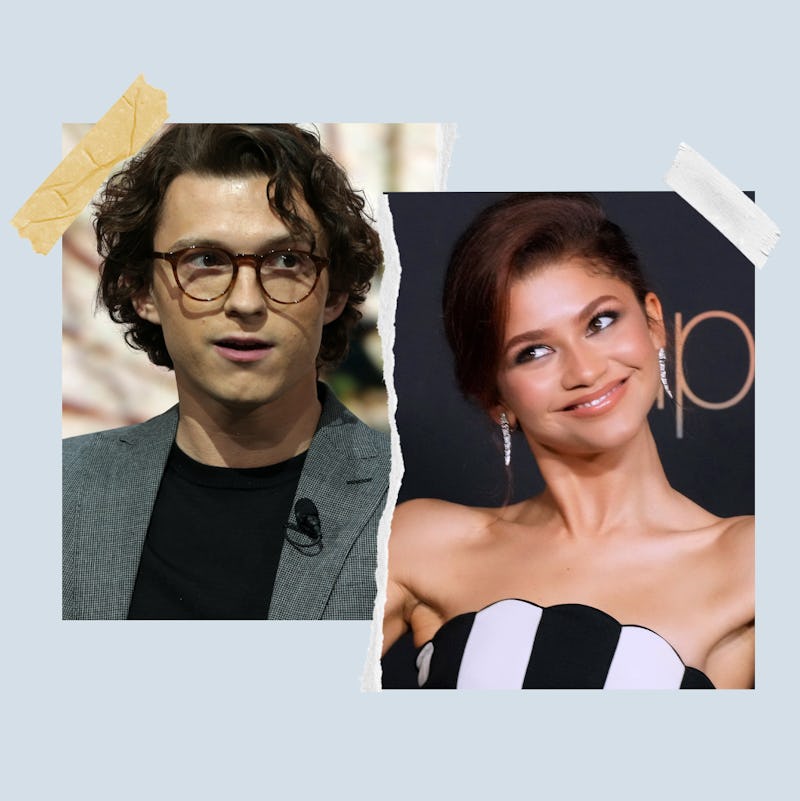 Alex Wong/Jeff Kravitz/FilmMagic/Getty Images
Ever since fans witnessed Zendaya and Tom Holland's onscreen chemistry in 2017's Spider-Man: Homecoming, they've been hoping for an off-screen romance. The pair adamantly denied their relationship after years of speculation, but in July 2021, a photo surfaced of them kissing in a car, which seemed to confirm what everyone was hoping to be true: Zendaya and Holland are an item.
Although they've dodged romance rumors with superhero-like ease in the past, the couple is more open to sharing their love for each other publicly, as was the case on June 1, 2022, when Zendaya posted a romantic Instagram photo of them to wish him a happy 26th birthday. In August, Holland proved how devoted he was by flying over 4000 miles from New York to Budapest — twice — just to spend time with Zendaya while she was filming Dune: Part Two.
Both stars have known each other since they were 19, and most of the initial relationship rumors started because of how well they get along during press tours, their jokes, and even the way they poke fun at each other on social media. Plus, how can we forget the time Holland revealed that Zendaya was his first celebrity crush? At the end of November 2021, they attended the Ballon D'Or in Paris, France together — their first public event as a couple. Since then, they've since accompanied one another to multiple Spider-Man: No Way Home premieres.
Now, in 2022, observant fans are even finding clues to determine how much time they spend together, especially after Holland told IMDb at the end of 2021 that he visited Zendaya a lot while she was filming the new season of Euphoria: "I must have come to visit Euphoria at least 30 times this season."
One TikToker noticed him possibly hiding in the back of a new Euphoria cast photo, while another user theorized that he actually appeared on Season 2 as an audience member for Lexi's iconic play. "Who knows? The world may never know," Zendaya said to Entertainment Tonight in April 2022 when asked about the theory.
Here's a rundown of everything we know about Zendaya and Holland's friendship and relationship.
2016: Instagram Posts Spark Rumors
Back when Zendaya and Holland were freshly cast in Spider-Man: Homecoming, speculation over their relationship was pretty low, but they did start showing up on each other's Instagram feeds. That July, Holland posted a photo of him and Zendaya in a pool, captioning the photo, "Summer Sundays."
In November of that same year, Zendaya posted The Hollywood Reporter cover featuring her and Holland. "Amidst all the chaos and sadness...this one good thing did happen to me today," she wrote before giving Holland a shoutout. "Honored to share it with the very best...Spider-Man himself @tomholland2013."
2017: Dating Buzz Intensifies
On July 7, 2017, Holland got candid about his relationship with Zendaya in an interview with People, telling the magazine that the star helped him handle the spotlight. "We are like the best of friends. She's so great and amazing," he said. "I'm a little worried [about dealing with fame … but] Zendaya is super famous and she's been through this, and I just call her up and say, 'How do I manage being famous?' I'm very glad I have a friend like her."
That same month, a source told People that they were more than just friends. "They started seeing each other while they were filming Spider-Man," the source said. "They've been super careful to keep it private and out of the public eye, but they've gone on vacations with each other and try and spend as much time as possible with one another."
The insider continued, "They're both really ambitious and they challenge each other — but, most importantly, they make each other crack up. They seem to have a really similar sense of humor and love joking around together. They have great banter back and forth."
Fans were thrilled about the news, that is, until Zendaya and Holland took to Twitter to put the rumors to rest. "Wait wait...my favorite is when it says we go on vacations together HA!" Zendaya tweeted. "I haven't been on a vacation in years! hbu @TomHolland1996???"
Holland quote-tweeted her, asking, "Does the press tour count?"
Their playfulness continued in July that year when they competed against each other on Lip Sync Battle. Holland transformed from Gene Kelly to Rihanna to lip-sync "Singing in the Rain" and "Umbrella," and Zendaya moved her lips to Bruno Mars' "24k Magic." Their reactions to each other's performances showcased their close friendship and potential relationship.
In August, Zendaya spoke to Variety and doubled down when it came to denying relationship rumors. "We are friends," she said. "He's a great dude. He's literally one of my best friends. This past how many months we've had to do press tours together. There's very few people that will understand what that's like at 20 years old." But the rumor mill was at it again that December when Holland was spotted with Zendaya's parents in New York. At the time, a source told Page Six that they seemed "charmed" by Holland.
2018: Are They Or Aren't They Together?
In 2018, things got pretty quiet when it came to news of their relationship; however, fans thought that Holland's very boyfriend-like behavior was a little suspect. That May, he posted a photo of Zendaya to his Instagram, sharing how in awe he was of her Met Gala look — and her, of course. He captioned the post, "All hail the queen," before adding a strategic, "Killing it mate 🙌🏻."
2019-2020: Seeing Other People
Things took an interesting turn when rumors started swirling that Zendaya was dating her Euphoria co-star Jacob Elordi. They were spotted in Greece together in August 2019, and paparazzi even caught them sharing a kiss in New York City that following February. However, they never confirmed that they were dating. Holland also appeared to be unofficially seeing someone else as well, seemingly confirming his relationship with Nadia Parkes in July 2020 with a photo he posted on Instagram with the caption "the sky" and a red heart emoji.
July 2021: Zendaya & Tom Break The Internet
In July 2021 the internet nearly broke when photos of Zendaya and Holland kissing in Los Angeles started making the rounds online. Later, the actors were spotted hanging out with Zendaya's mom. Fans on Twitter were a little more than thrilled over the news.
A few weeks later, a source told Us Weekly, that Zendaya and Holland "both challenge each other and balance each other out." They also confirmed what fans saw in their social media banter, that they're "keeping it light" and "he makes her laugh." Fueling the rumors even further, Zendaya and Holland attended a friend's wedding together in her hometown of Oakland, as seen in footage posted by fan accounts.
September 2021: Tom Calls Zendaya "My MJ"
Holland celebrated Zendaya's birthday on Sept. 1, 2021, sharing a sweet selfie on Instagram taken by his co-star and rumored girlfriend on the Spider-Man set. He started his post by calling Zendaya "My MJ," after her character in the film series. "Have the happiest of birthdays," he wrote. "Gimme a call when your up xxx."
Later that month, in her British Vogue cover story, Zendaya played coy about her relationship while speaking about how protective her family is over her heart. "My dad, my brothers, it's a whole thing. Good luck to whoever wants to take that on," she joked without name-dropping Holland at all.
October 2021: Zendaya Gushes About Tom
In an interview with InStyle for the magazine's November 2021 issue, the Euphoria star gushed over Holland's dedication to his work. "In an actor way, I appreciate that he really loves being Spider-Man," she said. "It's a lot of pressure — you take on the role of a superhero wherever you go. To the little kid who walks by, you are Spider-Man. I think he handled that so well."
Zendaya also joked that even though Holland isn't a Virgo like her, "he is a perfectionist." "Our director allowed me to come in every day [of the shoot], and it was cool to see how he cares so much about his work and making it right," she continued. "I watched him do a fight scene all day, which is exhausting. He'd do a move, come back to the monitors, watch it, and say, 'I can do that better.' I'd be like, 'Dude; you got it.' But he wants us to be perfect, and I really appreciate that."
On a more personal note, she told the magazine that hanging out with Holland is a "fun time," adding that he's "very charismatic, can make anybody feel comfortable and have a good laugh and a good chat." The admiration, it seems, goes both ways. On Oct. 18, Holland shared a red carpet photo of Zendaya at the premiere of her new film. "Dune 😍," he captioned the post.
A few days later, Zendaya's Dune co-star Timothée Chalamet teased her about her relationship with Holland while doing Buzzfeed's BFF test. In the video, the two had to test their knowledge of one another, and when it came time to reveal each other's celebrity crush, Chalamet didn't hold back. "Easy, Tom Holland," he said. In response, the Euphoria star let out a chuckle and quickly pivoted to trying to guess Chalamet's celebrity crush. "Aw, man. I don't actually know," she admitted. "Maybe that's a secret… on purpose."
November 2021: Their First Event As A Couple
On Nov. 11, after Zendaya received the CFDA Fashion Icon Award (the youngest ever to do it), Holland took to Instagram to celebrate the massive honor. "Naaa stop it," he wrote, followed by a fitting heart-eyes emoji. "An incredible achievement for the most incredible person," telling Zendaya and her stylist, Law Roach, that they "deserve every bit of this."
Later that month, in an interview with GQ, Holland opened up about Zendaya's influence. "Having her in my life was so instrumental to my sanity," he said. "She is so good at being the role model for young guys and girls. When anyone comes up, like, 'Can I have a picture?' it's never a bad time. Whereas my initial reaction was: 'Why are you talking to me? Leave me alone.'" Holland also said the pair "felt robbed of [their] privacy" after those kiss photos came out. "It's not a conversation that I can have without her," he said. "You know, I respect her too much to say… This isn't my story. It's our story. And we'll talk about what it is when we're ready to talk about it together."
Zendaya also spoke to the magazine about their relationship. "The equal sentiment [we both share] is just that when you really love and care about somebody," she explained, "some moments or things, you wish were your own... I think loving someone is a sacred thing and a special thing and something that you want to deal with and go through and experience and enjoy amongst the two people that love each other."
On Nov. 30, Zendaya and Holland attended the Ballon D'Or, an annual soccer ceremony in Paris, France, marking their first public event together as a couple. They walked the red carpet separately, with Zendaya wearing a stunning Roberto Cavalli vintage gown with a gold spinal cord back. But inside, the couple couldn't keep their hands off each other, as evidenced by loving photos shared by Instagram fan accounts. The pair also posed for photos for British Vogue's Instagram, and with Polish soccer star Robert Lewandowski.
December 2021: Their First Red Carpets Together
On Dec. 5, less than one week after walking the red carpet separately in Paris, Zendaya and Holland made their red carpet debut as a couple at a London photocall for Spider-Man: No Way Home. The duo appears happier than ever in photos from the event, as they were snapped staring into each other's eyes, sharing laughs, and holding hands.
The following week, the A-list couple hit up their second red carpet together for the Los Angeles premiere of Spider-Man: No Way Home on Dec. 13, with Holland in a classic suit and Zendaya sporting a spiderweb-inspired Valentino gown. Speaking to Extra on the carpet, Holland gushed over the Euphoria star. "She's one of the most incredible people I've ever met," he said. "And I love her to bits, so to be here tonight is amazing. I'm delighted to share it with her."
Two days ahead of the film's Dec. 17 release, Zendaya shared two snaps of Holland to her Instagram page: one of him suspended from stunt cords on the set of No Way Home and another of him dressed as Spider-Man as a young child. "My Spider-Man, I'm so proud of you," she wrote in the post's caption. "Some things never change and good thing ❤️."
Speaking to IMDb alongside Zendaya for a fan Q&A on Dec. 16, Holland dished on his desire to join another one of the actor's projects now that No Way Home is wrapped. "When will Tom get a cameo on Euphoria?" asked one fan. "Listen, I have been petitioning for this for a long time, and it has not happened yet and I'm very disappointed," he exclaimed. "I must have come to visit Euphoria at least 30 times this season."
Considering Season 2 of the hit HBO drama has already completed production, it's likely a cameo from Holland wouldn't come to fruition until next season — though Zendaya expressed regret toward not including him in any forthcoming episodes. "We should have tried to, like, Easter egg, put you in there," she added. Holland, arms crossed, replied, "I want to be in Euphoria!" She told him, "OK, let me talk to some people! HBO, let's get 'em on the phone."
In an interview with The New York Times published alongside the opening of No Way Home on Dec. 17, controversial former Sony Pictures producer Amy Pascal revealed she's tried — and failed — to encourage several Spider-Man co-stars not to date. "I took Tom and Zendaya aside, separately, when we first cast them and gave them a lecture. Don't go there — just don't. Try not to," she recalled. "I gave the same advice to Andrew [Garfield] and Emma [Stone]. It can just complicate things, you know? And they all ignored me."
January 2022: Fans Unearth Proof Of Tom & Zendaya's Love
After the second season of Euphoria premiered on Jan. 9, fans spotted a potential Holland sighting in a Euphoria cast photo, possibly proving that he did visit Zendaya on set "at least 30 times" like he claimed in December. As pointed out by TikTok user @get.me.some.dino.nuggets, what may be Holland's silhouette can be seen behind Zendaya in a behind-the-scenes photo posted on Instagram by Siyon Foster.
Fans theorized that it could also be fellow cast members Dominic Fike or Austin Abrams standing behind her, but that wavy hair looks all too familiar.
Tomdaya shippers also unearthed a clip from the Spider-Man: No Way Home press tour where Holland seemingly comforts his girlfriend during an interview. After he noticed that Zendaya is bobbing her leg up and down, which is often seen as a sign of nervousness, Holland reaches over and gives her a subtle but reassuring squeeze.
Fans melted at the sweet gesture, with the viral Instagram video being captioned, "I knew Tom Holland was a perfect boyfriend but THIS..."
February 2022: Tom & Zendaya Reportedly Buy A House
If you're still trying to spot Holland in the background of Zendaya's photos, it's time to focus on more important things. According to the Mirror, the couple recently bought a £3 million house together in South West London, near where Holland was born. However, the actor set the record straight during a Feb. 18 appearance on Live with Kelly and Ryan.
"I've had so many people call me up because apparently, I bought a new house in South London? Which is completely false!" Holland told Kelly Ripa and Ryan Seacrest, according to Page Six. "I didn't buy a new house. I'm like, 'Wow, what a surprise, I wonder when I'll get the keys.'"
Despite not living together, they manage to keep up with each other's busy lives. For example, when Zendaya posted a photo of herself from the NAACP Image Awards on Feb. 26, the Uncharted star commented on his girlfriend's Instagram post immediately. "First," he wrote, implying that he commented before anyone else. Clearly, he's Zendaya's biggest fan.
After Holland publicly pleaded for a Euphoria guest star spot, one fan noticed that he might have already appeared on the show. A TikToker spotted a man who looks a lot like Holland, complete with his wavy hairstyle, in the crowd of Lexi's play on the penultimate episode of Euphoria Season 2, which aired on April 20. "You're telling me Lexi Howard got Spider-Man to see her play?" user @itsolivia wrote, pointing out the similar-looking extra. No one from the show confirmed the theory, but if anyone deserves Spider-Man's attention, it's Tony-deserving playwright Lexi Howard.
April 2022: Zendaya Reveals If Tom Was Actually On Euphoria
At HBO Max's For Your Consideration event for Euphoria, Zendaya addressed the TikTok theory that Holland was an audience member for Lexi's play. "Who knows," she coyly told Entertainment Tonight. "The world may never know." Given how badly Holland wants to guest-star on the series, if he wasn't an extra then, he's sure to appear in the third season, which is rumored not to return until 2024. "I think that might be true, I honestly don't know," Zendaya admitted. "There's some executives that know better than me. You might wanna ask them. I'm gonna be busy for a while."
Elsewhere during the interview, Zendaya continued to gush about her man, stating how grateful she was to have him around while filming the emotionally devastating show. "I think it's great to have that support and love around you, because you need that," she said. "This isn't an easy job, so it's good to have that to free you up from it every now and then."
June 2022: Happy Birthday, Tom!
On June 1, Zendaya took to Instagram to wish a happy birthday to Holland, who turned 26. She posted a black and white photo of him embracing her from behind, captioning the image, "Happiest of birthdays to the one who makes me the happiest <3" Within an hour, the upload had garnered nearly 10 million likes, immediately making it one of her most popular recent Instagram posts.
August 2022: Tom Flies To Budapest To Be With Zendaya — Twice!
On Aug. 5, eagle-eyed fans spotted Holland on a commercial flight (knitting, as one does on a plane). The next day, a Twitter fan account shared a video of him and Zendaya walking around Budapest, where she was filming the upcoming sequel to Dune. Holland was filming his new series The Crowded Room in New York at the time, proving that he flew over 4,000 miles just to spend a few days with her.
Proving just how devoted of a boyfriend he is, Holland flew to Budapest again to be with Zendaya later that month, just a week after he was spotted in New York. The couple was seen riding scooters and sight-seeing around the city on Aug. 27.
September 2022: They Ring In Zendaya's Birthday
Three months after Holland's 26th birthday, it was time to celebrate Zendaya. On Sept. 1, the couple were spotted at New York Italian restaurant MAMO to ring in her 26th birthday. A few days later, Zendaya shared a throwback photo on Instagram and thanked fans for their birthday wishes. "I get to spend the day responding to the most beautiful messages (sorry I'm a little late)," she wrote. "Thank ya'll for filling my heart with so much love, I couldn't be more grateful. Here's to 26!"