Everything To Know About The Zoey 101 Sequel Movie, Zoey 102
The Paramount+ film is right around the corner.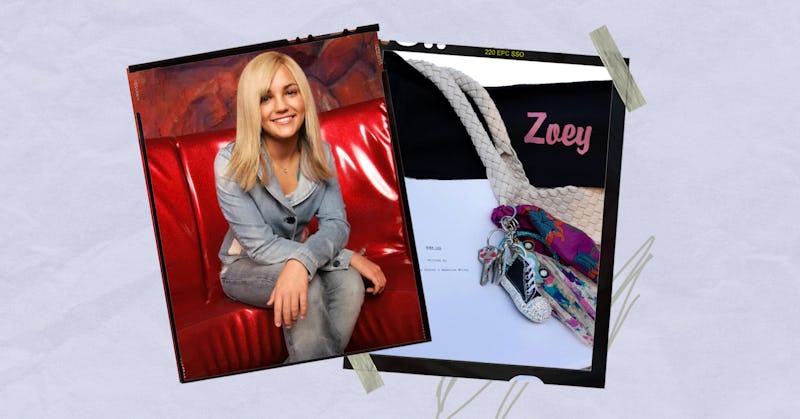 Todd Plitt/Getty Images Entertainment/Getty Images/Paramount+
Zoey Brooks is heading back to Pacific Coast Academy. On Jan. 12, Paramount+ announced that a Zoey 101 sequel movie is happening, which is now officially titled Zoey 102. Paramount+ has ordered the new film nearly 15 years after the Nickelodeon series concluded in 2008. Jamie Lynn Spears, 32, will reprise the titular role as key-wearing, fun-loving Zoey Brooks, with most of the show's original cast set to return. But not all of Zoey's former classmates are on board.
"I'm beyond thrilled to be back alongside my PCA family and continue the story of Zoey and all the characters fans know and love. As an executive producer, it's been an exciting opportunity to work with such incredible talent as well as Paramount+ and Nickelodeon," Spears said in a statement. The original series followed a teenage Zoey as she enrolled in an elite California boarding school that had just begun to admit girls after years as an all-boys institution. The student was quick to make new friends, and even had a day-one love interest in the form of her male best friend Chase Matthews, making for one of the most famous ships in Nickelodeon history.
Paramount+ unveiled first-look images from the set of Zoey 102, including Spears sitting in a director's chair that proudly reads her character's name.
Here's everything you need to know about the long-awaited return of Zoey 101.
Who Will Be In Zoey 102?
Along with Spears, the original cast members set to reprise their roles in Zoey 102 include Sean Flynn (Chase Matthews), Erin Sanders (Quinn Pensky), Christopher Massey (Michael Barrett), Matthew Underwood (Logan Reese), Abby Wilde (Stacey Dillsen), and Jack Salvatore (Mark Del Figgalo).
On May 18, Paramount+ released first-look photos of the film, giving a glimpse at the reunited cast and new characters.
Some new faces include Reno 911 star Thomas Lennon, who will play Zoey's boss Kelly Kevyn, Theater Camp actor Owen Thiele will be Zoey's new friend Archer March, and Glee alum Dean Geyer will play Todd, a "charismatic actor."
The behind-the-scenes crew will also get a switch-up, as original series creator Dan Schneider is not involved. Instead, Nancy Hower will direct the film with a script written by Monica Sherer and Madeline Whitby, and all three will serve as executive producers alongside Spears and Alexis Fisher.
Who Will Not Return To Zoey 102?
Sadly, the gang isn't all getting back together. Victoria Justice (Lola Martinez) and Paul Butcher (Dustin Brooks) are not returning for the film. Alexa Nikolas, who starred on the first two seasons as Nicole Bristow, is also not a part of the sequel. The actor has previously spoken out about her treatment on set of the original show, even staging a protest outside of Nickelodeon headquarters alongside child sexual abuse survivors, claiming the network "didn't protect her."
When Zoey 102 was announced, the status of Austin Butler (James Garrett, and in one episode, Danifer) was unclear, considering how he was on the Oscars campaign trail after receiving a Best Actor nomination for Elvis. But it turns out that Butler wasn't even asked to be part of the film, as he said on the Feb. 17 episode of Variety's Awards Circuit podcast.
"I haven't heard anything about that. I don't know," he said. However, he recalled his time on the show fondly. "I'm so grateful for all those stepping stones that I had throughout my career," he said. "Zoey 101 was a big turning point for me, because it was the first time I was ever a series regular on a show, so I got to be part of an entire season."
What Is Zoey 102 About?
Per the official Paramount+ synopsis, Zoey 102 takes place more than a decade after the original series ended. Zoey is "still trying to figure out life and love, this time in her 20s. Zoey and Chase did not end up in Hawaii that summer and haven't heard from each other since. When close friends Quinn and Logan announce they're getting married, Zoey and Chase find themselves in the wedding party."
Of course, fans previously checked in with the characters on the 10th anniversary of the series' "Time Capsule" episode. Creator Dan Schneider reunited with Flynn and Massey to reveal what Zoey said in the tape she left behind ten years prior. In the video, Chase is literally in the middle of proposing to his current girlfriend Alyssa when Michael rushes in after the time capsule had been dug up to report exactly what Zoey said about him in the VHS. "I want to tell you about one of the most special people I've ever met: his name is Chase Matthews, and he is one of the funniest, coolest, nicest guys in the world," she said. "Sometimes, I kinda think he has a little crush on me. But other times, I kinda think he just wants to be friends. All I know for sure is Chase is really special to me. And who knows? Maybe he's even my soulmate."
When Will Zoey 102 Come Out?
Zoey 102 will premiere on July 27.
Is There A Zoey 102 Trailer?
Yes! Paramount+ dropped the first trailer on June 20.
This post will be updated as more details about Zoey 102 become available.
This article was originally published on