Should You Fold Or Hang Dress Shirts?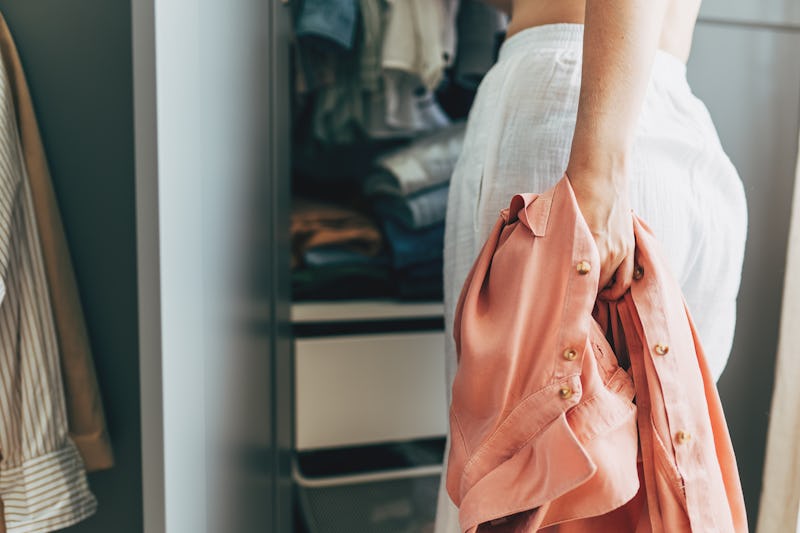 Kseniya Ovchinnikova/Moment/Getty Images
No matter if you work in an office or you're a full-time mom, you're sure to be in possession of a dress shirt. Whether you have a blouse for everyday of the week, or a singular white shirt, your collection still begs the question: Should you fold or hang dress shirts? Of course, everyone has their own way of doing things, including storing their clothes, but is there a correct way to store dress shirts?
As someone who despises ironing and only does it when the occasion calls for it, my personal preference lies with hanging dress shirts. First, if you're super lazy when it comes to the whole laundry process (like me) storing your dry shirts immediately in your closet, seems to make it easier later down the line. Most creases drop out on their own accord, so when it comes to ironing your shirt, you've got less work to do. On the other hand, if you prefer to iron your garments as soon as they're dry, your dress shirts will likely stay pristine when stored on a hanger; unless your wardrobe is filled to bursting. Locating your shirts when they're hanging in your wardrobe or on a rail is simple – you can probably find what you're looking for almost immediately.
However, I'm sure many people would swear by folding their dress shirts. After all, most men's shirts come in plastic packaging, all neatly folded up, but they do have those little plastic clips to hold the shirt sleeves in place. In my mind, if you fold dress shirts on top of each other, you will not be able to see your entire collection in your drawer, nor will you be able to reach the shirt you're searching for, without disrupting the rest of your collection. In a perfect world, you'd have a drawer dedicated to dress shirts that was one layer deep, so you could see all your shirts at once and be able to remove them without causing havoc.
Of course, there are occasions in life when you may have no choice but to fold a dress shirt; you may be going on vacation or on a business trip with a small suitcase. If you find yourself in this situation, this tutorial shows how you can easily fold your dress shirts so that they arrive at your destination with little wrinkle damage (fingers crossed.) Because, depending on where you're headed, you may find yourself without an iron. On another note, your home may not have enough room for a closet or a rail, but just enough space for a slim set of drawers, in which case, this shirt folding tutorial will also come in handy.
At the end of the day, it's all down to personal preference and what works for you. In addition, your available storage solutions will likely make the deciding vote on whether you fold or hang your dress shirts. If you're short on closet space, fold them in a drawer, and vice-versa. Don't fret, there's no hard and fast answer when it comes to folding or hanging dress shirts, so pick your preference and carry on as normal!
Images: Getty Images (3)