10 Comfortable Sports Bras You Can Wear Every Day
Whether you're working out or running errands, these bras will keep you cute & comfy.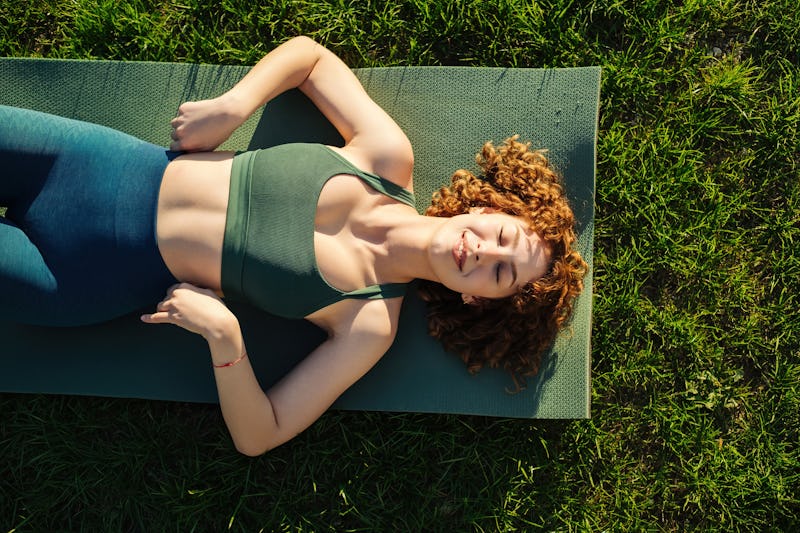 Shutterstock
We may receive a portion of sales if you purchase a product through a link in this article.
If you wear bras, you'll know how amazing it feels to ditch a tight sports bra at the end of a long workout — but what if you didn't feel the need to free yourself of your bra as soon as you get home? The most comfortable sports bras you can wear every day are not only amazing for the gym — thanks to features like moisture-wicking fabrics, ample support, and flexible stretch that moves with you — but they're cute enough to wear with your everyday outfits, too.
Here, you'll find comfortable sports bras suitable for a range of activities, from low-impact workouts like Pilates, to high-intensity workouts like running and HIIT. But they all have a little something extra that makes them cute enough to wear — and show off — on the daily. For example, if your top has a low-cut back, consider rocking a sports bra with eye-catching criss-cross straps in the back that'll add texture and interest to your outfit. Mesh accents in front not only encourage airflow, but they'll look super cute peeking out from a low-cut top. Or, if you want to take a cue from style-savvy celebs like Kendall Jenner, wear an ever on-trend '90s sports bra with an iconic logo — it'll look cool under a crop top, or even worn solo.
So, check out the best, most comfortable sports bras you can wear every day, and be prepared to have your most comfortable (and stylish) week ever — whether you hit the gym or not.
1. This Sweat-Wicking Sports Bra With A Mesh-Front Detail
If you love wearing tops with a low-cut front, this moisture-wicking sports bra with ventilated mesh accents along the neckline and between the cups will definitely take your outfit up a notch (they'll also keep you cool on those hot mornings when you're running late for work). The straps are padded with soft gel to keep them from digging into your shoulders, the molded cups support and lift without wires, and the hook-and-eye closure and adjustable straps help you achieve a pitch-perfect fit. With over 13,000 ratings to date, it's a fan favorite, to boot.
Rave review: "This sports bra is PERFECT! [...] The straps are comfortable and the compression is perfect. [...] It's changed the game for me, I can't wear regular bras anymore, only this sports bra. It's even comfortable to sleep in. I highly recommend this champion sports bra. I have black, nude, white, and gray. Looking at some of the cute bright colors for the summer now. The price is also perfect."
Sizes: 34C — 42DDD | Colors: 6 | Material: Cotton, Mesh, Nylon, Polyester, Spandex Blend
2. A Cute & Supportive Sports Bra With A Zip-Front Closure
If you're looking for a well-made and extra supportive sports bra that you can show off under a tank or T-shirt, you'll find a new favorite in this front-closure sports bra. The double-layer design provides ample compression and bounce reduction, and an adjustable hook-and-eye closure offers a snug fit. A zipper front closure with a lock makes for easy on-and-off — ideal for getting undressed after an extra-sweaty workout session — and the soft, molded cups create hold and shape. It's finished off with mesh details that create ventilation and look super cute peeking out from your top.
Rave review: "Okay I absolutely love this bra. [...] I have been training for a triathlon and I wear this to run (when I need the most support). [...] I'm telling you, if you need a high support, comfortable and cute sports bra, this is it! I have always had a really expensive $80 underwire sports bra that was the best I could find. I decided to order this one since it's a fraction of the price. I find myself grabbing this one over the expensive one all the time! Some other great features are the color, the fabric and THE ZIP CLOSURE. I never thought I would love a zipper on my sports bra so much. So easy to take on and off, especially when you're done and all sweaty! Buy this!! You will not regret it."
Sizes: Small — 5X-Large Plus | Colors: 6 | Material: 80% Polyamide, 20% Elastane
3. The Iconic Calvin Klein Sports Bra With A Trendy Logo Band
Iconic for a reason, the Calvin Klein Modern Cotton Bralette is beloved among celebrities, influencers, and pretty much everyone else who loves bras that are cute and comfortable. The cotton, modal, and elastane blend is soft, stretchy, and offers just enough compression for low-impact workouts, but you'll reach for it on all your lounge and WFH days, too. Plus, the logo-printed band looks super-cool under basic tees, or even when worn alone with high-waisted joggers for a trendy athleisure look. It comes in the prettiest colors, like pale pink and bright orange.
Rave review: "I LOVE THIS SPORTS BRA SOOOO MUCH!!!! I am usually so excited to take my bra off at the end of the night, but NOT this sports bra. I could do anything and everything in this thing. I even SLEEP in it. [...] I am SO beyond happy with this buy. I have 6 already and it's about to be 8 maybe 9 lol. I love Calvin Klein."
Sizes: X-Small — 4X | Colors: 28 | Material: 53% Cotton, 35% Modal, 12% Elastane
4. A One-Shoulder Sports Bra That Doubles As A Going-Out Top
This one-shoulder sports bra with an on-trend cutout is so chic, it'd be easy to imagine it with a pair of high-waisted pants and strappy heels for cocktails. If you're wearing it for a workout, though, you'll appreciate the breathable, sweat-wicking construction, medium compression, and the option to remove the pads, if you prefer a more natural shape. Grab a two-pack in this listing if you want to have a clean one on hand for post-gym drinks.
Rave review: "Not only is it cute and stylish but it fits perfectly! Believe it or not, I don't always find sports bras that are comfortable but this one is. I was concerned about how secure it would be because of the one-sided strap, but I've tested it out for a HIIT day and it passed! Low support is just not enough support and High support is overkill but medium support seems to be my favorite fit for now. I will be ordering it in another color."
Sizes: Small — XX-Large | Colors: 17 | Material: 88% Nylon, 12% Spandex
5. This Popular Sports Bra With Criss-Cross Straps
This full-coverage camo print sports bra will not only keep everything in place while you work out, but it offers a great printed layer under your favorite tank — and the criss-cross straps in back would look especially cute with a low-back top. Plus, it has removable padding, a smooth, sweat-wicking construction, and enough support for medium-to-high-impact activities. It's earned plenty of praise on Amazon, amassing a 4.4-star overall rating from close to 36,000 ratings in total. No worries if you're not into camo — it comes in plenty more cute colors and prints.
Rave review: "This is my second bra I've bought because I enjoy it so much. It's not too tight (hate super tight sports bras) but it keeps your breasts in place during long runs and crossfit workouts. The fabric is a soft and smooth so it doesn't catch on t-shirt fabrics. My favorite part is the [...] back straps."
Sizes: X-Small — 3X-Large | Colors: 40 | Material: 75% Nylon, 25% Spandex
6. The Cult-Favorite Crop Top With A Built-In Sports Bra
Whether you want to call it a longline sports bra or a crop top with a built-in bra, one thing's for sure: Amazon shoppers can't get enough of this comfortable top, awarding it a 4.4-star overall rating and launching it to best-seller status on the site. The smooth, buttery-soft polyamide and spandex material will keep you cool and dry during a workout, and the built-in shelf bra has removable pads for shape and support, but it's cute enough to wear as a standalone top even on your rest days. Several shoppers report coming back for multiples so they always have a clean one on hand.
Rave review: "This bra top is absolutely amazing!! It is so comfortable yet also supportive. It's the perfect length and doesn't roll up. I ordered my usual sports bra size and the fit is perfect. I am going to order one in every color I like!!"
Sizes: X-Small — 3X-Large | Colors: 20 | Material: 80% Polyamide, 20% Spandex
7. This Seamless Bra With Corset-Inspired Straps In Front
This seamless sports bra will add a subtle touch of style under yours tops, with its corset-inspired straps along the low-cut neckline and gorgeous strap details in the back. The seamless design molds to your shape, and removable pads give you whatever amount of support you need for your day (according to reviewers, it's best for low-to-medium-impact workouts). The quick-dry fabric keeps you cool.
Rave review: "LOVE this sports bra. Makes me look super hot with the V front and it's actually comfortable. [...] Good amount of support for the day or moderate activity. Light jogging ok, not quite enough support for a full run. But rocks for everything else!!"
Sizes: Small — X-Large | Colors: 20 | Material: 80% Nylon, 12% Spandex, 8% Polyester
8. A Plus-Size Sports Bra That Reviewers Love Wearing Everyday
This sports bra is designed to offer extra support and bounce reduction for folks with larger busts — think reinforced, non-stretch cups that keep breasts in place; several rows of hook-and-eye closures (with more for larger sizes); and wide, adjustable straps that stay in place while you move. Because it's so comfortable and supportive, hundreds of reviewers report wearing it on the daily; the smooth construction will remain undetectable beneath your tops, but that necklace-inspired contrast piping along the neckline is cute enough to show off, too.
Rave review: "I hate underwire bras as they inevitably stab me, but being so large I need the support. This bra is PERFECT. Under clothes, it looks like an underwire bra does for me, but feels as comfortable as wearing a sports bra all day! I have worn it for a while and it is great quality too. No falling apart even after several months of regular wear, and I don't wear it more than once before washing. I just ordered another one, since it comes in COLOR! I hate wearing boring, beige bras, and this is THE bra for me. I hope they never stop making it!"
Sizes: 34C — 50J | Colors: 10 | Material: 70% Polyester, 25% Polyamide, 5% Elastane
9. This Quick-Dry Sports Bra With A Unique Lattice Back Design
The criss-cross, lace-up back detailing on this unique sports bra makes it a cute choice for wearing under a dress or a tank with a low-cut back, or as a crop top all on its own. If you're wearing it for a workout (or spending the day outside at a music festival), the moisture-wicking fabric and mesh lining will keep you feeling cool, and offer enough compression for low-to-mediumm-impact activities — plus it has removable pads.
Rave review: "I have ordered several bras and tanks from Icyzone, they have become my staple garments for the summer. All their bras and shelf bra tanks are super comfortable. The material is soft on your skin and the elasticity has held up to multiple washes (I choose to line dry). They stay in place during exercise, keep you cool, and don't stick to you when you get sweaty. They have enough support for a light jog, walking, yoga, and daily activities. [...] I chose this style to wear under a low cut top in place of a half bra and it works perfectly."
Sizes: Small — X-Large | Colors: 11 | Material: 90% Polyester, 10% Spandex
10. A Buttery-Soft Longline Sports Bra That Feels Like A Second Skin
At first glance, this longline sports bra seems like an on-trend racerback crop top with a chic high neck — but thanks to its built-in bra with removable pads, it's functional enough for workouts like Pilates and yoga. With its ultra-soft, gently compressive material designed to feel like a second skin, it feels just as good as it looks. Swap out your sneakers and leggings for some high-waisted jeans and booties, and no one would know you were technically wearing a sports bra to cocktails.
Rave review: "I CAN NOT TELL YOU HOW AMAZING THIS TOP IS!!!!!!!! [...] this top is my favorite thing I have ever bought from Amazon to this day. I bought this right before a college dance intensive as a workout top, and when it came I was in love. It is fully padded, and there is a built in bra-type-pad thing that has a bit of elastic so it can adapt to your body. Pads can be taken out, but when in they do not fold or come out in the washer, a blessing for me who hates stuffing pads back into bras. Suuper soft and breathable material, and was the perfect length to the point where it was long enough to wear as a regular tank in the summer, but still was cropped enough to be my favorite exercise top. It was tight but not constricting."
Sizes: X-Small — X-Large | Colors: 15 | Material: 81% Polyamide, 19% Spandex
This article was originally published on