These Cozy Wool Socks Will Keep Your Feet Toasty Warm All Winter Long
We only recommend products we love and that we think you will, too. We may receive a portion of sales from products purchased from this article, which was written by our Commerce team.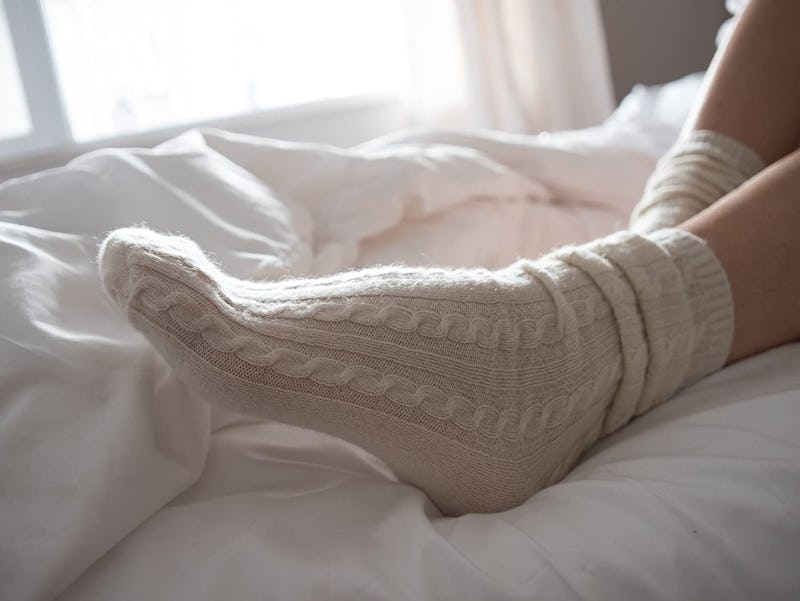 Amazon
Your feet put up with a lot when it's cold outside — they allow you to cram them into oversized boots, trudge outside into the snow, and hoof it around town in 30 below weather. After all that, you might as well do them a solid by getting the best wool socks you can find to keep them warm in the frigid temperatures.
The truth of the matter is that when it's horrendously cold outside, only wool will do. Unlike cotton — the great villain of wintertime apparel — wool dries super fast. That means when you step off the curb into that giant mud puddle, you won't spend the rest of the day listening to squishing sounds sloshing around in your shoes. On top of that, wool has the ability to maintain its warm, insulating properties even when it's wet so you won't feel your toes going numb while you wait for your socks to dry.
If you can find yourself a pair of socks with a temperature-regulating wool such as merino, you'll get the additional benefit of being able to wear them during every season. Merino wool has the magical ability to keep you cool when it's hot, and hot when it's cool, so you can wear those socks in the spring, fall, and winter.
Furthermore, wool has natural anti-bacterial properties (aka it's "odor resistant") which means that if you work up a sweat hiking across town to the supermarket, your feet won't explode with aroma when you get back home and take your shoes off. Plus, wool is ultra comfy and cozy, making it the perfect material for curling up in front of the fire with a book, or settling in for a well-deserved Netflix binge. If you've got the best wool socks, you'll be snug and happy all winter long.
This article was originally published on