Urban Outfitters' Pride Collection Is Super Cute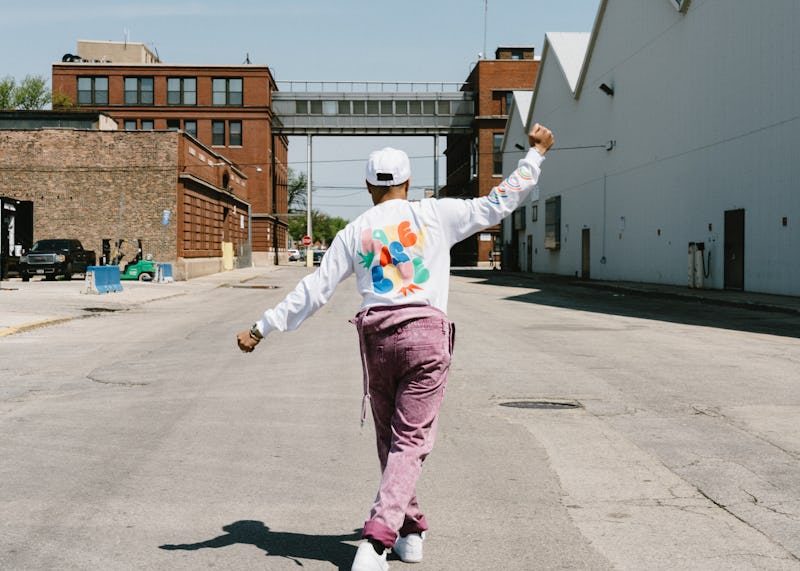 Courtesy Urban Outfitters
Ready to wear your heart on your sleeve? In honor of Pride Month, which is in June, Urban Outfitters teamed up with GLSEN, a group that works toward "ensuring safe and affirming schools for LGBTQ students," to create a seven-piece charitable clothing collection. With shirts and accessories, the line might be small, but it is mighty. What's in Urban Outfitter's Pride Collection? There's something for everyone, so you can look and feel great this summer.
Every year, Urban Outfitters celebrated pride month to give back to a different organization. In 2016, the brand had help from singers Tegan and Sara with their "happy pride" theme as a part of their annual campaign. This year, the message is just as bold and optimistic. The new collection includes three graphic tees, one long-sleeved shirt, two baseball hats, and a tapestry. Basically, anything you could possible need to share your pride. The main message of the line is "love is love" — a slogan that can be found on all of the shirts. The bubbly letters, cartoons, and bright colors on these designs will instantly make you smile.
The face of the colorful line is Taylor Bennett — rising Chicago-based hip-hop artist and new UO ambassador. According to the press release, this collab is close to his heart. "Honesty and being yourself is something that I believe should always be celebrated–whether it's in hip-hop or everyday life," said Bennett said in the press release. "As an independent artist and entrepreneur, it's great to find partners like Urban Outfitters who share that core value of recognizing individuality during Pride Month and throughout the year."
The collection is all available in unisex sizing, from small to extra-large. It's also extremely affordable, with hats starting at $24 and shirts from $28 to $34. Proceeds will go towards GLSEN, so you can consider this as the most fashionable donation ever. The styles are limited edition and will only be available through the end of June. Here's what's in the collection, so you can start stocking up.
UO Community Cares + GLSEN Pride Love Tee, $28, Urban Outfitters
I don't know about you, but I'm loving the double-sided print.
UO Community Cares + GLSEN Pride Long-Sleeve Tee, $38, Urban Outfitters
Does it get any more fun and bubbly than this?
UO Community Cares + GLSEN Pride Heart Hat, $24, Urban Outfitters
Simple and sweet.
UO Community Cares + GLSEN Pride Embroidered Hat, $24, Urban Outfitters
Because dad hats are in — and so is showing your pride.
UO Community Cares + GLSEN Pride Heart Tee, $28, Urban Outfitters
All pink with baby blue, so it will match the heart hat perfectly.
UO Community Cares + GLSEN Pride Tee, $28, Urban Outfitters
Another front and back design to choose from.
Rainbow Love Tapestry, $39, Urban Outfitters
Last but not least, some decor as well.
This collection might be small, but it definitely has it all!