What To Do If You've Been Sexually Harassed At Work, According To Experts
Even before you report anything.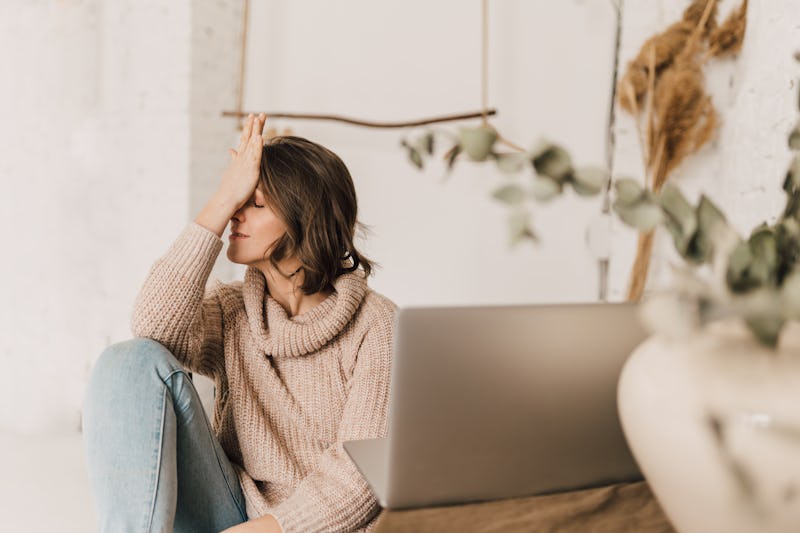 Kseniya Ovchinnikova/Moment/Getty Images
Harassment in the workplace is a problem for many American women whose jobs, well-being, or even physical safety are put at risk by inappropriate co-workers. A 2015 Cosmopolitan survey found that one in three women reported experiencing sexual harassment at work; of these, only 29% felt comfortable enough to report it. A 2019 report by the ILR School at Cornell University found that a similar number of women in New York had experienced some kind of workplace sexual harassment, including "quid pro quo" harassment where people demanded sexual favors or attention in return for job security. The Institute for Women's Policy and Research reports that only one in 10 people who experience harassment at work ever report it, whether because of embarrassment, fear of retaliation, or a lack of accessible complaints processes.
Revelations about famous men who've allegedly harassed people in their employment may reignite a national conversation about sexual harassment, Human Resources Management specialist Caren Goldberg tells Bustle. Media coverage of sexual harassment, Goldberg says, "often tends to encourage people to voice concerns, because they see that, 'OK, well, it's not just me, this is real. It's not just my imagination.'"
If you are experiencing sexual harassment at your office, know that you have options, including filing a complaint with your employer or going to the Equal Employment Opportunity Commission (EEOC). Below are some of the steps you can take if you are being sexually harassed at work.
Experts:
Patricia Barnes
Caren Goldberg
K.C. Wagner for Legal Momentum
Studies cited:
Gale, S., Mordukhovich, I., Newlan, S., & McNeely, E. (2019). The Impact of Workplace Harassment on Health in a Working Cohort. Frontiers in psychology, 10, 1181. https://doi.org/10.3389/fpsyg.2019.01181
Pinto, S., Wagner, K.C., & West, Z. (2019). Stopping Sexual Harassment in the Empire State: Past, Present, and a Possible Future. ILR Worker Institute.
This article was originally published on