12 Holiday Activities To Do With Your Partner When You're Back Home Seeing Your Family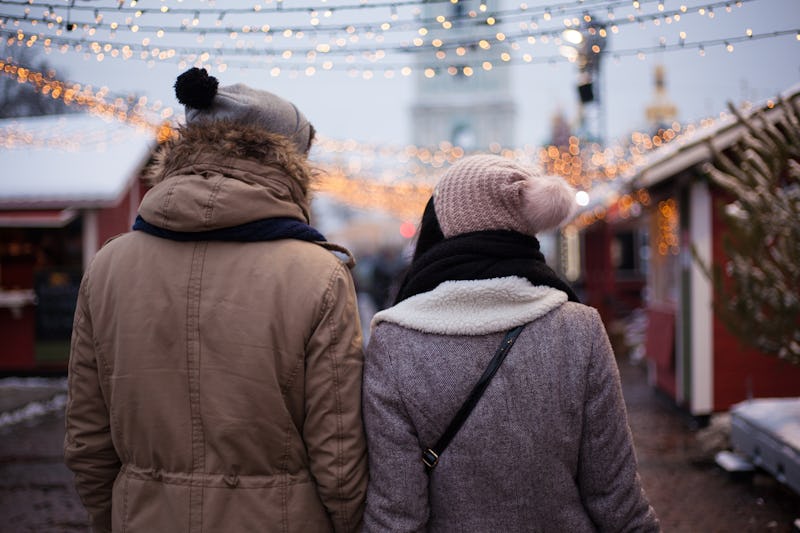 Shutterstock
Going home for the holidays. It's... a lot. Whether you get along with your family or y'all put the not-so-fun in dysfunction, being in the original homestead can be heavy. So if you're bringing a partner home, having Christmas couple activities planned while you're between the festivities is a good way to to take a break and enjoy some holiday spice in the love department.
"If you're planning on spending a significant amount of time visiting family for the holidays, it can be helpful to carve away alone time to reinforce that beyond all the aunts, uncles, cousins and friends — you're each other's number one," Match's chief dating expert, Rachel DeAlto, tells Bustle.
Sometimes in all the holiday hoopla it can be hard to just stop for a minute, enjoy the moment with your partner, and say "Hey there, buddy, I sure am glad we've got each other." So carve out some intentional time to do just that. Of course, remember, holidays are for the family, too, especially if you've gone for a visit. So if you're there to spend time with the relatives, don't isolate. Just give yourself a little time.
Below, take a look at some fun, short activities you can do with your partner while you're home. You can celebrate your own little way within the big family holiday, because sometimes you just need that breather!