13 Things To Keep In Your Purse That Are Environmentally-Friendly
by Mika Doyle and Syeda Khaula Saad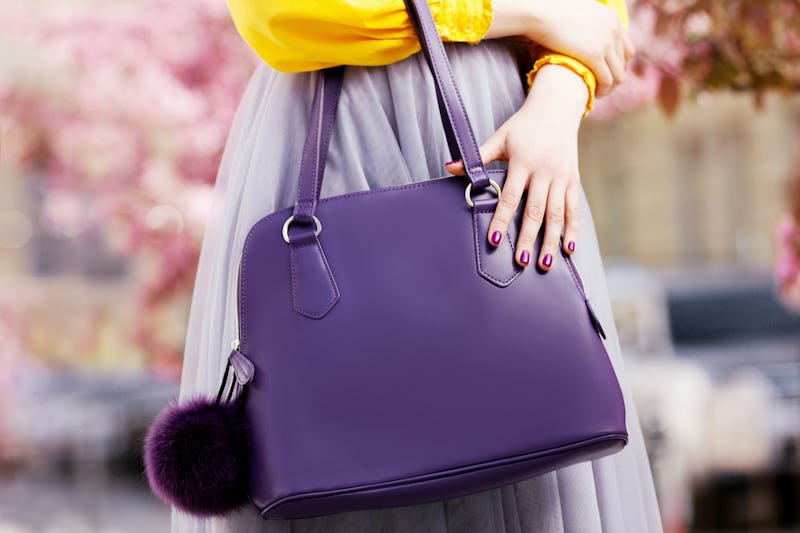 Shutterstock
With all this talk about single-use plastics in the past few years, you might be wondering how you can make an impact on a smaller level. The EPA says one of the most effective ways you can reduce your carbon footprint is by trying not to create new waste by using environmentally friendly items that use less packaging and less raw materials. To get you started, we're bringing you a list of environmentally friendly items you can keep in your purse and use every single day.
What actually makes a product greener and more sustainable is complicated, says the EPA, but the organization considers the various ways products could affect human health and the environment throughout their life cycles. This includes the products effects on toxic exposures, air pollution, water pollution, climate change, ozone depletion, natural resource use, waste disposal, and ecosystem damage, according to the EPA.
According to Business Insider, three quarters of Americans are concerned about the environment, but far fewer are actively doing anything to help reverse the effects of climate change. But you don't have to do anything huge to make an impact. You can swap out single-use coffee pods for reusable coffee filters, says Business Insider, or switch to a laundry detergent made out of natural ingredients. Or toss these items in your purse and maybe share a few with your friends.
1. These Reusable Straws
2. These Reusable Makeup Remover Pads
3. This Silicone Coffee Cup Lid
4. These Reusable Snack Bags
5. These Organic Cotton Swabs
6. This Plant-Based Sunscreen
7. This Eco-Friendly Lip Balm
8. This Solar Phone Charger
9. These Pens Made Out Of Recycled Water Bottles
10. These Reusable Coffee Pod Filters
11. This Smart Reusable Notebook
12. This Eco-Friendly Air Dryer Brush
13. These Reusable Silicon Tea Bags
14. These Reusable Produce Bags
15. This Repurposed Billboard Vinyl Wallet
16. This Recyclable Hand Cream Tube
17. This Stainless Steel Mug
All of these eco-friendly items are small enough to fit in a purse or bag and can be swapped out for a single-use item in your daily life. Change doesn't have to be major. It can start with something as small as your coffee cup lid or pen, and little things like that can make a big difference.