19 Hocus Pocus Quotes To Use As Halloween Instagram Captions
"It's a full moon tonight. That's when all the weirdos are out."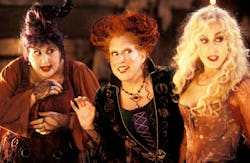 Buena Vista Pictures
At this point, it's basically a fact that Hocus Pocus is the best Halloween movie out there. It's entertaining, it features an excellent cast, it has a great storyline that somehow never gets boring, it's spooky but not too scary at all, and it will make you laugh. It's also full of all of the old-school Halloween stuff that we all know and love. The film is also incredibly quotable, with many of the lines becoming truly iconic movie quotes, ones that can also describe the whole feeling of Halloween. So if you want to make your Halloween post this year really stand out, cast a spell on your followers with a Hocus Pocus quote.
Plus, now that the Hocus Pocus sequel has hit Disney+, the film franchise has a newfound relevance. Ride the revival wave by quoting the original — or show your followers how dedicated you are by quoting the brand-new sequel. This is especially ideal if you and your besties are emulating the Sanderson Sisters this Halloween. But, really any Halloween post can be completed by a Hocus Pocus quote.
Now the only problem is picking just one quote to use.
This article was originally published on