22 Creepy Instagram Caption Ideas To Use On Halloween
Something wicked this way comes.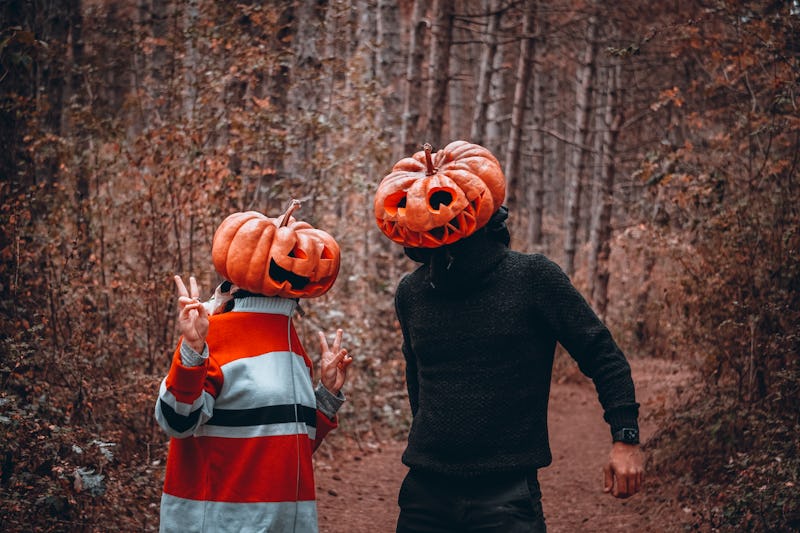 Shutterstock
As Halloween grows closer, it's hard to ignore the spooky feeling in the air as the crisp, fall chill sets in. Halloween is a time for fun and elaborate costumes, creepy decorations on everyone's lawns, and a generally devilish vibe that gives you goosebumps at night. So, if you want to post a Halloween-themed photo on your Instagram page, you're going to need a scary caption to go along with it to really capture the spirit of the holiday. There are plenty of creepy Halloween Instagram caption ideas that will definitely score you more likes.
The history of Halloween is just as spooky as the day itself. Also known as All Hallows' Eve, it's a holiday that can be traced all the way back about 2,000 years to a pre-Christian Celtic festival called Samhain. There isn't a lot of information on Samhain (pronounced "Saa-wen"), but researchers believe it was a time of communicating with the dead — which is essentially what Halloween is. Halloween is a day when many believe the spirits of the dead are able to cross over into our world. Because it's so focused on death (skeletons, ghouls, ghosts, demons, the underworld), it can seem pretty terrifying.
The good news is your Instagram followers are likely mere mortals. So, you don't need to cast any spells or use an Ouija board in order to communicate with them. But, if you're really trying to summon a double-tap from them when they see your Halloween costume reveal, a spooky caption can be sure to win them over.
Whether you're looking for a silly movie reference from a classic like Hocus Pocus, or a more eerie quote about the sinister origins of Halloween, there are plenty of captions that will perfectly complement whatever vibe you're going for. Just make sure you don't write anything that could summon an unwanted follower to your page — like "Beetlejuice, Beetlejuice, Beetlejuice."
This article was originally published on