7 Poems To Celebrate The Summer Solstice
They perfectly capture the long, hazy days and warm breezy nights.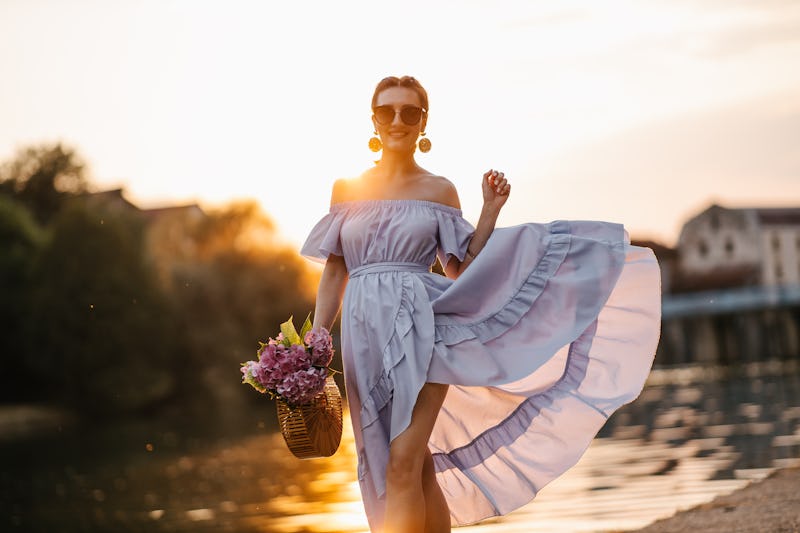 Vuk Saric/E+/Getty Images
June 21 is officially the first day of summer, otherwise known as the summer solstice. This day is one of symbolic importance as it marks the longest day of the year in the Northern Hemisphere, and the point after which the sun gradually rises later and sets earlier starting June 21. It's a day we wait all year for, and in honor of the occasion, here are a few summer poems that are perfect for getting into the spirit of the season.
The summer solstice is celebrated for its astronomical significance all over the world and has a long history of festivities, dating back hundreds of years. There are plenty of different ways to ring in the first day of summer, from performing some sun salutations to partying with thousands of other revelers at Stonehenge. But if you can't make it to Stonehenge this year, why not kick off your own celebration with something a little more simple, like reading some seasonally-themed poetry?
These seven summer poems are not only lovely to read, but they also perfectly capture the long, hazy days and warm breezy nights that we all enjoy this time every year. So before you head outside to soak in some of that beautiful sunshine, check out some of these works. Not only will you be feeling the spirit of the solstice in no time, you'll also be left feeling extra grateful for the warm summer months ahead. Happy summer!
Summer solstice
A new born poem.
The cock heralds far and wide
the dawn of this day.
BEND low again, night of summer stars.
So near you are, sky of summer stars,
So near, a long arm man can pick off stars,
Pick off what he wants in the sky bowl,
So near you are, summer stars,
So near, strumming, strumming,
So lazy and hum-strumming.
Suppose for a moment you live in a land,
Amazed at what happens during summer solstice.
Very strange things begin to occur,
Instantly, there is little darkness,
Night that we are so used to
Gone; what is left is the brilliant colors.
Daylight from dusk to dawn to dusk again,
Alight in all its energy and brightness.
Yes, we are north of the sixtieth parallel;
Land of the midnight sun.
I have been here before and seen things,
Gazed upon the horizon, waiting for darkness to reappear,
Holding on to summer in all its life, love and beauty;
To see it ebb once more as daylight fades to night.
This was when the whole world measured time
This is when the light would turn around
This is where the past would come undone
and the spinning earth will mark a new beginning
Let's go back in time, to when it all began
To the breaking of new dawns
Where moments bright with fire, would light the chanting song
Where pagans worshipped sun, and danced among the trees
Wore strange masks of covered straw, and blessed cold ash with awe
Wreaths hung upon the door against all spirit's, dire
and when the winter's grasp let go, the sun reversed the pyre
This was when the whole world measured time
This is when the light would turn around
So that spring arrives, and seeds will sprout and grow
Oh, radiant sun, stretch the day, shorten night
Return earth's darkness into light
This is where the light
will turn around
And this was where the past has comes undone
'Tis the moonlight, summer moonlight,
All soft and still and fair;
The solemn hour of midnight
Breathes sweet thoughts everywhere,
But most where trees are sending
Their breezy boughs on high,
Or stooping low are lending A shelter from the sky.
And there in those wild bowers
A lovely form is laid;
Green grass and dew-steeped flowers
Wave gently round her head.
In the summer
I stretch out on the shore
And think of you Had I told the sea
What I felt for you,
It would have left its shores,
Its shells,
Its fish,
And followed me
A break in the heat
away from the front
no thunder, no lightning,
just rain, warm rain
falling near dusk
falling on eager ground
steaming blacktop
hungry plants
thirsty
turning toward the clouds
cooling, soothing rain
splashing in sudden puddles
catching in open screens
that certain smell
of summer rain
This article was originally published on