31 Thoughtful Father's Day Gifts That Are All Under $10
You can't go wrong with a custom beer mug.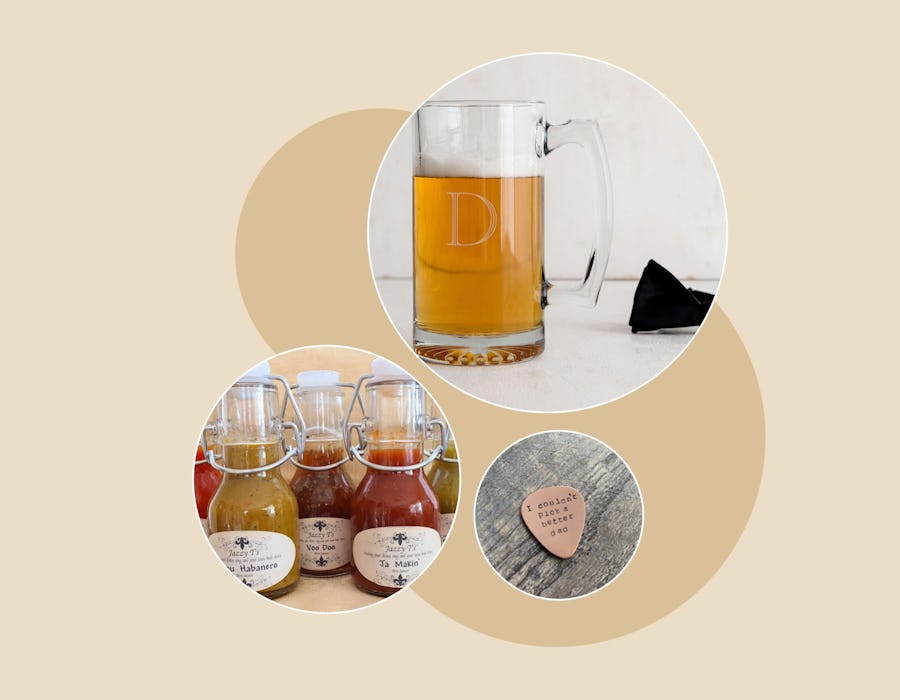 Father's Day is right around the corner, which means it's time for you to pick out a gift that perfectly expresses how much you love and appreciate your dad — no pressure, right? Instead of spending a lot of money on an extravagant present, you can get your dad a thoughtful Father's Day gift under $10 that won't only fit in your budget, but will show your dad just how much you care.
Just because you're looking for a cheap Father's Day gift, though, doesn't mean you love your dad any less — it just means you learned valuable budgeting skills from him. He would probably rather you save your money for student loan payments or house savings accounts than spend it on him because that's just the kind of guy your dad is. And it's because your dad is that kind of thoughtful person that you want to get him a gift, which you can still do on a budget.
Sports, the outdoors, music — no matter what your dad's interests are, there's a cheap and thoughtful gift out there with his name on it. In case you still need to get your father a present, here are 31 fun and sweet Father's Day gifts under $10 perfect for every kind of dad.
We only include products that have been independently selected by Bustle's editorial team. However, we may receive a portion of sales if you purchase a product through a link in this article.
1. Bass Fishing Lure
When it comes to Father's Day gift-giving, fishing gear is always a great go-to if your own dad is the outdoor type. Instead of a bucket of worms, give him something a little more special that relates to his favorite hobby, like this bass fishing lure.
2. A Phone Wallet
This silicone card holder that sticks to the back of a smartphone is perfect for the dad on the go (or the one who's always losing his wallet). It's thin and flexible, and it can hold up cash and up to five cards.
3. A Personalized Handkerchief
For the formal father, give him a set of dad-styled handkerchiefs. Featuring a monogram, this is a thoughtful and useful gift.
4. Custom Beer Mug
When your dad cracks open a cold beer after a long day of work, doesn't he deserve something a little fancier to drink out of than a plain old can? Make his drinking experience more elegant with this custom etched beer mug. The Knot Shop offers multiple custom designs, ranging from a simple letter to a "Best Dad Ever" design.
5. Dress Socks
I know what you're thinking — socks? What a lame gift. But ask any dad, you can never have too many essentials. Pick out a pair that your dad will appreciate — something that features a pattern, or a relatively simple sock like this pack, whichever speaks to his personality.
6. Retro Playing Cards
For the dad who likes card games, give him the gift of vintage playing cards. Featuring a variety of retro styles — lighthouses, birds, plants — your dad will love playing with these unique and personal cards.
7. Single-Brew Coffee Bags
If your dad can't go without his morning java, consider these single-serve steeped bags with notes of honey and blueberry. Whether he's traveling or at the office, he'll be able to whip this light roast right up.
8. Whiskey Stones
A set of whiskey stones is a common but much-appreciated, gift. Plus, dad can never have enough! This set of whiskey stones is incredibly priced and would be the perfect addition to dad's bar set.
9. Personalized Ice Cream Spoon
Everyone likes ice cream, especially your dear old dad. Give him his own designated spoon, so he can dig in with style.
10. Star Wars Keychain Flashlight
Darth Vader might not be the best father figure, but your Star Wars-loving dad is. Give him the power of the force in the form of this portable flashlight perfect for your geeky guy.
11. Hand Stamped Guitar Pick
If your dad is a musician professionally, or as a hobby, then he could always use another guitar pick. Get him one he'll be extra careful not to lose. This beautifully crafted, hand-stamped pick features a sweet message. Every song he plays with this pick, he'll be reminded of you.
12. Golf Glove
If your father prefers swinging the golf club to other dad-like hobbies, get him a gift he might actually need: a golf glove. Though not overly sentimental, it's at least a present you know your dad will get use out of. This one from Callaway is top-rated and dad-approved.
13. Vintage Fishing Poster Prints
Theis fishing patent print is a twist on the classic fishing Father's Day gift. Home decor may not be the first category of gifts that comes to mind when it comes to Father's Day giving, but this poster is a great present for the dad who loves fishing. Simple and nautical, your father will proudly hang this in his man cave at home.
14. Mini Batman Bat-Signal
For the man who has always been your hero, give him a signal that commemorates his favorite superhero. This mini Bat-signal is the perfect fun addition to his home office or workshop.
15. Personalized Keychain
16. Birthday Cake Cookies
It may not be his birthday, but these cookies are a reason to celebrate. Vegan and gluten-free, these treats are perfect for the dad who has a sweet tooth but is trying to keep it healthy.
17. Personalized Grilling Tools
Dads and grilling go together like moms and wine, let's admit it. Why not upgrade dad's dirty old grill tools with personalized ones that make him think of you every time he flips a burger?!
18. Face Mask
They may say they don't care about self-care, but I can guarantee, that if you get dad a face mask, he'll never go back. And, he'll probably join you and mom on your weekly self-care nights after trying out these charcoal pore masks from this awesome brand.
19. Hot Sauce
Give dad a gift he can eat! The great thing about hot sauce is that there are so many different varities and flavors, so it never gets old. If dad likes a little zing on his meals, consider popping one of these mini bottles in a gift bag this Father's Day.
20. Chocolate Bar
Another gift dad can eat: Dark chocolate from Sol Cacao is the perfect little treat for dad on his special day. This one will probably fuel his sweet tooth, so be warned.
21. Catchall Bowl
This gift is pretty unique, because a catchall, for men, can totally be overlooked. This charcoal number is the perfect minimal bowl for dad's bedside table. He can throw whatever he wants in it, and may wonder how he never had one before!
22. Round Of Golf Passport
This round of golf passport is such a cool and fun gift that a golf-loving dad can put to good use. This mini passport contains 20 entry logs that allows your father to record the meaningful details of each game. What could make this even better? Participating in that golf game with dad!
23. Beard Brush
This brush, made of 100% natural wild board bristles, will quickly become a trusted way to keep your dad's beard looking neat. Plus, it's travel size, so it's small enough to take wherever he goes.
24. Pocket Notebooks
These little notebooks were designed for men in mind. Think: Dad throws everything in his pocket. Chances are, he isn't too careful. In fact, Bespoke Post even says, "Don't be nice to these notebooks. They're tough and flexible enough to carelessly jam into your pocket, because a notebook should be rugged and go with you everywhere." How perfect?
25. Antique Nail Clippers Set
A practical gift with a sweet message, these antique copper nail clippers will remind your dad how much you love him every time he's grooming. What else could he possibly want?
26. Magnetic Pickup Tool
The handy dad's dream, this gadget helps retrieve items hands-free. He can use it for car repairs, camping, boating, fishing, and more.
27. Budweiser Hat
Beer-loving dads will love rocking this baseball cap with a pre-curved brim and adjustable back strap. At under $5, you and your wallet will admire it too.
28. Natural Wood Grilling Wraps
Give the king of the grill the great gift of flavor with these wraps that infuse his favorite food with a smoky flavor. These wraps get their flavor from Pacific cedar and alder and are food-safe and free of unwanted additives.
29. A Funny Coffee Mug
Whether you're your dad's IT person or he's just the wisest person you know, he'll get a kick out of this mug that pretty much labels him as a genius.
30. Large Ice Cube Tray
If you've got a dad who appreciates a classic cocktail, he'll cheers to this gift. The tray makes four 2 1/4" cubes, which insures his old fashioned will stay colder for longer.
31. Beer Bottle Planters
These handmade planters — made from repurposed beer bottles in drinking glasses and shot glasses — are perfect for beer-loving dads with a green thumb. You can even order a custom bottle to match what's usually in your dad's fridge.