23 Thanksgiving Instagram Captions That'll Make Your Friends Laugh
"Leftovers are for quitters."
by Eliza Castile and Mia Mercado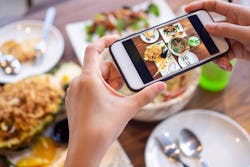 This Thanksgiving is going to look much different than years past. But one thing that will always remain the same? Your desire to Instagram every dang moment. Whether you need a distraction from reality at large or just want a break from babysitting the turkey, these clever Thanksgiving Instagram captions will be a welcome distraction. Be warned: there will be puns.
You should feel zero shame in your desire to share a picture of your Thanksgiving meal for one or your virtual holiday dinner. For many of us, this is the first holiday we're trying to navigate during the pandemic. You want to celebrate while staying safe and somehow maintaining some sense of normalcy. And what is more normal than the desire to Instagram your dinner?
If you don't want to spend an hour brainstorming turkey puns, don't worry, we got you. Here are 23 Thanksgiving captions you can use to make your friends laugh, keep yourself entertained, or just to add a sprinkle of something familiar to this holiday season.
This article was originally published on