7 Podcasts That'll Keep You Up To Speed On The 2020 Election
You don't want to miss a moment.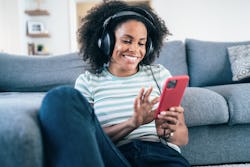 filadendron/E+/Getty Images
After what likely has felt like a decade of slow building, the race for the next presidential election is finally here. With the general election taking place in less than a week, now is the time to stock up your knowledge arsenal with podcasts to help you follow the 2020 election. Collecting a good batch of audio resources to clarify the political narratives taking place will actually save you time in the long run, and it might just make the process bearable, or at the very least, easier to understand.
The 2020 presidential election may have only had one Republican front-runner, but it's been a barnburner of a competition. The campaign trail has seen over a dozen serious Democratic contenders vie for the nomination, a presidential impeachment trial take place, and more. Though we're mere days away from election day, there's still plenty of time for more confusion to arise. With COVID-19 impacting the 2020 election and the onslaught of news on any given day, it can feel borderline impossible to keep track of it all, or even to know what you should be tracking to begin with. For that reason, it helps to pick a podcast tailored to your own specific learning or consumption style. Whether you like your politics with a dose of humor or with a roundtable of hard-hitting, stone-faced journalists, there's a podcast out there for you — and it likely comes out frequently enough to keep you satiated.
Here are some of the best political podcasts to keep you up to date on the 2020 election:
This article was originally published on