6 Organizations Fighting Police Brutality That You Can Support Right Now
Police killed more than 1,100 people in 2022.
by Syeda Khaula Saad and JR Thorpe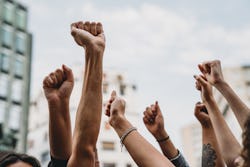 FilippoBacci/E+/Getty Images
In 2022, police killed more than 1,100 people in the United States. This doesn't include people who lived after violent interactions with police but still experienced beatings, tasers, mace, or abuse at their hands. There are many U.S. anti-brutality organizations that exist for the purpose of tackling this violence head-on. Through educating the public about their rights, pushing for programs that move away from policing and punishment, and observing the police, these organizations work to hold police responsible for abuses of power.
In the 19th century, the police force in the South was created as a way of maintaining enslaved people, and in the last few years, after the police killings of people such as George Floyd, Breonna Taylor, Daunte Wright, and Ma'Khia Bryant, there has been a massive call to reimagine the role of police, especially regarding systemic issues of police brutality and racial inequality. After Derek Chauvin was convicted of George Floyd's murder in April 2021, President Joe Biden called the verdict a "too rare" step toward "basic accountability."
So, if you're looking to make a donation to an anti-brutality organization, get involved, or learn more about such efforts, here are six organizations you can look into.
This article was originally published on