Here's How The Autumnal Equinox Will Affect Your Zodiac Sign
Career pivot? Dating woes? Here's what fall has in store for you.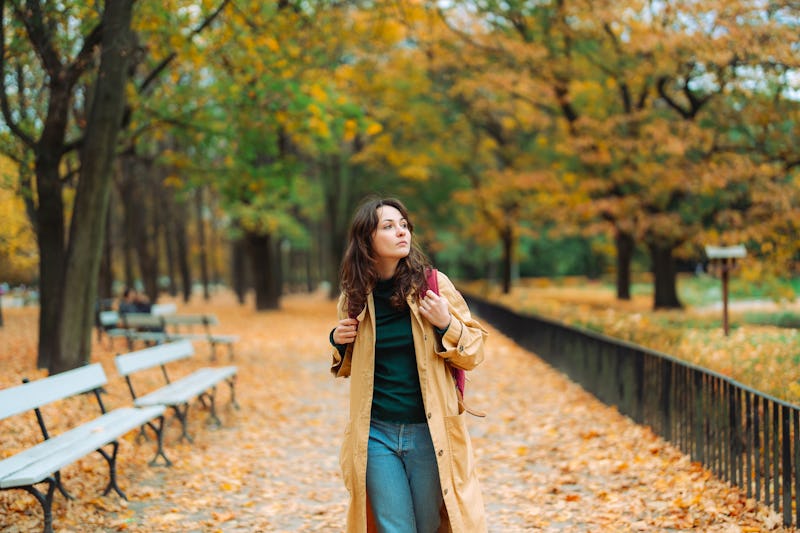 Oleh_Slobodeniuk/E+/Getty Images
Though the cardinal sign of fall, aka the PSL, made its grand return at the end of August, summer purists refused to welcome the new season until the calendar said so. Well, don't be surprised if you see summer stans sipping on a Pumpkin Spice Frosty soon, because the fall equinox officially takes place on Saturday, Sept. 23 at 2:49 a.m. ET. With a new season comes new opportunities and surprises for each of the zodiac signs. If you're ready to embrace the seasonal change head-on, this autumnal equinox horoscope can help you prepare.
According to the Farmer's Almanac, an equinox occurs precisely when the Sun's center crosses the celestial equator, or an "imaginary extension of Earth's equator line in space." During this equinox, the Sun will travel from north to south in the Northern Hemisphere. You might equate the astronomical event with colder weather and shorter days, but it can also bring balance and equilibrium into your life. (The equinox will provide an equal amount of daylight and night on the first day of Libra season, after all.) On top of that, the seasonal event will also illuminate a certain area of life for each zodiac sign, which means you may also experience shake-ups in your relationships, career, family, and more. Ahead, astrologer Catherine Gerdes shares what you can expect from the autumnal equinox depending on your sun sign.
Source:
Catherine Gerdes, astrologer