Dr. Barbara Sturm On How To Build A Cult-Loved Skin Care Brand
And her infamous $1,400 blood cream.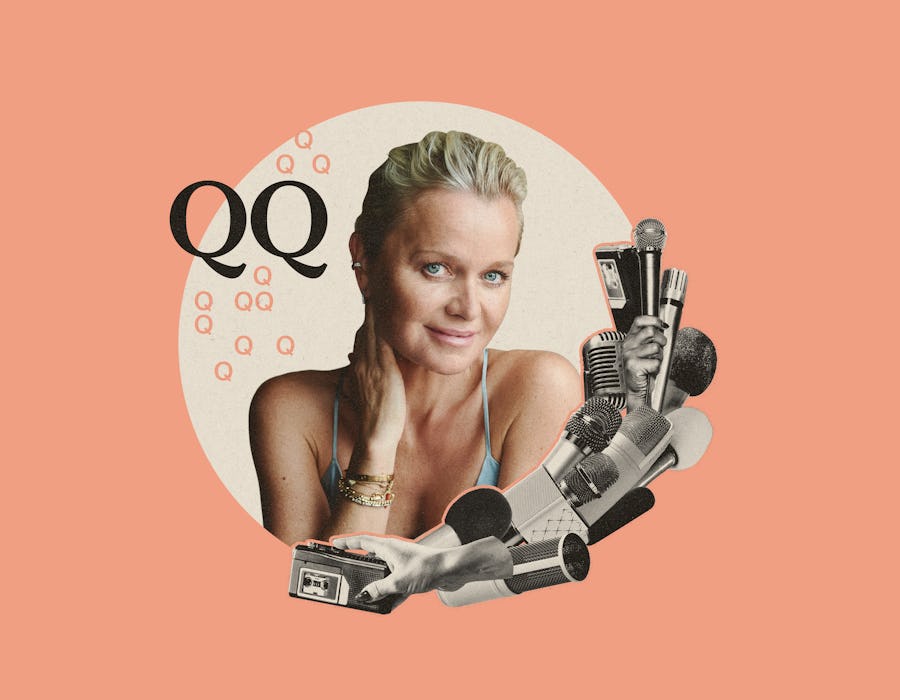 If you care about what celebrities use on their skin, there's one name you'll hear over and over again: Dr. Barbara Sturm.
Celebs like Hailey Bieber, Kourtney Kardashian, and Bella Hadid haven't been shy about their love for the German-born orthopedic doctor's pricey, minimalist skin care products housed in sleek white jars. "My whole skin care philosophy is focused on combating inflammation and its consequences," Dr. Sturm shares with Bustle. As she explains, the whole idea is opting fror calming ingredients that are soothing, instead of potentially aggravating. Dr. Sturm's name initially shot to fame in 2002 thanks to the introduction of her $1,400 "blood cream," which involved a process in which she would draw a patient's blood, draw out healing plasma, and infused it into a face cream for topical use.
Fast forward to 2023 and her decidedly less spooky-sounding luxury consumer line, which consists of chic medicine cabinet staples like a $320 hyaluronic acid serum and a $125 kaolin clay face mask, is on every beauty insider's wish list. Ever since launching the line to a cult following in 2014, the brand has grown to include seven global spa boutiques — all of which offer signature facials and treatments.
For more on how Dr. Barbara Sturm became one of the fastest growing skin care brands in the world, her thoughts on the future of skin care, and her best advice for growing a business, keep reading.
Tell us about your background and how it led to you creating a skin care line.
I never thought I would end up in beauty, because I always wanted to be a doctor. I grew up as a tomboy and didn't see eyeliner until I was 24. I studied medicine and sports, and worked in the field of anti-inflammatory molecular orthopedics. As a doctor and scientist, I was always fascinated by aesthetics because of the combination of art and science that's involved in the process, as well as the immediate and very gratifying results for patients.
How did that lead to your infamous blood cream?
I started injecting hyaluronic acid fillers and Botox and that's when I began applying science from orthopedics into the skin. From there, the blood facial (which uses the body's own proteins from my patient's blood) was created in 2002. Then I invented my first cream, called MC1, exclusively for my patients. It's actually made out of their own blood plasma.
Your skin care line reached cult status quickly. What are some things that you feel helped contribute to that?
I never planned on fame or status. My goal was to create a product that worked. The MC1 cream became very popular in the circles of my patients, especially in Hollywood. I would receive a lot of questions about which other products should be used for the daily skincare routine. My patients then asked me to create an entire skincare regimen, and my anti-inflammatory line was eventually born.
You're from Germany. What's the difference between the American beauty industry and European?
The American beauty industry is very advanced. It's a place where new ideas are born, tried and adopted, especially in health and wellness. At the same time, the European beauty industry is leading the way with ingredient research and science. Consumers today are very globally influenced and want education, innovation, and high-performance ingredient science that delivers the very best results for their skin.
Your actual name is the name of your brand. How does that affect the way you build your company and develop new products?
As the founder, CEO, and chairman of my company, I am responsible for every word of my brand's content. I am not interested in selling empty promises in a jar. I want to transmit to the world products that will work for them, grow their confidence and enrich their sense of self.
You currently have spa locations in Los Angeles, Dallas, Miami, and New York City. Why is it important for you to expand your business to brick and mortar?
The world is not only digital. Touching, feeling, and engaging face-to-face for an expert consultation about something as personal as your skin is so important. After the pandemic, we found people were looking to be pampered, touched, and connected again. They wanted to be in a Sturm cocoon, so that is what we offered.
What characteristics do you think are most important in leading a company?
I encourage my team to be entrepreneurial and to have their own ideas. I always tell them that if they do have problems, I want them to come to me so I can help. I don't like to tell people what to do. I love to see passion and hard work from everyone.
What do you think skin care companies should prioritize in order to stay relevant?
A big part of my work is to make sure consumers learn about how to maintain healthy and protected, strong skin. I believe we are leaving the "marketing age" of skincare and entering a golden age of science-based skincare. The customer or client, regardless of their gender or age, is now looking for advanced science skincare and treatments that embrace their individuality and diverse skincare needs.
What does a typical morning look like for you?
I love the mornings. I'm an early bird so I always get up early. If I get up before my kids, I try to watch the sunrise or be mindful and then fit in a quick workout, usually while I'm on calls. I love to keep active. Movement is essential for releasing inflammation-reducing hormones in the body. I'll then cuddle my kids, put my face mask on, have a coffee, go through my emails, and get the day started.
How do you stay healthy and not burnout?
An anti-inflammatory lifestyle is the key for me. It's about getting adequate sleep, daily exercise, avoiding stress, protecting against urban and digital pollution, avoiding excess alcohol, sugar, fried and processed foods. Anti-inflammatory foods like avocados, salmon, olive oil, tomatoes, nuts, dark berries, and green tea are my constants for daily self-care.
Do you ever indulge?
On rare occasions, I'll have a glass of wine with dinner. And my daughter, Charly, makes the most amazing cakes and cookies that I can't help indulging in every now and again. But it doesn't need to be a "bad habit" — it's all about balance.
What's the best business advice you've received?
Focus on your passion and not on money. And don't let anyone tell you what you can and can't do. If you fall, always pick yourself up and try again. The results are always worth the reward.
What are some of the biggest lessons you've learned as a brand founder?
Never worry about what other people are doing or thinking. Just always try and concentrate on your end goal — that's the most important thing.