Ben & Jerry's New Sundae Flavours Are A Chocoholic's Dream
The perfect treat this Valentine's Day.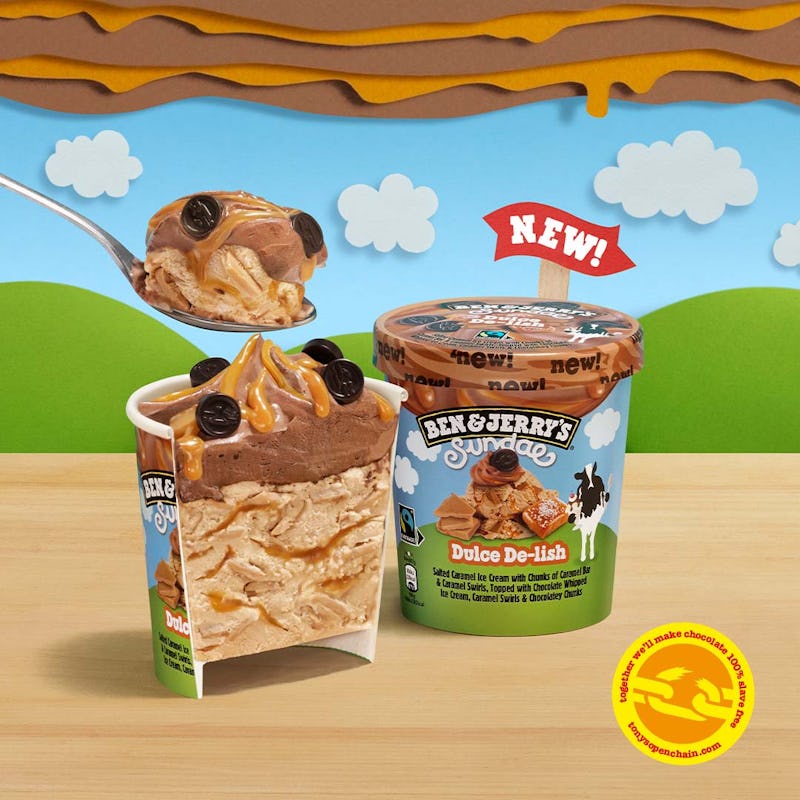 Ben & Jerry's
Valentine's Day is quickly approaching, and with chocolate being the sweet of choice, Ben & Jerry's is releasing two new chocolatey flavours. So, if you're not in the mood for a box of sweet delights, the ice cream lovers have got you covered just in time for the most romantic time of year.
The latest flavours to get your mouth watering are Dulce De-lish and Choco-lotta Cheesecake. Dulce-delish is a Sundae combo of salted caramel with chunks of caramel bar and swirls thrown in for good measure, topped with chocolate whipped ice cream, caramel sauce, and chocolate chunks. The Choco-lotta Cheesecake flavour consists of (you guessed it) chocolate cheesecake ice cream with chocolate chunks and cookie swirls, topped with chocolate whipped ice cream with chocolate sauce, and even more chocolate chunks.
Ben & Jerry's launched their Sundaes range last January and is making a habit of releasing new and improved flavours in the new year. Ben & Jerry's sundaes differ from their original tub recipe because these delicacies are topped with whipped cream, sauce, and even more chocolate chunks.
You'll be able to find the newest additions to their Sundaes range in the freezer aisle of your local supermarket at the end of January, retailing at £5.50. Speaking about the unique flavours, Flavour Guru at Ben & Jerry's Gabby Smith said, "this time we've taken the soft whipped topping to a whole chocolatey level."
Dulce-delish and Choco-lotta Cheesecake are made with Open Chain cocoa, part of Tony's Chocolonely's initiative, to ensure that "companies take responsibility for ensuring a fully traceable cocoa supply chain." Ben & Jerry's partnered with Tony's Chocolonely in August 2022 for their Chocolatey Love A-Fair flavour.
The latest additions in Ben & Jerry's Sundaes range join the likes of previous flavours, including Cookie Vermont-ster, Hazel-nuttin' but Chocolate, Oh My! Banoffee Pie, and Non-Dairy Berry Revolutionary Sundae.