The 4 Best Blenders For Nut Butter
We only recommend products we love and that we think you will, too. We may receive a portion of sales from products purchased from this article, which was written by our Commerce team.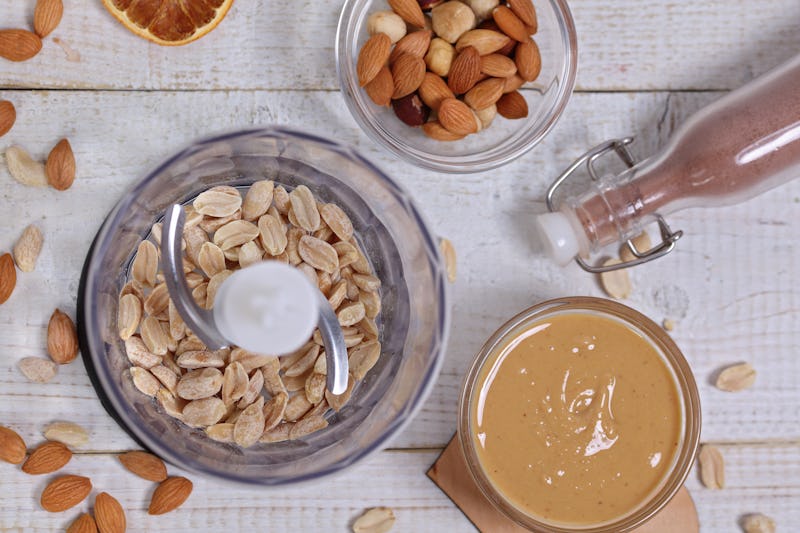 Shutterstock
Whether you're hoping to save money on groceries or make fewer trips to the store, the best blenders for nut butter make it easy to whip up batches of your favorite high-protein spread, and can handle a myriad of other kitchen tasks. Since food processors excel in this arena as well, I've rounded up the best of both options for you to choose from.
Blenders Vs. Food Processors
First things first: It's helpful to see how blenders measure up to food processors when it comes to making homemade nut butters specifically. Food processors are master choppers, making them ideal for tackling nuts, and their smooth sides make cleanup much easier. That said, blenders are often less cumbersome, and both appliances offer lots of versatility. If you're set on using a blender, make sure you're opting for a high-performance model that can stand up to the task. Plus, keep in mind that in any case, you'll want to roast or soak the nuts overnight for best results in a blender. If you're torn between the two kitchen appliances, don't worry — there's an option below that offers both a blender and food processor in one package.
Power Ratings, Decoded
Wattage is often the metric advertised on blenders. While wattage technically indicates how much energy a machine consumes rather than how much it generates, a high-wattage blender will likely have more power and a longer shelf life, as there will be less strain on the motor. Oftentimes it really comes down to a machine's design, with considerations like blade and container shape affecting overall performance. And keep in mind, it's always worth paying attention to reviews — there's nothing like real-world feedback to determine whether or not a machine can really whip up nut butter. (To keep things simple for you, reviewer feedback has been incorporated into all these picks.)
Design Considerations
Machines with wide and flat bases, like food processors, allow the nuts you'll be using to spread more thinly and evenly across the bottom of the appliance, making it easier to blend them.
Also think about the cleaning process since nut butters can result in a sticky mess to wash out. Appliances with removable and dishwasher-safe blades are most convenient, but they usually come with a higher price tag. Another nice-to-have is a tamper, a helpful tool since they allow you to guide ingredients into the machine as it's blending, without risking losing a finger.
Shop The Best Blenders For Nut Butter
In a hurry? These are the best blenders for nut butter:
Take a look at the best blenders for nut butter; they're all highly rated and there's a pick for every budget.
This article was originally published on