The 8 Best Crystals For Meditation, According To A Healing Energy Practitioner & Meditation Teacher
Expert advice on how to choose a crystal based on your goals.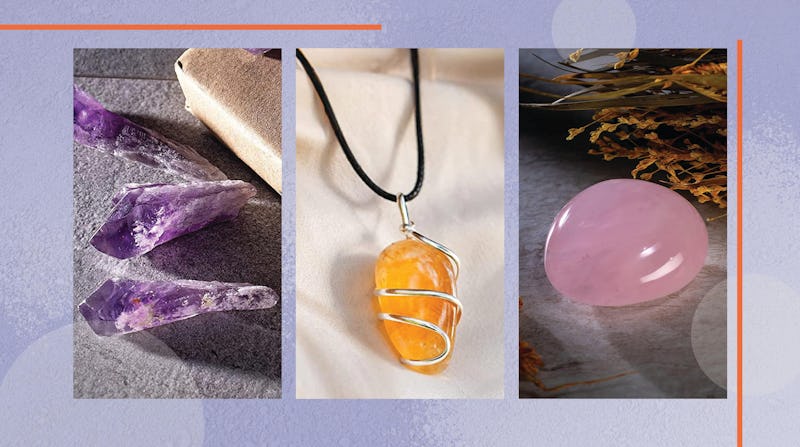 Bustle/Amazon
We may receive a portion of sales if you purchase a product through a link in this article.
Whether you meditate daily or are just beginning to dabble in the practice, the best crystals for meditation provide "a unique energetic vibration which can help to enhance and facilitate specific meditation goals," Jenna Volpe, certified Max Meditation instructor and crystal healing practitioner, tells Bustle. When choosing your crystals, consider your meditation goals and select the crystals thought to open and balance the chakras that support those goals in the shape and finish most helpful for your use.
The Expert
Jenna Volpe is an energy healing practitioner who has received formal training and certification in both crystal healing and meditation. She is a certified Max Meditation instructor and crystal healing practitioner and provides energy healing, crystal readings, and custom-guided meditations for clients.
What To Consider When Choosing Crystals For Meditation
"Amethyst, selenite, lapis lazuli, citrine, and moonstone tend to be some of the most popular crystals used in meditation," says Volpe, and each one has specific benefits. If you don't have a specific goal in mind, consider selenite which is "used to help keep the energies around you pure throughout meditation," and black tourmaline, which can be helpful in absorbing negativity.
Crystals come in raw and smooth finishes and there are a variety of shapes to choose from, including wands and flat stones, or used in jewelry. It's best to find crystals that are genuine and to purchase from sellers that offer ethically sourced crystals whenever possible.
Finally, a varied set allows you to select based on your intentions for that session. No matter which crystal you choose, Volpe recommends letting "your intuition guide you and trust that you can't go wrong either way." With this guidance in mind, check out the best crystals for meditation available on Amazon.
1. Black Tourmaline To Absorb Negativity
Black tourmaline is associated with keeping negative energy out, and some say it can help reduce anxiety, improve concentration, and promote self-confidence. This stunning necklace on a 24-inch silver-plated chain and includes access to an e-book that describes where the crystal is originally from, its meaning, as well as how to cleanse, charge, and take care of your crystal. There are also hand-stone versions of black tourmaline available.
One Reviewer Wrote: "It's used for grounding nature. It's on my neck I love the [piece] it makes me feel amazing I definitely recommend this to everyone every since I put the chain on my neck I have felt better than ever."
Size: 1.5–2.4 x .5–.75 inches (length x width)
If you're looking for a palm stone: Amazing Gemstone Black Tourmaline Palm Stone
2. Rose Quartz To Focus On Love & Compassion
To open the chakra associated with love and compassion, meditate with one of these polished rose quartz palm stones. The seller of these crystals is a family-owned business that provides high-quality and professionally-selected crystals, and each one is shipped from the United States. Reviewers love the beautiful pigmentation of these crystals and that each one comes with a certificate of authenticity.
One Reviewer Wrote: "I am collecting certain stones and I have ordered several from Kalifano, this company is first class all the way. All my stones from this company that I have purchased are beautiful and are the size of my palm, no pebbles here!, these stones arrive polished, in a case, inside a black pouch with a certificate of authenticity and an explanation of the stone you have purchased."
Size: 1–2 inches long
If you're looking for a wearable stone: KARMAPLEDGE Handcrafted Crystal Pendant
3. A Set Of Amethyst Wands To Boost Intuition
Volpe recommends using these kinds of crystals for enhancing clairvoyance, intuition, and connection to the spiritual realm while meditating. This set includes four wand-shaped amethyst crystals that are perfect for placing around your home or keeping in your bag when the mood strikes. These crystals are sourced from Brazil and can range in size from 1.5 to 3.2 inches long.
One Reviewer Wrote: "These amethyst points are truly beautiful. They are a shade of deep purple that you cannot recreate. I liked the way they were packaged. It kept them snug and secure. They were bigger than I thought they were going to be and on top of that they gave me an extra amethyst point. I use them for unblocking my third eye chakra."
Size: 1.5–3.2 inches long
If you're looking for a wearable stone: KARMAPLEDGE Handcrafted Crystal Pendant
4. Citrine For Emotional Wellness
To balance the chakra associated with emotional boundaries and wellness, consider this authentic citrine crystal pendant. The stone is wrapped in a metal swirl casing that hangs from an 18- to 22-inch adjustable cord and it has been ethically sourced from Brazil, according to the brand. You can also grab this collection of citrine wands if you're looking for something larger.
One Reviewer Wrote: "I am pleased with this citrine pendant. I have purchased other pendants from Ayana wellness. I enjoy the natural gem stones the energy is so comforting. These wrapped crystals are simple and beautiful."
Size: 1–2 inches, according to reviewers
If you're looking for wands: Runyangshi Citrine Natural Healing Crystal Wands
5. Selenite To Connect To The Spiritual Realm
According to Volpe, selenite crystals can be used to help keep your surrounding energies pure throughout meditation and connect you to the spiritual realm. This particular piece of selenite has a cute skyscraper shape that makes it comfortable to hold in your hand. It measures approximately four inches tall, and many reviewers note feeling strong energy from this crystal.
One Reviewer Wrote: "I love this! Such a powerful crystal. I have seen amazing results from meditating with it. Very nice size and has some weight to it."
Size: Approximately 4 inches tall
If you're looking for a polished stone: MINERALUNIVERSE Natural Selenite Crystal Palm Stone
6. An Aragonite Cluster For Grounding
This gorgeous raw aragonite cluster boasts a rich brown color that is associated with the root chakra and can be powerful in dispelling negative energy. The rough edges provide a grounding feel during meditation, and each crystal cluster is ethically sourced for peace of mind. Also great: Each crystal comes with an information card.
One Reviewer Wrote: "I loved everything about it. Opened it and the energy from it was amazing. It so worth it."
Size: N/A
If you're looking for a polished stone: Aragonite Pyramid Crystal Healing Stone
7. Lapis Lazuli For Communication
This crystal features beautiful blue and white colors that correspond with the throat chakra to open the energies pertaining to communication. For a piece of jewelry that's both pretty to wear and functional during meditation, check out this raw Lapis lazuli crystal pendant necklace. This crystal is from India and hangs from an 18-inch silver-plated necklace with a lobster claw clasp, so you never have to be without it.
One Reviewer Wrote: "The quality is outstanding, it's absolutely beautiful, and it looks amazing on!! Definitely recommend this gorgeous healing necklace to everyone!! It has such great energy and positive effects it is definitely helping me be more confident with interacting with people and outgoing!"
Size: n/a
If you're looking for wands: Runyangshi Blue Lapis Lazuli
8. A Kit With 11 Crystals & Healing Stones
If you're looking to have a variety in your collection, this meditation crystal kit includes seven tumbled crystals, a faceted multicolor crystal to align with all the chakras, a clear crystal wand, an amethyst cluster, and a raw rose quartz crystal. These all-natural crystals have been hand-selected by the business and have been sourced from all over the world. Plus, the kit comes with a reference poster and access to an e-book so you can learn all about your new crystals.
One Reviewer Wrote: "The quality of the stones and pendulum are great, not over the top fabulous from a rockhound collector's point of view but for a healer or other chakra work they are wonderful and what you would expect. One wonderful surprise I discovered just from holding the stones individually is that they have a good clean vibe about them. If you know what I mean, then you know what I mean. Also, I just like the whole philosophy of this family run company."
Type: Clear quartz, amethyst, sodalite, green aventurine, citrine, carnelian, red jasper, and rose quartz | Size: Varies
Also Great: This Best-Selling Book To Learn More About Crystals
This paperback crystal directory offers a plethora of information on all types of crystals and includes photos, detailed descriptions, and the spiritual, emotional, and healing effects of each kind. It features over 150 crystals and is 400 pages long, so you can become a crystal expert.
One Reviewer Wrote: "I love how each crystal description includes photos to further help in identification. I also appreciate that rarity and sources were included. Information about the spiritual and physical impacts of crystals on the body is in there as well! This book is loaded with a lot of great information and is the perfect quick reference."
How To Choose Your Crystal Colors Based On Intentions
Volpe outlines the colors of crystals that correspond with each chakra. Each stone can act as a reminder of your intentions as you meditate, so it's helpful to choose a stone aligned with your goals.
Red and brown crystals correspond to the root chakra located at the base of the spine and the groin. The theme of the root chakra is being grounded in your body and connected to the earth.
Orange-colored crystals often correspond with the hara or sacral chakra, which is located behind the belly button. The theme of the sacral chakra is emotional boundaries and the water element, which is intimately tied to emotional energy.
Yellow and some orange crystals correspond to the solar plexus, which impacts the energies of the stomach, spleen, pancreas, liver, and gallbladder. This chakra is about control, ego, our sense of identity, and the seat of the will.
Green crystals, such as malachite, and pink-colored crystals, such as rose quartz, correspond with the heart chakra, which is about love and compassion.
Blue crystals, such as Lapis lazuli, correspond to the throat chakra, which focuses on the energies and patterns pertaining to communication.
Purple-colored crystals, such as amethyst, correspond to the third eye chakra, which is located between the eyes. According to Volpe, amethyst can "enhance clairvoyance, intuition, and connection to the spiritual realm."
Clear or white crystals, such as selenite, help to open or balance the crown chakra, which is on top of the head. This chakra helps us to connect to the spiritual realm.
How To Use Crystals For Meditation
When it's time to put your crystals into action, there are a number of ways to use them. Volpe says it can be as easy as having one by your bedside table or under your pillow, but you can also place the crystal over your third eye, under your seat, or in your hand. Volpe adds, "There is no right or wrong way to work with crystals for meditation; follow your intuition and let it unfold!"
Expert:
Jenna Volpe, certified Max Meditation instructor and crystal healing practitioner