The Best UK Plant Shops Delivering To Your Door
Switch up your surroundings by bringing the outdoors in.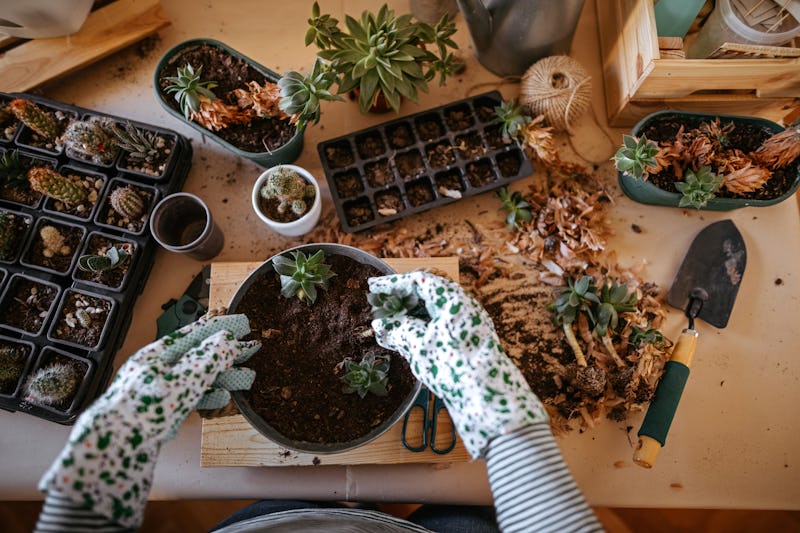 mixetto/E+/Getty Images
With the UK now in its third national lockdown, people are having to stay indoors and isolate once again. Our homes have become our sanctuaries – although admittedly, I'm climbing the walls a little, longing for a change of scene. So, what better way to switch up your surroundings, than bringing the outdoors in? Read on for some of the best local plant and flower delivery services, to help brighten up your home.
Millennials are 88% more likely to have plants in their bedrooms than people aged 65 and over, according to a garden centre trends report. Why do we love plants so much? Firstly, plants can really help make a house (especially a rental) feel like a home. Not only are plants an aesthetic treat, but they are actually good for your health. Vice reports that looking after plants is beneficial for mental health — working as a great way to occupy your mind, and acting as a reminder to nurture yourself too.
Plants provide a perfect hands-on distraction from the noise of Twitter feeds and Instagram stories. And they also offer benefits for your physical health. Plants absorb carbon dioxide and give out oxygen, improving the air quality, which is much needed as we currently spend most of our time indoors.
While many plant shops and florists across the UK are now closed, there are many independent outlets that will deliver to your door. Here are a few of our favourites, if you are looking to order plants online.
This article was originally published on