The 4 Best Nut Choppers — & They're All Under $50
We only recommend products we love and that we think you will, too. We may receive a portion of sales from products purchased from this article, which was written by our Commerce team.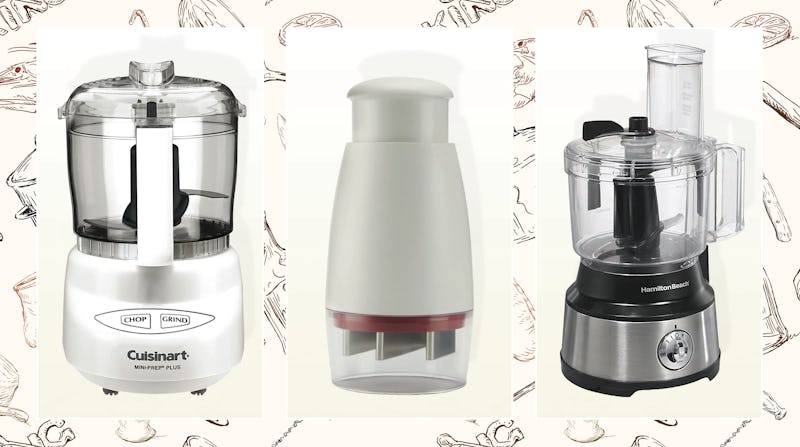 Amazon / Bustle
Nuts can be a pain to chop with a knife, which is why the best nut choppers are easy and comfortable to use for quick chopping. Nut choppers generally fall into two categories: manual and mechanical. Manual nut choppers (often called "food choppers") require a little more hands-on effort, requiring you to pump or crank in order to get the job done. Mechanical nut choppers are essentially food processors and can be used to chop nuts with only a press of the button. Choosing between the two categories has to do with the amount of physical labor you're willing to perform, how much control you want over the fineness of the chop, and your preferred price point.
Manual nut choppers can be a great affordable option, so long as you don't mind applying some elbow grease. If you choose a manual device, look for one that's comfortable to operate; it can be especially helpful to check user reviews for this information. Manual choppers will generally give you a coarse chop, but allow the control to easily stop the moment the texture is right.
Mechanical models are pricier but nearly effortless to use. Single-speed food processors can make quick work of chopping nuts, but look for multiple speeds or settings if you want more control. Pulse settings make it easy not to over-process your nuts, but you might prefer a food professor with continuous settings if you don't want to repeatedly press a button. For extra versatility, aim for a food processor with multiple attachments.
Capacity is also an important consideration. Smaller models that hold a cup or so are probably fine for most nut-chopping needs and can be easier to store. But if you want a general-use food chopper or processor, or if you need to prepare large quantities of nuts, consider a bigger model.
If you're tired of chopping nuts by hand, these four picks can save you some time and hassle.
1. A Small Manual Chopper For Less Than $20
If you only need to chop a small amount of nuts at a time, the Zyliss Zick-Zick food chopper is a simple, affordable way to do it. This dishwasher-safe and BPA-free plastic device uses a pumping mechanism for chopping nuts and other foods, and most Amazon reviewers report that it's easy to operate and helps reduce chopping time. Reviewers are generally big fans of the device, giving it 4.3 stars overall on the site, from among 2,200 and growing reviews.
Unlike many other choppers, this one can actually be used on top of a cutting board, though you can also chop food directly into the included cup, which has a 1-cup capacity. Each time you press on the plunger, it extends the blades to cut the food below, then rotates into a new position in order to chop more evenly. A removable blade cover ensures your fingers won't get in the way.
The food chopper comes with a lid that can fit over the included cup, so it's more convenient to prep food ahead of time. When you're finished chopping, the blade is easy to remove for cleaning — it can go in the dishwasher along with the rest of the device, but the manufacturer advises that the top rack is best. The overall build is small enough to fit away in a regular kitchen drawer.
According to one Amazon reviewer: "I love this for chopping nuts. Gone are the days of using a knife & cutting board and having little chunks of nuts go flying in every direction when you drive the knife through them. It's so much faster & more efficient to use this handy chopper, too."
2. A Popular Mini Food Processor For Chopping Nuts
This tiny but mighty Cuisinart food processor is backed by over 14,000 reviews on Amazon giving it an overall rating of 4.6 stars. While it's intended for any smaller foods that would benefit from chopping or grinding (its only two functions), many pleased Amazon reviewers report successfully using this product for chopping and grinding nuts. The food processor has a BPA-free 3-cup plastic bowl with a handle and does its chopping with a stainless steel blade. It also comes with a slotted lid and a spatula for scraping down the sides of the bowl. The lid and bowl are dishwasher safe, but the manufacturer recommends washing the blade by hand.
If you want to process more than nuts, reviewers have also found the food processor's small size ideal for foods like herbs and onions. If you'd like, you can get the gadget bundled with some potentially useful extras, like a salad spinner or toaster, too. It also comes in a handful of colors, ranging from a classic white or silver tone to a pale pink or punchy yellow.
According to one Amazon reviewer: "Love this! Such a great kitchen tool that doesn't take up a lot of space. This is my 2nd one (the first one lasted about 12 years). We use for nuts, cheese, to make pesto, to grate ginger. So versatile and easy to clean."
3. A Manual Nut Chopper With A 5-Cup Capacity
If you want a manual chopper that can fit more than a cup of nuts, this Mueller chopper and cutter is a great choice, since its bowl has a 5-cup capacity. It comes with an easy-to-use hand-cranking mechanism that chops food as you spin the handle. A few turns should give you a rough chop, and the more you turn, the finer the result. The gadget isn't just for chopping nuts, though — the manufacturer touts its usefulness for cutting up herbs and veggies, shredding cheese, or even beating eggs — and it comes with a handy egg white separator, too. When you're done chopping, all different pieces of the chopper (bowl, blade, and lid) are dishwasher safe.
With over 4,000 Amazon reviews and an overall 4.6-star rating, it's safe to say most reviewers are pleased with this versatile food chopper — including several reviewers who bought this specifically for chopping nuts. But if you're not happy, it comes with a reassuring lifetime warranty.
According to one Amazon reviewer: "Exceptional product for food preparation [...] I bake banana nut muffins twice a month and need a quality chopper for walnuts and pecans. Also love the simplicity of the product in set up and cleaning. The chopper is manual, requires no electricity and the size is perfect for preparing small or large amounts. Great value for the price."
4. A Fan-Favorite 10-Cup Food Processor
With over 20,000 reviews on Amazon and an overall rating of 4.6 stars, this Hamilton Beach 10-cup food processor is a top pick for chopping, mixing, and pureeing a variety of foods — nuts included. The device has a large 10-cup capacity, so it's best for people who need to prep a lot of nuts or other ingredients at once — or, if you simply want a little more control than you can get with the Cuisinart mini food processor. While the S-shaped blade is probably best for chopping nuts, this food processor also comes with a disk that can slice or shred. The settings are also slightly more robust than with the mini processor above, offering two speeds plus a pulse setting, all of which can be selected using the dial control. As an added bonus, a bowl scraper attachment means you won't have to keep pausing to manually scrape the bowl yourself.
When you're done using the food processor, you can place the BPA-free bowl and blade in the dishwasher for cleaning. If you'd prefer a slightly smaller option, this item also comes in an 8-cup version.
According to one Amazon reviewer: "I use this all the time and I am very happy with this food processor. I regularly process nuts with it and I never have a problem. I do not see the need for an expensive food processor, I believe this works just as well and has the added bonus of the food scraper which comes in really handy. It has suction cup "feet" that stick to the countertop top to prevent movement during processing. The bowl capacity has been more than enough for my needs. Highly recommend!"