The 8 Best Paints For Glass Painting
We only recommend products we love and that we think you will, too. We may receive a portion of sales from products purchased from this article, which was written by our Commerce team.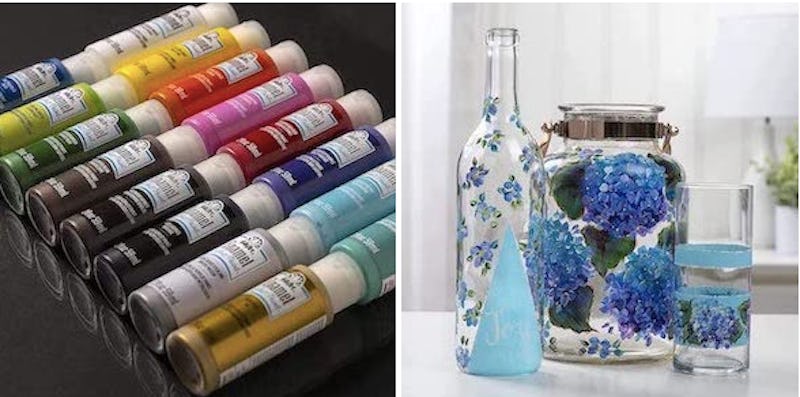 Painting on glass is an artistic pursuit that yields beautiful results — but only if you have the right materials. Available in acrylic, enamel, and oil formulations, the best paints for glass painting will offer the optimal finish and permanence level for your creative project.
Types Of Paint
Paints for glass typically come in three forms — here's what to know:
Acrylic glass paint is ideal for beginners and crafters who are mindful of a budget, and the water-based formula is forgiving of mistakes — simply let the paint dry, then scrape it off with a putty knife to return the glass to its original form. Its semi-permanence also makes it the best paint for glass windows that are used for temporary displays.
Acrylic enamel paint is durable and can be air-dried or oven-baked at a low temperature to create a glossy, hard shell on nonporous surfaces. Although the finish can be permanent, it should be noted that these paints are not guaranteed to stand up to harsh conditions like dishwashing.
Oil-based paints are best for adding color to glass that is already etched or textured, and the waterproof paint offers highly saturated colors compared to their acrylic counterparts. However, be mindful that they may require major prep work — including sanding and priming — and long drying times between layers. Also be aware that oil-based paints and fumes can irritate the skin, eyes, nose, and throat, so apply in a ventilated area while wearing protective gear, like gloves and a painter's mask.
Application Method
The best glass paints typically come in bottles or tubes and require brushes and sponges, but for those who want to add hand-lettering or intricate designs to glass, paint markers offer more control and precision. A third option is spray paint, which is optimal for quickly covering large areas, such as entire bottles or windows. And no matter which type of glass paint you use, the best way to increase the longevity of your finished project is to apply a sealer after the final layer is dry, like a UV-resistant aerosol spray that prevents fading, or a dishwasher-safe brush-on sealer that's perfect for painted glassware and plates.
Last, always check the labels on craft paints to confirm their approved uses, and note that the glass paints below are not food-safe. (Even if they can be applied to items like bowls and glasses, you'll need to limit painting to areas that won't come in contact with food, beverages, or your mouth.)
With these suggestions in mind, check out the best paints for glass painting projects — all of which are available on Amazon.