The Best Recipes For A Zoom Cookalong
The key to a good cookalong is picking a meal that suits everyone.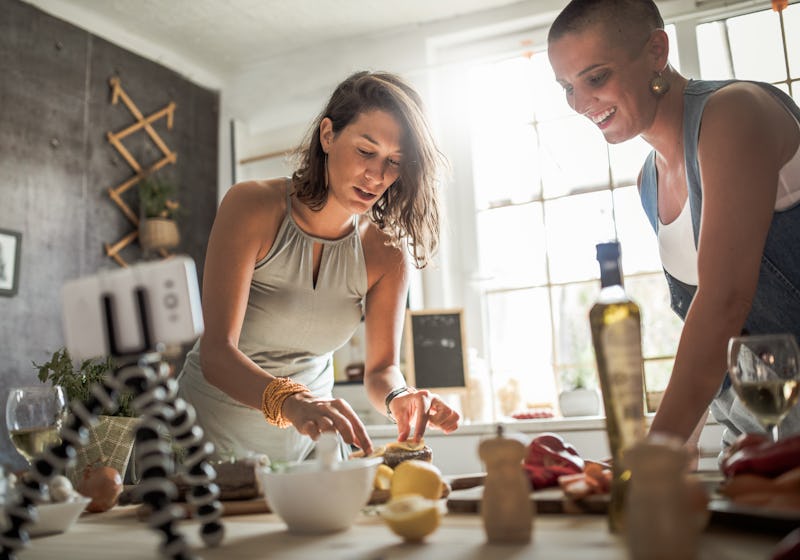 zeljkosantrac/Getty
It's been almost a year since the UK first went into lockdown and it's safe to say we're all feeling the strain. Mind's recent survey actually found that more than half of adults said their mental health has got worse during lockdown. So, while we're all trying to stay sane, connecting with friends is key. That's where a Zoom cookalong comes in. You can virtually gather your friends, fire up the stove and spend a few blissful hours cooking, eating, and talking. The perfect plan for forgetting the pandemic for a hot second.
How To Set Up A Zoom Cookalong
Organise a time and date with your friends. Choose a day with no competing time pressures so no one will be pulled away mid cookalong.
Choose a recipe and make sure everyone's bought the right ingredients for the meal ahead of time.
Set up a Zoom meeting beforehand and share the link with your gang.
Log on, start cooking, and enjoy.
Top tip: the key to a successful cookalong is choosing a recipe that suits the whole group — make sure you gauge skill levels and dietary requirements ahead of time to keep everyone happy.
Below I've offered eight options to get you started plus all the info you'll need in terms of difficulty (easy, medium, hard) and diets.