13 Recipes Using Seitan Inspired By TikTok
Putting the 10/10 in wheat gluten.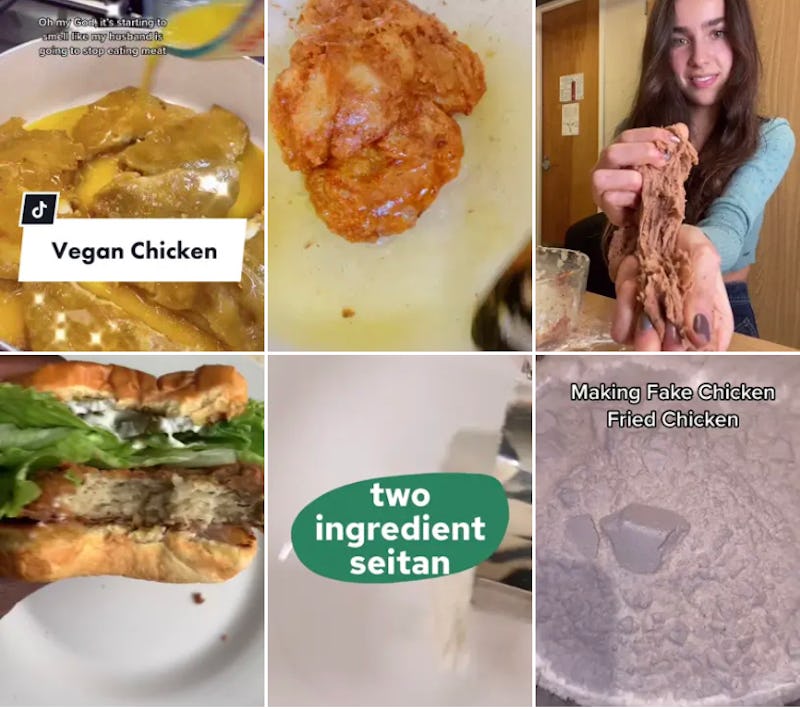 TikTok
Vegetarians and vegans are forever looking for the best meat substitute. From tofu steaks and black bean burgers to lentil meatballs and nutritional yeast, there's been a new plant-based protein every other day — you've probably tried them all at some point. Enter seitan, a two-ingredient, easy-to-make meat substitute that will have you wondering how you're just now finding out how to make it on your own.
Seitan (pronounced say-tan) is flavored wheat gluten that originated in China in the sixth century, but has recently had a renaissance on TikTok. All you have to do to make seitan at home is mix flour and water, as if you were making bread dough. After kneading for 15 minutes, you'll rinse the dough underwater to wash out all the starch. Leave it to set for another hour or two, you'll be left with pure gluten with a texture and consistency that mimics meat.
You're wondering how one can possibly get something that tastes like meat out of flour and water. Seitan takes on whatever flavors you use to season it with, so, as with other meat substitutes like tempeh, oats, or tofu, you'll have to have your spices on deck. But after seasoning to your tastebuds' delight, you'll have an extremely hearty and protein-packed vegan meat substitute.
Here are 13 recipes that use seitan, inspired by TikTok.