The 7 Best Tablets For Note-Taking 
We only recommend products we love and that we think you will, too. We may receive a portion of sales from products purchased from this article, which was written by our Commerce team.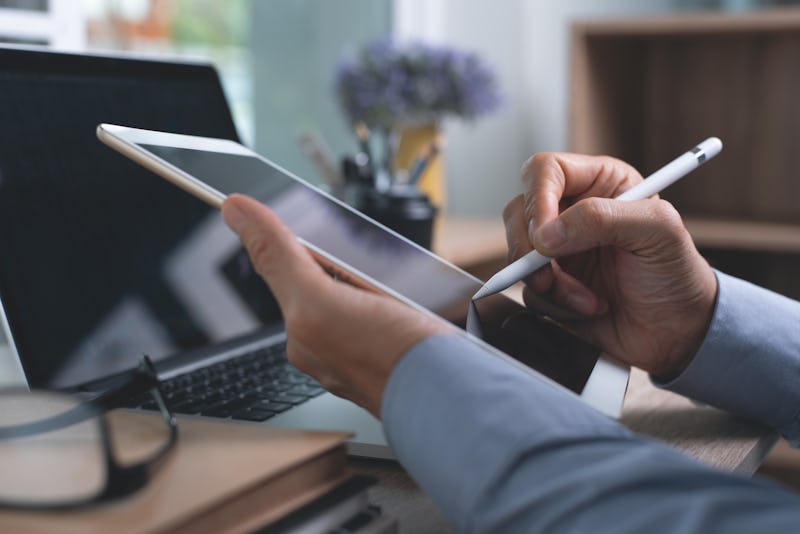 Shutterstock
While there's plenty to love about writing on paper, keeping track of all your notes isn't exactly simple. Instead of worrying about tearing, staining, or losing your notebook, the best tablets for note-taking help you keep everything handy and organized. There are tons of tablets on the market, but the best options for note-taking in particular will have the right operating system for you, ample storage, a long battery life, and is easy to pair with a stylus.
First, consider if you want a tablet with a particular operating system. Those loyal to Apple products may want to invest in the best iPad for note-taking. But, if you're an Android user or someone who is less particular about their OS, there are plenty of other tablets out there that can do the job well.
Also, consider storage and battery life. Those will be two crucial elements if you're taking your tablet on the go to take notes in classes or meetings at work. All of the tablets below boast at least 8 hours of battery life, but you may want more if you're out and about all day. Most tablets on this list also come in a few different models with different gigabytes of memory. For the most versatility, look for a tablet with at least 100 gigabytes of memory — anything less, and you'll likely have to transfer and delete notes more frequently.
Lastly, look out for models that come with their own stylus. This may cost a bit more, but they'll have everything you need for typing or hand-writing notes. (All of the tablets here are stylus-compatible, but not all of them come with their own.)
If you aren't sure exactly what you need, I've got you covered. Here are some of the best tablets for note-taking that make it easier than ever to get and stay organized.
1. The Best For Apple Users
Why it's great: There's a lot to love about the 2021 11-inch Apple iPad Pro, including how easy it is to track your thoughts. You can choose to type them with the pop-up keyboard right on screen, or use a Bluetooth keyboard to transform your iPad into a mini laptop. If you'd rather write out your notes, it's easier than ever to pair a stylus (ideally the Apple Pencil, sold separately) with your iPad so you can doodle, make lists, and more. Plus, with iCloud storage, it's super simple to save and organize your files, and you can access them from any Apple device — like the laptop you don't want to drag to class with you, or your iPhone on the go.
Battery life: This does tend to have a shorter battery life than some of the other tablets on this list, and reviewers report it'll last you about 6 hours on one charge.
Storage: This option comes with 256 gigabytes of storage, but you can also opt for 128GB, 512GB, 1T, or 2T
According to one reviewer: "I bought this iPad to save me some space for notes and to, virtually, have a mobile, all-knowing notebook. And it did just that. I can do almost anything I want to on it, including writing notes in the way I want to. I don't need to use it for anything else, so if you're simply looking for a huge, virtual, mobile notebook, this is definitely for you."
2. The Best For Android Users, According To Redditors
Why it's great: If you're an Android user, you can't beat this Samsung Galaxy tablet. (In fact, according to Reddit users, it's the best tablet for taking notes because it comes with an S-pen to complete "the whole package" and it's "future-proof" thanks to its expanded storage space.) It features a super-fast processing speed so it can keep up with your thoughts, and the battery life is surprisingly powerful despite the large, vivid screen.
Battery life: The product doesn't provide a specific number of hours, but according to reviewers, the 10,090mAh battery lasts "all day."
Storage: The option above has a whopping 256 gigabytes of storage, but you can also downgrade to the 64-gigabyte option for a bit of savings.
According to one reviewer: "I'm a freelance writer and was getting overwhelmed with all my notebooks at my desk, so this tablet is helping me organize and be more paper-free. I like physically writing my notes, which can be done digitally on this tablet. I love it! It's fun. I can sync all my Samsung and Google accounts and apps, making it seamless to transition from my laptop to this tablet."
3. A Compact Option With A Long Battery Life
Why it's great: This smaller tablet from Samsung is less than half the price of its larger version, in part because it has a smaller screen and a lot less storage. This means you may need to back up your device more often. That said, if you're using this tablet in conjunction with a computer for work or school, it can be a great option that won't set you back. And like other tablets, you can choose to take notes with a stylus (not included) or your fingertip, or you can type directly on the screen.
Battery life: This boasts one of the longer run times of any tablet on this list, and can operate for 13 hours before you need to charge it.
Storage: Whereas some of the pricier picks above have hundreds of gigabytes of storage, this smaller tablet has 64 gigabytes.
According to one reviewer: "It wasn't expected to be the quality of a more expensive model but it is not a disappointment either. The screen colors aren't as deep and pleasing as Samsung's more expensive machines and this processor is what is call a medium speed. But the product works very well without any problems so far and is definitely worth the price."
4. The Best Budget Tablet
Why it's great: This Lenovo tablet is a great wallet-friendly tablet that's perfect for jotting down your thoughts. It features an 8-inch high-definition screen with a super sharp image, as well as a sensitive touch screen that's great for quickly typing out your notes or pairing with a stylus (not included). For just over $100, this tablet is a total steal.
Battery life: While Lenovo claims this small tablet only has 8.5 hours of battery life, many reviewers say it lasted a lot longer (up to 16 hours, depending on your settings).
Storage: This does have the least amount of storage of any true tablet on this list, and will only hold 16 gigabytes of memory.
According to one reviewer: "This tablet is wonderful! Price can't be beaten for the quality you get with this tablet. I'm so thrilled with my order. The picture is really crisp and clear, there is a good weight to it that confirms it was made well. The battery life is fantastic. So glad I took a chance on it!"
5. The Most Durable Tablet
Why it's great: Maybe you take notes out in the field, maybe you travel a lot for work, or maybe you're just a bit rough on your devices. Either way, the Samsung Galaxy Tab Active2 can stand up to it all. This ruggedized tablet offers military-grade durability to survive drops, dirt, sand, water, drastic temperatures, and humidity, plus the touch-screen is water-resistant and the included Samsung S-Pen writes in any conditions. Finally, it has a few brilliant survival features that others don't, including a built-in GPS, an accelerometer, a gyroscope, and a geomagnetic sensor.
Battery life: This tablet lasts up to 11 hours on one charge.
Storage: Unfortunately, the 16GB storage isn't too robust, but you can also opt for a 32GB version.
According to one reviewer: "Picked up this tablet to use during my shifts as security because I got tired of carrying a clipboard. Very happy with the investment. I do all my paperwork and note-taking from it. All around happy."
6. The All-In-One Option
Why it's great: If you want the portability of a tablet alongside the benefits of a laptop, the MEBERRY M7 tablet is an incredible value. The 10-inch screen is easy to take with you on the go, but each order also comes with a wireless mouse, a Bluetooth keyboard, a capacitive pen, a screen protector film, and a case that doubles as a stand. Despite its low price, it runs on Android and has a powerful Octa-core processor that's capable of multitasking. There's even a study mode that allows you to easily disconnect the mouse and keyboard for seamless writing.
Battery life: According to the brand, this tablet lasts up to eight hours on one charge.
Storage: You'll get 64GB of storage right off the bat, but it's expandable up to 256GB.
According to one reviewer: "It came with the charger, mouse, case, stylus, USB converter, and keyboard. I have not used the charger yet, but it came fully charged. I got this to use for notes for school, and it should work perfectly for that purpose. I'm really happy with this purchase."
7. The Best Digital Notepad
Why it's great: If you're looking for a device that's a hybrid of analog and digital, the Boogie Board Blackboard reusable notebook is an excellent choice. The semi-transparent liquid-crystal "paper" is 8.5 by 11 inches and has four templates (lines, planner, dot-grid, and blank) that you can easily swap out depending on your needs. It also comes with a magnetic stylus that has a precise eraser on it — or you can press the Instant-Erase button to start over. Finally, using the Blackboard app for iOS and Android, you can instantly scan your notes so you can store and organize them digitally.
Battery life: The battery life isn't disclosed, but due to this board's simplicity, the lithium metal battery will last much longer than a tablet.
Storage: This doesn't have any on-device storage, but you can scan and upload your notes with the free mobile app.
According to one reviewer: "This little blackboard is the bomb. I didn't even know I needed it until a co-worker shared hers. If you are constantly writing little notes to yourself at work that you don't need to keep long term, this is the solution. No more paper scraps. Need to do quick computations and don't have a calculator handy, here it is. This is not a high-tech toy it's a simple but handy tool. You have to keep an eye on them though, everyone likes to 'borrow' it."
This article was originally published on