The 4 Best Thermos Flasks For Drinks & Snacks
We only recommend products we love and that we think you will, too. We may receive a portion of sales from products purchased from this article, which was written by our Commerce team.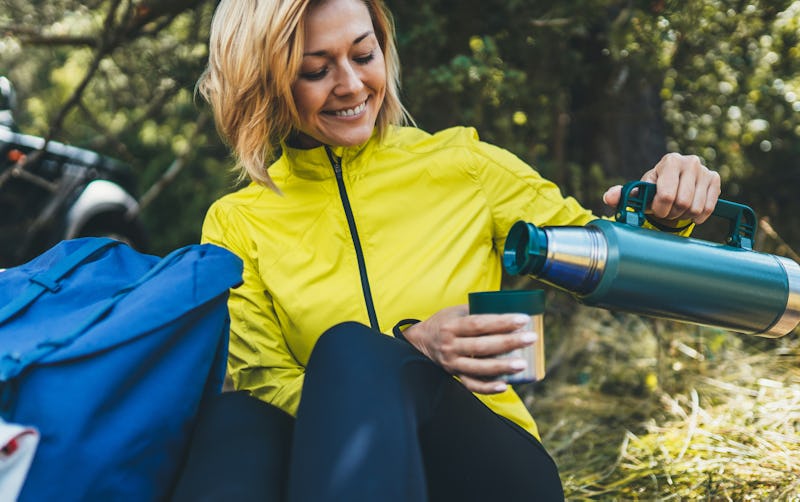 Maria Savenko / Shutterstock
When you're trying to keep a beverage or snack either hot or cold, the best thermos flasks are the ideal tool for the job, with vacuum insulation to help maintain their interior temperature. Quality thermoses should have lids that are easy to open, but still close securely for reliable anti-leak protection. Thermoses come in a variety of shapes and sizes, and you should think about how you plan to use yours before you buy one, as this will help you understand what to prioritize in terms of capacity, lid style, and accessories. Only you can know how long you'll need to keep your thermos' contents warm or cold, but 8 hours of insulation should last through your entire work day, while insulation lasting multiple days might be nice for travel.
Thermoses are often larger than coffee tumblers, which tend to have 16- to 20-ounce capacities. 32 ounces (aka 1 quart) is a common size for insulated flasks, and might be ideal for one person who wants a bigger capacity than their standard travel mug, but doesn't want to lug around an enormous vessel. That said, relatively slim thermoses that hold 20 ounces or less might be even more comfortable to carry and some even fit into most cup holders. On the other end of the spectrum, a 64-ounce thermos flask has plenty of room for whatever you need, especially if you want to share.
If you plan to fill your thermos with a beverage, there are a few ways to sip. Some thermoses have a standard open mouth, while others have a sport cap for easier sipping. A cap that doubles as a cup means you won't have to drink from the thermos mouth at all, and a spout can make pouring super simple. Other nice features to consider include a dishwasher-safe construction, sturdy handles, or an integrated bowl and spoon (ideal for soup or other foods).
Whatever your specific needs and preferences, it'll be easy to keep your beverages and snacks piping hot or refreshingly cold with one of these thermos flasks.
1. A Large Flask With A Handle & 48-Hour Insulation
Whether you're on a camping trip or an afternoon picnic, you can count on this popular Stanley flask — which has over 28,000 Amazon reviews with an overall rating of 4.8 stars — to keep your beverages the perfect temperature for sharing with family and friends. This 64-ounce (2-quart) thermos is also available in an 80-ounce (2.5-quart) version and can keep hot and cold beverages at the right temperatures for up to two days thanks to the double-wall vacuum insulation. The thermos is made with BPA-free stainless steel, with a plastic handle that makes it easy to hold but collapses to simplify packing. A leakproof twist lid and an insulated cap that doubles as a cup round out the highly functional design. Many pleased Amazon reviewers rave about the impressive durability and style of this hardy flask, which is dishwasher safe, built to last, and backed by a lifetime guarantee.
Choose from three different colors.
Positive Amazon review: "Got this to keep hot chocolate warm overnight when camping. Put it in almost boiling at night. Some 12 hours later (at 35-40F temps) the liquid was still warm enough to scald. The warmth made for a nice pleasant morning wakeup. Very impressed with how warm it still was. I like that it has a wide-mouth opening, so I can fit a scrubbing brush to clean it (barely, but it fits). Lighter than expected, but seems of good construction quality."
2. An Everyday Thermos With An Easy-Pour Lid & Cup
This lightweight stainless steel thermos uses double-wall vacuum insulation to keep hot contents hot and cold ones cold. While the manufacturer suggests that you can only expect the thermos to maintain temperatures for 6 hours, many Amazon reviewers report that their drinks stayed hot for significantly longer. "I recently compared all of my 32oz - 45oz thermoses and this was one of the best ones I had," reported one reviewer. "I filled them all up with really hot water around 180 degrees Fahrenheit and this one was at about 118 after a little over 48 hours." Is it any wonder, then, that the mug has a stellar 4.6-star overall rating on Amazon?
With a capacity of 35 ounces (just over 1 quart), the thermos has a slimmer build that weighs less than 1 pound so it should be easy to commute with — and the mouth is still wide enough for ice cubes. The stainless steel bottle has a nonstick interior coating that promises easy cleaning, which is good because it's not dishwasher safe. The BPA-free plastic lid has a handy one-touch button that opens the pour spout and is leakproof when closed, and the cap doubles as a cup. This Zojirushi flask is available in silver or red, the latter of which is covered in a cute camping-themed design.
Positive Amazon review: "Great looking, easy to use and lean and keeps liquids hot for a long time. The size is just right as well and the spout works better than just about any I've seen. The pour stream is very precise."
3. An Insulated Water Bottle Flask
With more than 31,000 reviews on Amazon and an overall 4.8-star rating, this insulated water bottle flask comes in over a dozen colors and in 18-ounce, 21-ounce, and 24-ounce versions. Made from sturdy stainless steel and BPA-free plastic, the flask features double-wall vacuum insulation in the bottle and honeycomb insulation in the lid to keep cold beverages cold for up to 24 hours and hot drinks hot for up to 12 hours. I use the 21-ounce model and I have found that it absolutely keeps water and sport drinks cold for up to a day and coffee piping hot (though I prefer it for cold drinks) and doesn't sweat or leak. I have also kept this rolling around at the bottom of tote bags, sometimes upside down, and have never experienced a leak. The bottle comes with a twist lid that has a flexible handle, but the flask is also compatible with a sport lid (sold separately) for easier drinking on the go. However, when you need to clean your flask, it will have to be by hand — Hydro Flask doesn't recommend running it through the dishwasher.
Positive Amazon review: "This is the best thermos I've ever had. It keeps water cold for more than 24 hours!!! Nice tight seal, doesn't leak at all. Love it!!!"
4. A Food Thermos With A Bowl & Spoon
If you're interested in an insulated food thermos, this 16-ounce Thermos flask has more than 2,000 Amazon reviews and an overall rating of 4.7 stars. The cranberry-colored flask is made from stainless steel and uses double-wall vacuum insulation to keep cold foods cold for up to 14 hours and hot foods hot for up to 9 hours. Even better, the cap doubles as a bowl and this thermos comes with a foldable spoon that stores on top of the leakproof lid. The wide mouth makes moving contents in and out easier, and there's a removable silicone ring that helps keep the seal. While it's dishwasher safe, many pleased Amazon reviewers report that hand washing is preferable for thoroughly cleaning the gasket on the lid (but don't worry, they also suggest that it's easy to clean).
According to one Amazon reviewer: "I love this Thermos. The 16 oz size is perfect for a generous meal portion. The wide mouth is perfect for eating out of and not making a mess, it also helps to clean up thoroughly inside later on. It's almost indestructible and looks great, the cranberry color is lovely. You can't beat stainless steel construction- IT DOES NOT LEAK. It actually does keep your food warm or cold for 9-12 hours. [...] I love having something that does what it is supposed to do and does it well. I would buy this product ten times over, funny thing is it's such a great quality I probably won't ever have to replace it. I do heartily recommend this Thermos food jar."